Fliers and voter registration forms spill out of boxes on the floor. The walls are covered with election posters.
The small commercial space is in a nondescript retail park in a Las Vegas suburb but right now it's one of the nerve centres for the Nevada Democratic Party.
When we arrive, candidates are rallying the troops. They're urging volunteers to keep up their efforts in the final weeks leading up to the midterm elections.
The young campaign workers listen closely and applaud enthusiastically as speakers tell them that the "blue wave" will start in Nevada and that their state is "ground zero" for the Democratic comeback.
Nevada is very significant in the Midterm Elections, according to one of the state's Democratic Congresswomen Dina Titus.
"We have some very key races. The governors' race is big here, the senate race, three house seats. What happens in Nevada really does reflect what's happening in the rest of the country."
Voters will go to the polls across America on 6 November. All of the seats in the House of Representatives are up for grabs, as well as some senate and governor seats.
US President Donald Trump isn't up for reelection but the outcome could have a big impact on the balance of power in Washington.
The senate race in Nevada is attracting a lot of attention. Here, Dean Heller is the only sitting Republican senator up for reelection in a state won by Hillary Clinton.
He's backed by Donald Trump and as you might expect the US President has come up with a nickname for his Democratic rival Jacky Rosen, describing her as "Wacky Jacky".
Despite these attacks, Jacky Rosen and Dean Heller are neck-and-neck in the polls.
If the Democrats can flip the seat it could be the key to winning control of the US Senate.
Linda Sanchez is a Democratic Congresswoman from California who came to Nevada to help get out the vote.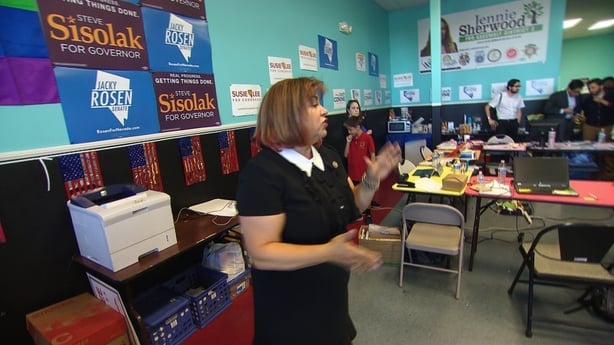 "Jacky Rosen is hoping to turn that Republican seat to a Democratic seat. Right now there is a very thin margin in the senate.
"Republicans control 51-49 and if we can flip a couple of those seats Democrats can reclaim the majority and we can provide a check and balance against the executive branch, Donald Trump".
Outside the casinos of downtown Las Vegas, most of the voters we met spoke about taking a gamble of a different kind - backing Donald Trump for president two years ago.
His performance in office will have a big impact on how people vote in November.
One man tells me that he's "100% Republican" because Donald Trump is standing up for the average guy.
"He's getting things done and that's why the Democrats are against him. They have an agenda of obstruction and holding people back."
Another man tells me that while he usually votes Democrat, he feels that President Trump is looking out for America's interests and this will be reflected in how he votes.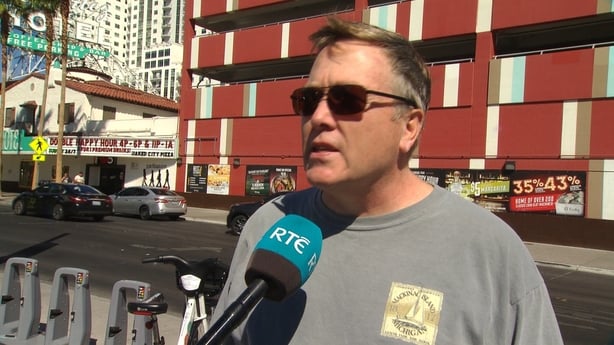 Person after person that I spoke to praised Donald Trump for things such as the strength of the economy, getting conservative judges on the Supreme Court and pulling out of the Iran nuclear deal.
One woman told me that she wished there wasn't so much negativity about President Trump, adding that he should be left alone to do his job.
The final voter I spoke to said: "President Trump does some things that make him look like a complete idiot but some things he does, he's like a savant. He sees things that other people don't and his policies are just fantastic."
The views of voters in Las Vegas may well concern Democrats because it's here, in the home of gambling, that they're hoping to hit the jackpot on election day.