Democratic Congressman Beto O'Rourke stops to take photos with supporters in San Antonio, Texas.
His popularity has taken many by surprise and Democrats hope he can do something they haven't managed to achieve in 30 years - win a senate seat in Texas.
His full name is Robert Francis O'Rourke and he is of Irish decent.
Beto is a Hispanic nickname that he has had since he was a child.
Donald Trump Junior recently accused him of being an "Irish guy pretending to be Hispanic".
What's authentic about an Irish guy pretending to be Hispanic? Asking for some friends Texas. https://t.co/c30OjHdN8j

— Donald Trump Jr. (@DonaldJTrumpJr) October 15, 2018
I asked him if his Irish heritage was important to him.
"The fact that I'm a Texan and an American is what is important to me but I will say that this country, five or so generations ago, accepted our family, the O'Rourkes," he said.
He added: "We have this amazing tradition in this country of accepting asylum seekers and refugees, immigrants who've helped make this the greatest country in the world."
He told me that he is working to ensure that tradition continues.
I met Beto O'Rourke after a debate against his rival, the sitting Republican Senator Ted Cruz.
The two candidates traded blows over abortion, climate change, immigration and the economy.
At one point, he accused Ted Cruz of being dishonest and used a nickname that Donald Trump coined during the 2016 US Presidential Election Campaign.
"He's dishonest, that's why the President called him 'Lyin' Ted' and it's why the nickname stuck because it's true," he said.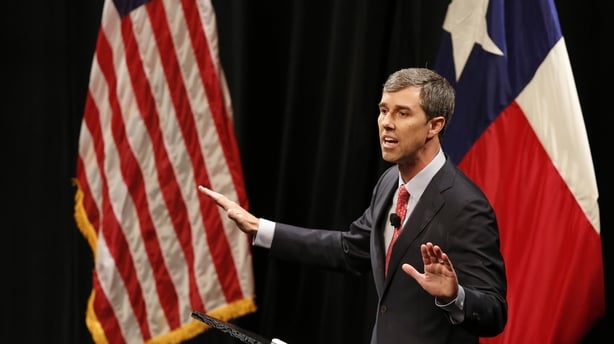 The debate was held in San Antonio, Texas - the location of another great battle 180 years ago at the Alamo.
Today, the battle site is the city's biggest attraction and we went there to speak to voters.
Mike Eller is from Fort Worth, Texas.
He told me: "Here in Texas, we do what we think is right.It's a red state so they're probably going to vote for Ted Cruz."
Katey Fritsch from New Braunfels, Texas said she would be supporting Ted Cruz because he is a conservative and is against abortion.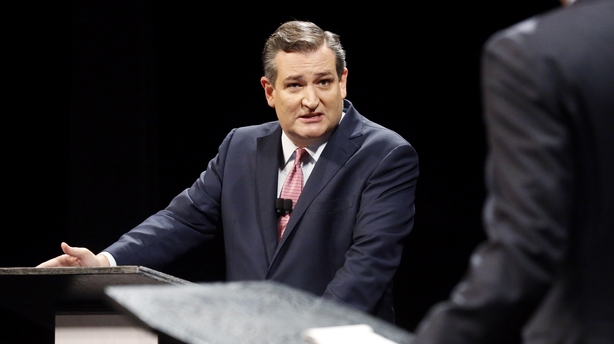 "I am a supporter of life and that usually leans me towards a Republican vote," she said.
Trisha Cawthron from Austin said she would be supporting Beto O'Rourke because he represents change and something different.
"We're excited to have someone more liberal to get us out of our traditional ways."
Tony and Julie Pierce came to Texas from Los Angeles to campaign for Mr O'Rourke.
Tony said he and Julie spent the last three days knocking on doors and talking to voters.
They were not the only people I met who had come from outside Texas to campaign for Beto O'Rourke.
Linda Jessee is a volunteer in the 'Beto for Senate' campaign office in San Antonio.
"I live in New York city and I was looking for a candidate that I could support. I was lucky enough to find Beto and I find him inspiring on so many levels," she said.
---
Read more:
Poles apart: A guide to the US midterms
Taking a gamble on the midterms ... the view from Las Vegas
---
That outside influence is not going down well with some Republican supporters like George Rodriquez.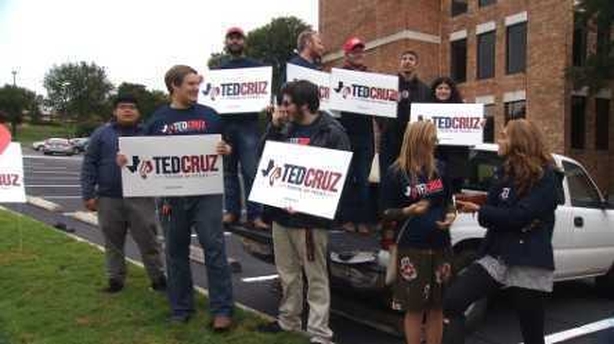 "We've got so much money coming in from outside the state. People have got to understand that Texas is the most Republican state in the Union. If Texas ever fell into the hands of the Democrats, we fear that the whole nation would drift to the left," he said.
George believes that there is a resurgence of grassroots conservatism in Texas and it is a resurgence that can also be seen among younger voters.
At a Ted Cruz post-debate party, dozens of students lined up to have their photos taken with the Republican Senator.
Outside the debate venue, young supporters gathered holding Ted Cruz signs.
One of them was Ivy Girard.She said for her, Ted Cruz embodies traditional America.
"He stands up for life, liberty, the pursuit of happiness and the dignity of all people from conception to natural death.As a young person, I'm very much drawn to those ideals," she said.
Texas is a traditionally Republican state but voting patterns are shifting as demographics change.
That change may not be happening as quickly as Democrats would like however.
Beto O'Rourke's popularity has slipped in recent polls meaning this battle for Texas may not go his way.