What on earth happened to health spending in Ireland in 2015? 
Did it really go over a cliff as the chart below suggests? 
Driven downwards by a mad austerity policy that saw budgets slashed? 
This is what the annual System of Health Accounts publication from the CSO suggests today - at least on first glancing at the top line - and this graph.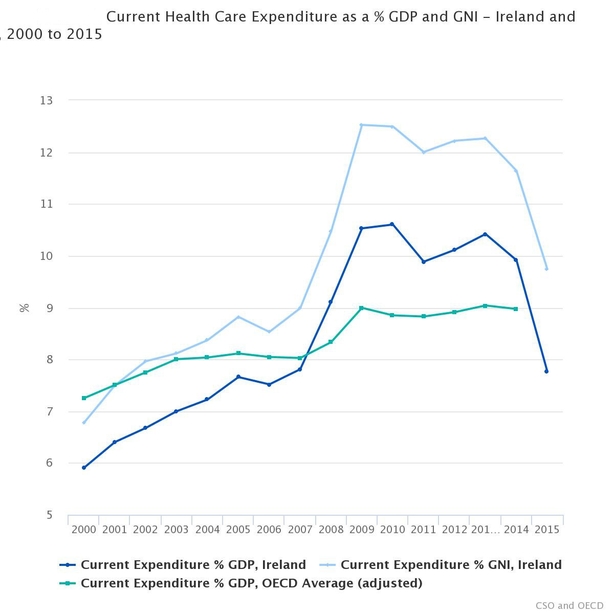 Measuring health spending as a percentage of GDP, we do indeed see a big fall in health spending in 2015 - dropping from just under 10% to just under 8% of GDP.
But of course the clues here are the year - 2015 - and the measure - GDP. 
2015 was the year of Leprechaun Economics, when a change in statistical methods helped the Irish economy to record GDP growth of 26%. 
So just like the good old debt/GDP ratio, the health spending to GDP ratio is also no longer fit for purpose.
And that purpose is comparison with other countries, to see if we are wildly out of line in spending on health compared with other countries.
But GDP has been a poor tool for comparisons for Ireland for a long time, because of the large role played in the economy by multinational companies.
Add in the ESA 2010 statistical changes, and it becomes even less meaningful. 
Obviously if GDP inflates massively - as it did in 2015, and spending in cash terms grows more slowly - which it did,  then spending as a percentage of GDP falls.  Not that there was any cut to the health budget - in cash terms it went up by €800 million on the year before.
That's why the other line in this chart - the one that refers to Gross National Income (GNI) is a better measure (and may be an even better measure when the CSO brings out its first set of national accounts using the modified GNI* metric next week). 
Using GDP we see Irish health spending plunging from significantly above the OECD average to significantly below it. 
Using GNI there is still a plunge - but Irish spending is still significantly higher than the OECD average for health spending (the 2015 OECD  GDP figure has not been released yet).
GNI is close to GDP for most OECD states, but there is a significant difference in Ireland because of the multinational effect. 
If GNI is closer to reality, then it shows that Ireland has been spending a higher percentage of its output on health than the OECD average since 2002.
Even measured by GDP, health spending in Ireland surpassed the OECD average in 2008, and stayed above it - until the year of the Leprechaun, AD 2015.
Despite the need for catch up spending increases over time, it still raises questions about the efficiency of health spending in Ireland - this is further evidence that shortage of money is not necessarily the problem, rather how that money is spent.
In cash terms the amount of money spent on health has gone up every year since the beginning of the century - apart from the years 2009 to 2012.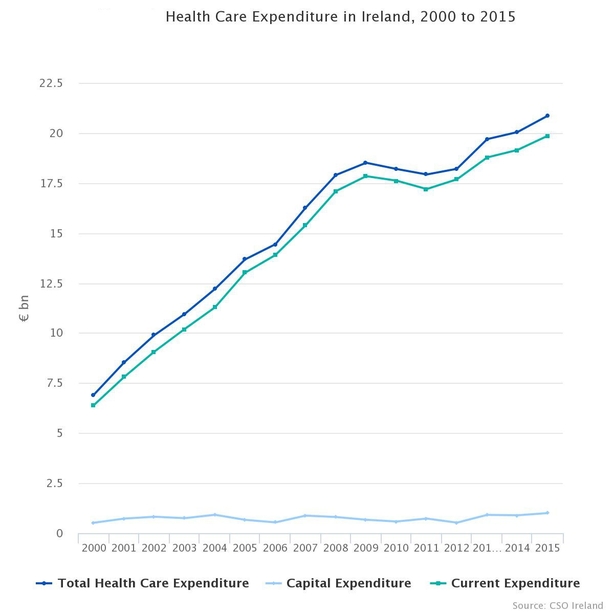 The System of Health Accounts data (an extension of the core national accounts data, devised by the OECD and adopted by it, the EU and the World Health Organisation to have internationally comparable health expenditure and financing data) shows that 69% of heath spending here is done by the government.
Out-of-pocket payments by sick people accounted for 15% of the spend, while private health insurance covered 13% of the spend in 2015.  This is pretty much the way it has been in previous years.
Just over one-third of health expenditure took place in hospitals in 2015, with a further 19% in long-term residential facilities  such as nursing homes and residential disability services.
"Ambulatory health care providers" (i.e. places you can walk into), predominantly GPs and dentists, accounted for 20% of expenditure.
Retailers of Medical Goods (mainly pharmacies) accounted for a further €2,726 million or 14% of all health care expenditure in 2015.
The majority of health expenditure  in 2015 related to curative and rehabilitative care (€10,777 million) and nearly half of this was for inpatient care (€4,802 million).
The next largest category was long-term care which amounted to 23% of expenditure, again with inpatient services the largest component of this (€2,856 million).
Pharmaceuticals and other medical non-durables made up the next largest category (14%).
Administration of the health care system (public and private) amounted to €570 million in 2015, which was 3% of total current health expenditure.
In 2015, 62% of expenditure of hospital based care was on inpatient services (€4,270 million).
Long-term facilities, which include nursing homes and residential facilities for people with a disability, predominantly provided long-term care inpatient services (€2,755 million).
Ambulatory care providers mainly delivered outpatient services. In 2015, €4,029 million was spent on health care in these settings with 71% of this spent on outpatient curative and rehabilitative care.
Expenditure on pharmaceuticals (€2,644 million) accounted for 13% of health care expenditure with the vast majority being provided by pharmacies.
Over a quarter (€724 million) of the expenditure on pharmaceuticals was funded by out-of-pocket payments with the remainder funded by government (€1,921 million).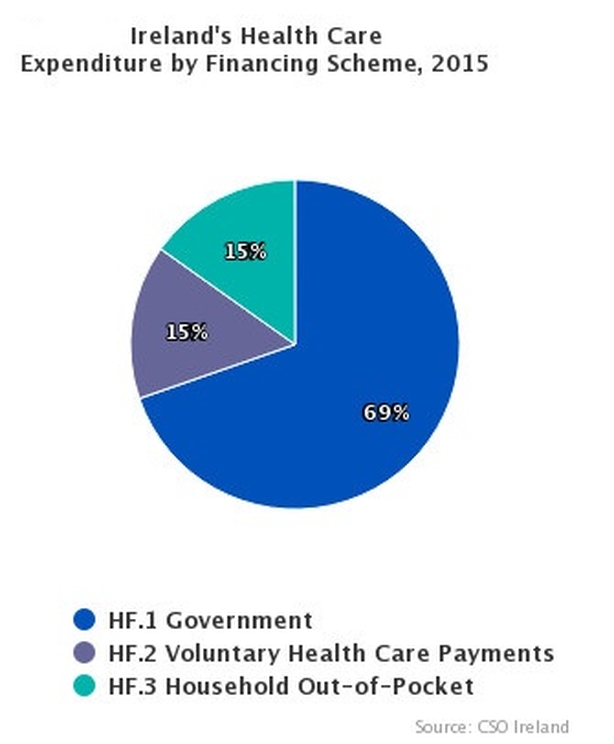 "Other sectors" provided health care services amounting to €1,197 million in 2015.
Two-thirds of this expenditure (€779 million) was for the provision of long-term health care services in the home  by persons in receipt of transfer payments (e.g. Carer's Allowance and Domiciliary Care Allowance).
Inpatient curative and rehabilitative care accounted for 24% (€3,268 million) of the total government spend on healthcare.
Almost 40% of the total spend of household out-of-pocket payments was for outpatient curative and rehabilitative care (€1,133 million).
Of the €10,777 million spent on curative and rehabilitative care services in 2015, over two-thirds (€7,387 million) was funded by government and almost 18% (€1,900 million) was funded by voluntary health insurance payments.
A total of €4,513 million was spent on long-term care. Government financed almost 79% (€3,551 million) of long-term care services in 2015. Almost all of the remainder was paid for by household out-of-pocket payments (19% or €862 million).
Preventative care, such as immunisation and health promotion activities, was funded by government (60%) and voluntary payments other than health insurance (40%).
Almost three-quarters of expenditure in long-term care facilities were government funded as was 70% of hospital expenditure.
Three-quarters of pharmaceutical expenditure was also funded by government.
Just over three-quarters of voluntary health insurance payments (€1,873 million) were spent on hospital services.
Tax refunds for health expenditure amounted to €146 million in 2015. As there is no information on what services were received, the expenditure is classified to health services not elsewhere classified.
After tax refunds of €146 million were taken into account, out-of-pocket expenditure amounted to €3,011 million in 2015. 38% of this (€1,149 million) was spent on ambulatory health care providers and 30% (€898 million) was on long-term care facilities. Over 20% of out-of-pocket payments (€625 million) were spent in pharmacies.