What a horrendous week it has been for business owners and residents in the Co Galway coastal towns of Clarinbridge, Oranmore and Kinvara, which suffered the full brunt of flooding and devastation that Storm Debi left in its wake last Monday morning.
It all happened so very fast.
Gusts of 115 km/h, sustained wind speeds above 70 km/h, torrential rain, high tides and a storm surge.
A terrified deli manager at a Londis supermarket in Clarinbridge had to be rescued at 5am after he became trapped within minutes by a 10-to-12-foot surge of seawater inside his shop.
The nearby Pier Head Bar and Restaurant in Kinvara which had never been flooded before, was also destroyed.
Its furniture was floating around inside the restaurant and cars parked at the nearby quay were floating in the rising seawater.
It's all going to cost millions of Euro to fix and in the meantime the disruption to jobs and livelihoods will be considerable.
Is this climate change? That's the question that so many people are asking.
If you ask that question of a Meteorologist, they are likely to tell you that you cannot attribute any single storm event to climate change.
If you ask a climate scientist, who compares storminess now to storminess 170 years ago, you will get a different answer.
They will be less nuanced and more likely to tell you that yes, Ireland's climate is certainly changing, and it is a fact that we will experience more and more storms like Debi over time.
Rainfall intensity and storminess in Ireland has increased.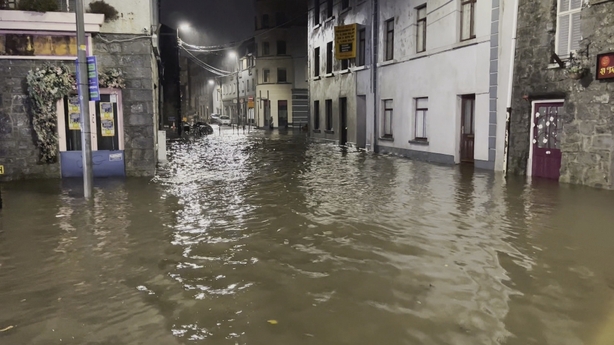 In 2014, researchers at the ICARUS Climate Centre in Maynooth University studied and wrote about storminess in the UK and Ireland in a contribution to the academic publication Nature Climate Change.
They analysed the combination of all recorded rain and wind measurements in both countries going back to 1851.
They were looking at the "frequency and intensity of cyclones" which to you and me means storminess.
They found solid evidence that the winter they had just experienced at the time - December 2013 to February 2014 - was the stormiest winter since records began in 1851.
By that stage, storms were arriving so frequently that national meteorological services here, in the UK, and the Netherlands got together and decided it would be a good idea to start naming the storms.
The first storm of each storm season would be given a name starting with the letter A, the second would start with B, the third with C and so on.
This would make it easier to differentiate which of the many storms people were talking about and how many bad storms had occurred each year.
Since then, we have experienced 66 named storms with names like Abigail, Barney, Doris, Ewan, Georgina, Ali, Lorenzo, Christoph and many more.
We got as far as the letter K - the eleventh storm of the year - on two occasions.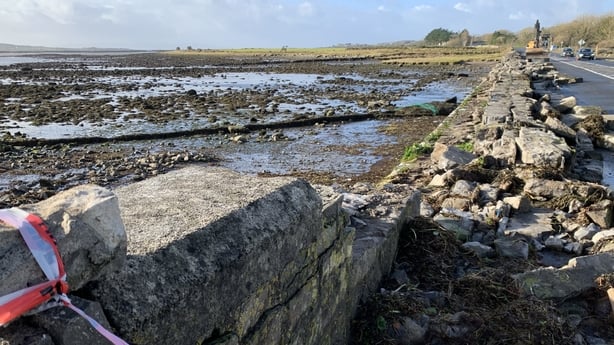 However, in all the years since this storm-naming convention came into being, this year is the earliest ever that we have got to a storm name starting with the letter D: Storm Debi.
Perhaps this is just a quirky observation suggesting that this could be a particularly stormy year, and of course it doesn't prove anything at all scientifically.
But it is an observation that comes after new heat and rain weather records were repeatedly set throughout this year, after the North Atlantic Ocean experienced a separate and unprecedented marine heatwave, and after it has been confirmed that a very strong El Niño weather phenomenon has materialised in the southern Pacific Ocean with global consequences for weather patterns.
Only last month, a group of climate scientists led by Professor Conor Murphy at the ICARUS Centre in Maynooth concluded unequivocally that the increased intensity of rainfall that we are experiencing in Ireland is evidence of climate change occurring before our eyes.
They are so sure of their findings that they said if a person alive in certain parts of Ireland in 1850 came back today, they would not be familiar with the climate in their local area.
If you said that to the residents of Clarinbridge or Kinvara this week, or to the very unfortunate residents and business owners in Midleton Co Cork, who were devastated by storm Babet last month, they would no doubt say that you don't have to be 200 years or older to be unfamiliar with the weather events of Ireland today.
Every local person interviewed for their reaction to the big flooding events in Co Cork, Co Galway and Newry over the past month have all said the same thing.
They have never seen the likes of it during their own lifetime and climate change is here and it is now.
Surely it is time for the authorities to focus far harder on rapidly adapting to climate change and investing far more money to alleviate and prevent the flood risk and devastation that has been so clearly demonstrated over the past few weeks.