Around 8,000 premises remain without power following damage caused by Storm Debi, ESB Networks has said.
Crews have been working throughout the day to reconnect the supply, helped by Northern Ireland Electricity.
At the peak of the storm yesterday morning around 100,000 homes, farms and businesses were without power.
Work is being mostly carried out on the rural low voltage network to more isolated areas, and crews will continue working into this evening and tonight.
However it is expected that around 2,500 homes and businesses will be without power overnight.
Crews are to mobilise again at first light tomorrow to restore power to those remaining customers, ESB Networks said.
The majority of the outages are in counties Galway, Roscommon, Westmeath, Longford and Cavan.
Local authorities across the country have been working with ESB Networks, Irish Water and other agencies in restoring and recovering operations, the Chair of the National Emergency Co-ordination Group said as the storm cleared.
Keith Leonard said the worst impact was seen around Galway city with extensive flooding and tidal flooding.
Other counties including Westmeath, Longford, Dublin, Meath and Louth had a significant number of trees down with disruptions to road networks.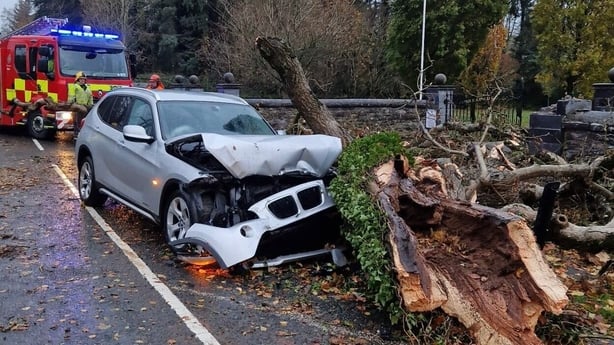 A postwoman was taken to hospital after being hit by flying debris in Limerick, as the majority of the country was placed under red and orange wind warnings yesterday as Met Éireann warned of "severe and damaging gusts", with the last of the warnings lifting by 3pm.
With all weather warnings now expired, the focus turned to clearing roads of debris, reconnecting the homes and businesses left without power and helping those hit by flooding.
Oranmore trader Michael White said his DIY shop was flooded by about "two foot of water".
Speaking on RTÉ's Morning Ireland, he said that there was a lot of damage but "no one was killed".
He said: "There was a lot of damage done, but the most important thing, and I've said this before, is that there was no one hurt or injured or killed in any ship, shape or form yesterday with the storms that hit Galway in particular.
"It's a miracle that no one was hurt or injured, really."
Mr White said that there has been flooding in the past a couple of years ago, "but nothing to the extent of what happened yesterday".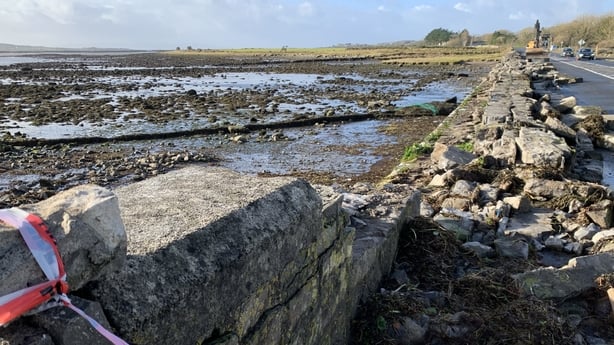 Meanwhile, Mayor of Galway City Cllr Eddie Hoare said the city was badly affected by Storm Debi.
Speaking on the same programme, he said it was a difficult night on Sunday night and the city was "badly impacted".
"High winds, high surge and high waves culminated with high tide in the early hours of Monday morning," he said, adding that a number of businesses and homes have been affected.
"Unfortunately, the area in which the flooding occurred is a regular area that is flooded and most of the businesses and home owners would not have insurance, which is devastating for them," Cllr Hoare said.
He said that what is even more devastating is the fear in those homeowners and businesses that it could happen again.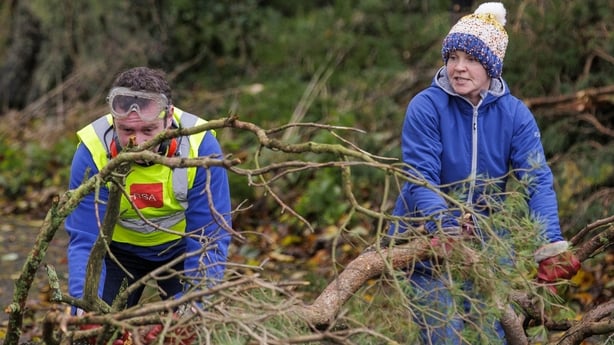 A Government scheme to support people living in homes affected by severe weather has been extended following flooding in Galway city and nearby Oranmore.
Minister for Social Protection Heather Humphreys said the Humanitarian Assistance Scheme will also be extended to other affected areas as required.
Ms Humphreys said: "I'm very conscious of the serious disruption that severe weather and flooding is causing for individuals and families in County Galway, especially in Oranmore and parts of Galway City."
We need your consent to load this rte-player contentWe use rte-player to manage extra content that can set cookies on your device and collect data about your activity. Please review their details and accept them to load the content.Manage Preferences
---
In pictures: The aftermath of Storm Debi
---
This is the fourth storm to affect Ireland since September, after Storms Babet and Ciarán left shops and homes in Midleton, Carlingford and Newry, as well as elsewhere, flooded after intense rainfall.
Mr Leonard said Storm Debi is "probably the most intense storm" of the season so far.
"It was probably the high winds of that leading edge of the storm as it came across the country that was the most hazardous piece," he said.
"So probably the most intense storm we've had so far in the season."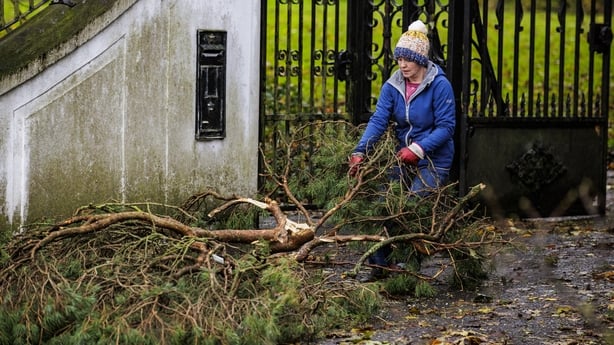 No timeframe for Galway flood defences
Minister of State for the Office of Public Works Patrick O'Donovan has said it is impossible to give a definitive timeframe on when permanent flood defences for Galway city will be in place.
Mr O'Donovan has been visiting areas impacted by storm damage in Galway city and county today.
He said people in Clarinbridge were effectively grieving after a number of business premises were destroyed by flooding.
Mr O'Donovan said the scale of the devastation was horrific.
He said plans for permanent flood defences in Galway city had to go through the planning process and that this would take time.
"This is one of the most archeologically, architecturally and environment sensitive areas, not only in the west of Ireland, in the entire country.
"I don't do dates, to be honest about it, I'm more interested in making sure we're going along the process and we have a bit of emphasis behind each stage".
In the meantime, the Minister said he was confident Galway City Council had the resources and know-how for interim flood alleviation measures.
Additional reporting by PA