Since 1789, 45 people have held the office of President of the United States. None of them have faced criminal prosecution. Until now.
Last night Donald Trump, the 45th President of the United States became the first Commander in Chief to be indicted on a criminal charge.
Not for attempting to overturn the result of the 2020 presidential election, not for inciting a mob to attack the United States Congress on 6 January 2021, nor for unauthorised possession of classified government documents at his Florida home and private members club, Mar-A-Lago.
Investigations continue in all of these cases.
Instead, this historic prosecution concerns possible campaign finance violations relating to the 2016 Presidential election.
Specifically, the way in which payments from Mr Trump to his then-lawyer and fixer Michael Cohen were accounted for.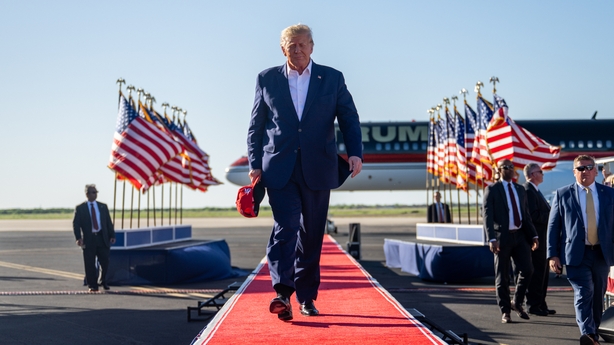 Mr Cohen had paid hush money to a porn actress and director of adult films, Stormy Daniels.
This is not an offence. Nor was it a felony for Mr Trump to pay Mr Cohen for this favour by way of cheques labelled "legal services" in Trump organisation accounts.
Unless those payments were structured in a way to conceal a criminal offence and in this case, Manhattan District Attorney Alvin Bragg is trying to prove that the way the payments to Mr Cohen were made are related to the election campaign of 2016, specifically that the payment to Stormy Daniels advantaged Mr Trump in the 2016 election and therefore constitute a violation of campaign finance laws, which is a criminal offence in the state of New York.
But the presidential campaign was a federal campaign and it is not clear if New York campaign finance law would hold over a federal campaign fund.
The charges themselves are currently sealed and normally remain sealed until the formal arraignment, the appearance of the accused before a judge in court.
That is supposed to happen early next week. The exact mechanics of that have yet to be worked out, usually defendants in criminal cases are fingerprinted and have their "mugshots" taken and these become publicly available.
Sometimes they are "perp walked" in handcuffs in front of the cameras.
That is thought to be unlikely in this case, which is already highly charged politically and is a major security headache for the New York Police Department, which has ordered all uniformed officers to be on duty today.
But there have been reports in newspapers last week that Donald Trump has told close aides that he wants to be perp-walked in handcuffs in order to whip up sympathy and mobilise his support base.
He is even reported to have told them that if he was shot on the way into court he would still win the 2024 election. This is, of course, a nightmare for the Manhattan DA's office.
But clearly, Donald Trump is no ordinary "perp", for a start he is under constant watch by law enforcement, his secret service security detail.
They are obliged not just to protect their man, but also to comply with any court orders or indictments.
They too would likely baulk at any "perp-walk" photo opportunity, with all the attendant security concerns it would bring.
But even if the arraignment proceeds behind closed doors, apart from the actual court appearance, at which it is expected he would be released on bail, a legal-political firestorm has been ignited.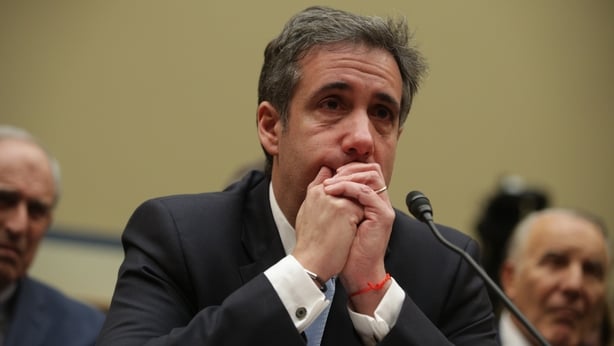 Donald Trump issued a characteristically forthright denunciation of the indictment: "This is Political Persecution and Election Interference at the highest level in history.
"From the time I came down the golden escalator at Trump Tower, and even before I was sworn in as your President of the United States, the Radical Left Democrats - the enemy of the hard-working men and women of this Country - have been engaged in a Witch-Hunt to destroy the Make America Great Again movement.
"You remember it just like I do: Russia, Russia, Russia; the Mueller Hoax; Ukraine, Ukraine, Ukraine; Impeachment Hoax 1; Impeachment Hoax 2; the illegal and unconstitutional Mar-a-Lago raid; and now this.

"The Democrats have lied, cheated and stolen in their obsession with trying to 'Get Trump', but now they've done the unthinkable - indicting a completely innocent person in an act of blatant Election Interference.

"Never before in our Nation's history has this been done. The Democrats have cheated countless times over the decades, including spying on my campaign, but weaponizing our justice system to punish a political opponent, who just so happens to be a President of the United States and by far the leading Republican candidate for President, has never happened before. Ever.

"Manhattan DA Alvin Bragg, who was hand-picked and funded by George Soros, is a disgrace. Rather than stopping the unprecedented crime wave taking over New York City, he's doing Joe Biden's dirty work, ignoring the murders and burglaries and assaults he should be focused on. This is how Bragg spends his time!
"I believe this Witch-Hunt will backfire massively on Joe Biden. The American people realize exactly what the Radical Left Democrats are doing here. Everyone can see it. So our Movement, and our Party - united and strong - will first defeat Alvin Bragg, and then we will defeat Joe Biden, and we are going to throw every last one of these Crooked Democrats out of office so we can MAKE AMERICA GREAT AGAIN!"
His political campaign is also reported to have sent out fund-raising e-mails that include a New York Times headline about the indictment.
The Republican party has rallied to his defence – though mostly by attacking the indictment, not defending Mr Trump himself.
The arguments against the indictment range from the political, weaponising the justice system against a political opponent, to the legal, the quality of the legal arguments about linking the Stormy Daniels payoff with campaign finance laws, to the opinionated, that if you are going to bring criminal charges against a former US president, do it for something serious like the storming of the Capitol, not for something tacky and rather small beer, like $130,000 for an adult film star.
Others note that the statute of limitations was about to intervene in May, bringing an end to the period in which a case could be brought. So it was "now or never" for the Manhattan DA.
Indeed the on-again, off-again nature of the investigation around the Stormy Daniels payoff has been at the heart of one of the most bitter and long-running feuds in the American legal and political system, with a number of prominent legal figures unloading on each other in public.
The allegations, variously "weaponising" the Department of Justice or a "witch hunt" against a president, mask an extraordinary and deep-rooted legal battle that go far beyond the "President and the Porn Star" tabloid tale.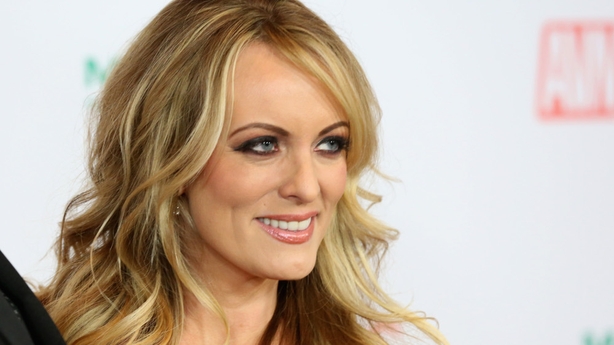 One person has already gone to jail in connection with the Stormy Daniels payout, Mr Trump's former lawyer Michael Cohen, who was sentenced to three years and served two of them.
Mr Cohen paid the "hush money" to Stormy Daniels weeks before the 2016 Presidential election and was repaid by the Trump Organisation.
He billed them for "legal services", but stated in court "I participated in this conduct for the principal purpose of influencing the election".
This was a violation of federal campaign finance laws. In recent weeks, Mr Trump's current legal team have sought to characterise the payment to Ms Daniels not as an election issue, but as an issue in the Trump's marriage, it was not about concealing the alleged fling from the voters, but from Melania Trump.
And that is not a crime.
Stormy Daniels says she slept with Donald Trump at a golf tournament in 2006.
Mr Trump has consistently denied this ever happened. In 2015, Michael Cohen and another individual connected with the Trump campaign (but not named in court documents) met with David Pecker, the publisher of the down-market tabloid The National Enquirer.
He agreed to operate a "catch and kill" scheme for Mr Trump, looking out for stories that could damage the Trump election bid (bimbo-eruptions, as they were known in Bill Clinton's campaign), then buying the stories from whoever came forward and not publishing them.
Mr Pecker paid $150,000 for the rights to a story about former Playboy model Karen McDougal, but refused to pay up for Stormy Daniel's story when approached by her lawyer and agent Keith Davidson.
He connected Mr Davidson with Mr Cohen and the $130,000 figure was arrived at (Mr Cohen says Mr Davidson told him in a very short negotiation that Ms Daniels wanted to clear a $100,000 debt and he wanted $30,000 as his fee).
Michael Cohen paid up and got the money back from the Trump organisation the following year in a series of cheques signed by Donald Trump.
In a 2018 interview in the Rose Garden of the White House, President Trump was emphatic that he had paid Mr Cohen with his own money, not with campaign funds.
When the case came to trial, prosecutors said Mr Cohen's payout of $130,000 to Stormy Daniels was effectively a donation to the Trump campaign, because by getting her to shut up it improved his electoral fortunes and thus violated campaign finance laws that banned donations of more than $2,700 in a general election.
Mr Cohen suddenly pleaded guilty at the trial, not just to the campaign finance charges, but to tax avoidance and a bank fraud charge as well.
---
Read more:
New York grand jury votes to indict Donald Trump
Who is Stormy Daniels and what did she say happened with Trump?
At a glance: Donald Trump's legal troubles
What's next following Donald Trump indictment?
---
So the campaign finance theory was not tried and tested in front of a jury. This has affected the way the case against Donald Trump has been handled by prosecutors ever since.
Last night, Michael Cohen issued a statement about the indictment of Donald Trump and said: "For the first time in our Country's history, a President (current or former) of the United States has been indicted.
"I take no pride in issuing this statement and wish to also remind everyone of the presumption of innocence; as provided by the due process clause.
"However, I do take solace in validating the adage that no one is above the law; not even a former President.
"Today's indictment is not the end of this chapter; but rather, just the beginning. Now that the charges have been filed, it is better for the case to let the indictment speak for itself.
"The two things I wish to say at this time is that accountability matters and I stand by my testimony and the evidence I have provided to DANY (District Attorney of New York)."
In his recent book Holding the Line, the United States Attorney who led the Southern District of New York in the original federal prosecution of Mr Cohen, Geoffrey Berman, gave for the first time his account of the intra-agency warfare over the Stormy Daniels case.
Specifically, he claims interference from the Department of Justice in Washington that tried to protect Donald Trump. (Berman, a Republican, was a Trump appointee).
He writes that the charging document in the Cohen case was whittled down from 40 pages to 21 under pressure from the Justice Department to keep Mr Trump's name out of the case.
Instead, the document stated "Individual 1" acted in concert with Mr Cohen.
But there was no doubt who "individual 1" was.
The document filed in court by the SDNY stated: "On or about June 16 2015, Individual 1 began his Presidential campaign".
It later states "in or about January 2017, Cohen left the company and began holding himself out as the personal attorney to Individual 1, who at that point had become the President of the United States".
And in open court, Micahel Cohen stated that Donald Trump knew about and orchestrated the payments to Ms Daniels and Ms McDougal to keep them from going public.
(Yesterday, it was reported that Mr Bragg, is seeking more information on the payoff to Ms McDougal, a former Playboy model).
But the interesting stuff came six months later, when Bill Barr took over as Attorney General.
The Mr Bragg office had continued to investigate the campaign finance charges.
But Berman claims Mr Barr tried to kill off the investigation and suggested that Cohen's conviction be overturned.
He claims Mr Barr issued a directive to the Southern District to cease all activity on the file until the Office of Legal Counsel in Washington (a part of the Department of Justice) had determined there was a legal basis for the campaign finance charges and until Mr Barr as AG had determined there was a federal interest in pursuing charges against others (I.e. Donald Trump).
But the Stormy Daniels question refused to go away.
In the Manhattan District Attorney's office, led at the time by Democrat Cyrus Vance Jr, prosecutors were pouring over the Trump organisation to see if it had broken state laws.
Many prosecution theories were advanced, but the Stormy Daniels campaign financing issue kept coming up. It got the name "the zombie theory" in the DA's office, an idea that refused to die.
Mr Vance preferred a more wide-ranging approach to the Trump organisation.
Last year, that wider investigation produced a separate tax evasion case against the Trump organisation and its former chief financial officer, Allen Weisselberg. Mr Wiesselberg is currently in New York's most notorious jail, Rikers Island, as part of a plea bargain in that case. The company was fined $1.5 million.
Mr Weisselberg testified against the company, but not against Donald Trump. Prosecutors in the Manhattan DA's office want to put the squeeze on Mr Weisselberg to testify in their new case against Mr Trump over the Stormy Daniels payoff.
They have publicly mulled the possibility of bringing new charges against Mr Weisselberg in relation to an alleged insurance fraud, figuring that actual experience of Rikers Island might make him more inclined to cooperate rather than risk a longer stretch.
More information will of course emerge over the coming days, and at the arraignment, the formal charging of Donald Trump.
And along with the information, a hurricane of opinion about the wisdom or otherwise of taking this case.