British Prime Minister Rishi Sunak has arrived in Northern Ireland this evening amid growing speculation that a deal between the UK and EU over the controversial post-Brexit protocol is imminent.
EU sources say a deal on the protocol could come on Monday.
One EU diplomat told RTÉ News: "The increasing level of political activity - Sunak in Belfast, Cleverly in Brussels tomorrow, Sunak's meetings in Munich this weekend - all suggest the negotiations are coming to a close and we are nearing the announcement of a deal.
"Both sides - the EU and UK - now seem to be preparing the ground for an announcement possibly early next week.
"The deal does not seem to be completely over the line yet and the high-level political talks in Munich this weekend will focus on resolving any remaining differences."
Deep breaths all round…

Hearing the announcement of the Protocol deal cd be on Monday (ie, not tomorrow, despite the flurry of meetings)

— Tony Connelly (@tconnellyRTE) February 16, 2023
Mr Sunak and Northern Ireland Secretary Chris Heaton-Harris are due to hold talks with political parties in the region over the Northern Ireland Protocol.
A No 10 spokeswoman said: "Whilst talks with the EU are ongoing, ministers continue to engage with relevant stakeholders to ensure any solution fixes the practical problems on the ground, meets our overarching objectives, and safeguards Northern Ireland's place in the UK's internal market.
The EU's chief negotiator Maroš Šefčovič and the UK Foreign Secretary James Cleverly will also have lunch in Brussels tomorrow.
There will be a special meeting of EU ambassadors tomorrow afternoon where they are expected to be briefed on developments.
Some way to go yet - Martin
Speaking in Dublin this evening, Tánaiste and Minister for Foreign Affairs Micheál Martin said: "I think what it suggests is that the British government is anxious to afford a consultation with the Northern Ireland parties in the context of the discussions.
Tánaiste and Minister for Foreign Affairs Micheál Martin said that during talks, trust has built up between the EU's team and the UK team, but that "there's probably some time to go yet" | Read more: https://t.co/FhKLX35dPc pic.twitter.com/oTMakX5D4D

— RTÉ News (@rtenews) February 16, 2023
"I would have met with all the Northern parties the week before last and would have got a clear indication from them as to their desires and objectives respect of those negotiations.
"I have no doubt that the British Prime Minister, in advance of further discussions over the weekend and next week, wants to ascertain from the political parties in Northern Ireland their sense of the protocol and the various positions that they have in relation to it.
"I think there's a bit of distance to go yet. I don't understate the challenges here, but clearly the negotiations have been serious and substantive and trust has built up between the EU's team and the UK team, but I think there's probably some time to go yet."
However, a senior DUP figure has warned that a failure to end the imposition of EU law in Northern Ireland in any new UK/EU deal on post-Brexit trade will ensure Stormont's power-sharing impasse continues.
Nigel Dodds insisted his party would maintain its block on devolution if an agreement falls short of the measures contained within the UK government's own stalled draft legislation to unilaterally rip up the contentious Northern Ireland Protocol.
The Northern Ireland Protocol Bill includes provisions that would remove the oversight of the European Court of Justice (ECJ) in the region.
---
Explainer: The Northern Ireland Protocol
---
While it is understood the EU and UK are close to signing off on a deal that would reduce protocol red tape on the movement of goods from Britain to Northern Ireland, there is no expectation that Brussels is willing to agree to ending the application of EU law in the region.
The EU contends a fundamental plank of the protocol, namely that Northern Ireland traders can sell freely into the European single market, is dependent on the operation of EU rules in region.
Speculation is intensifying that a deal could be unveiled imminently, potentially early next week.
Following his visit to Northern Ireland, Mr Sunak is set to join European leaders in Germany this weekend for the Munich Security Conference and the protocol is likely to feature in discussions on the margins.
---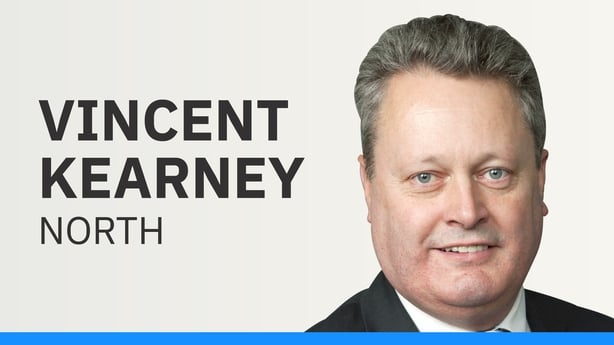 Rishi Sunak travelled to Northern Ireland for talks with the main political parties in Stormont tomorrow morning. He will also meet business representatives.
This comes amid intense speculation that a deal on the Northern Ireland Protocol between the EU and the UK is imminent.
But other sources familiar with this process say nothing is definite yet and that obstacles could still arise.
The expectation tomorrow is that Mr Sunak will brief the local parties, giving an upbeat assessment on progress in those talks.
But will that progress be enough to persuade the DUP to go back in powersharing?
The party has made clear that all of its concerns about the NI Protocol must be addressed before it will go back into the Stormont Assembly. They have said they want to see the detail of any deal before giving a response. They don't expect to see that detail tomorrow but are hoping to see it at some point next week.
Of course, it's entirely possible that what the DUP says to the British PM tomorrow morning may actually play into those negotiations and could influence what is said next week in terms of any announcement and whether there is any announcement at all.
Because if the DUP makes it very clear at this stage that it doesn't like what's on the table, that could well influence the British government's position.
---
Deal may not convince DUP
Mr Dodds, a former deputy leader of the DUP who now leads the party in the House of Lords, said the continued application of EU law in Northern Ireland would not be acceptable to his party.
His comments, and similar remarks from other senior colleagues, suggest a new deal between the EU and UK may not ultimately be enough to convince the DUP to return to power-sharing at Stormont.
The DUP is currently blocking the functioning of the devolved institutions in Belfast in protest at the protocol.
In 2021, the DUP set out seven tests by which it will judge changes to the protocol. Those tests did not include a specific reference to ECJ oversight.
In an interview with Italian newspaper La Repubblica, Mr Dodds said the fundamental issue was the "imposition of the EU law on Northern Ireland".
"If you deal with that, then you deal with the court situation (ECJ)," he said.
"For us, as UK citizens, it's wrong politically, constitutionally, morally, that laws are made for our country by a foreign political entity, in its interests, with no vote by anyone in Northern Ireland.
"That's the fundamental problem, and it's the reason why there are customs borders and regulatory borders between Northern Ireland and Great Britain, which need to change.
"The UK government back in July 2021 in its command paper said that (had) to be dealt with. They were proposing a system of deregulation. They brought the Protocol Bill forward, which would have dealt with these issues.
"Our view is that they must stick to that approach. Any deal that falls short of dealing with that problem, doesn't meet our seven tests. They knew that and the EU knew that. So, it's really the UK government's choice.
"Do they wish to have the Belfast Agreement (deal that created power-sharing at Stormont) up and running or do they want to continue with this problem? It's really their choice."
The DUP peer criticised the government's decision to pause progress on the Protocol Bill during the latest phase of negotiations with the EU.
"We're very, very not just disappointed, but angry at the fact that the government has stalled the Protocol Bill, which clearly they - Sunak, Truss and Johnson - all said it was British government policy.
"By failing to proceed with that - as they seem to be now adopting a position of simply making the current protocol work differently - that's not going to suffice. Because they made pledges to people in Northern Ireland in the Command Paper of 2021 and in the Protocol Bill, that they would fundamentally restore democracy and sovereignty to the elected representatives of people in Northern Ireland."
He added: "If Sunak doesn't deliver what was promised in terms of the Protocol Bill, either by way of legislation or by way of negotiation, he will be deciding to cause the continuation of the impasse in Northern Ireland. It's his choice, it's not a question of trust in them. We just want them to fulfil the pledges they made.
"If they don't, then the consequences are on them in terms of the political process in Northern Ireland. Which has for 25 years has made progress but now it has been thrown into chaos as a result of the EU and the way British governments have acted.
"Anyone in Brussels or London or Dublin who has any thought or care for the peace process, should be examining what they're going to do in the coming days and weeks."
'Serious ramifications'
Nationalist MP Claire Hanna from the SDLP said removal of single market access would have serious ramifications in Northern Ireland, particularly in relation to the agri-food sector that involves so much cross border movement of goods on the island of Ireland.
She said it looked like an EU/UK deal on the protocol was "imminent".
"I think we've all heard the rumours that the deal has been done and sitting there and I think it's positive, it's less friction and maintaining of dual market access, so I think that's a win for this region," she said.
Ms Hanna told BBC Radio Ulster that the DUP should be challenged to explain what the consequences would be if EU law was removed in Northern Ireland.
"What they mean, and they should be forced to spell it out, what they mean is they don't want us to have access to the single market and not only is that something that is completely rejected by a substantial number of parties and the majority of our MLAs, it means no dual market access that even the DUP lauded at the inception of the protocol, and it means no integrated economy," she said.
"It essentially means no agri-food economy, it means massive disruption to dairy (industry) and many of those other issues."
She added: "I think there are people in the DUP who know they are on a hiding to nothing if they keep going further down this dark alley.
"We know this is hard, compromise is hard, none of the options are particularly brilliant, but just saying 'no' is no longer an option."
Additional reporting PA