The United States has banned more than 600 individuals with connections to the Kinahan organised crime group from entering the country.
The entry ban is particularly aimed at the sport of professional boxing.
It is part of a coordinated drive by law enforcement agencies in the US and Europe against the Kinahan organised crime group.
Last month, gardaí and the US Treasury Department announced the worldwide financial sanctioning of seven individuals and two companies connected with the Kinahan organised crime gang - a process that would also lead to travel restrictions.
The scale of that travel ban became clear following a meeting in Washington between Assistant Garda Commissioner John O'Driscoll and US Customs and Border Protection.
Assistant Commissioner O'Driscoll told RTÉ News "the number of people who have been denied entry into the US has grown - it is over 600 at this stage - as a consequence of the targeting of the Kinahan organised crime group".
He said engagement with a number of other jurisdictions has led him to believe that a number of other countries will also deny entry to people on the US list.
"We're satisfied that the people concerned who are involved in criminality associated with that organized crime group will be denied entry into other jurisdictions, if they were to try and gain entry," he said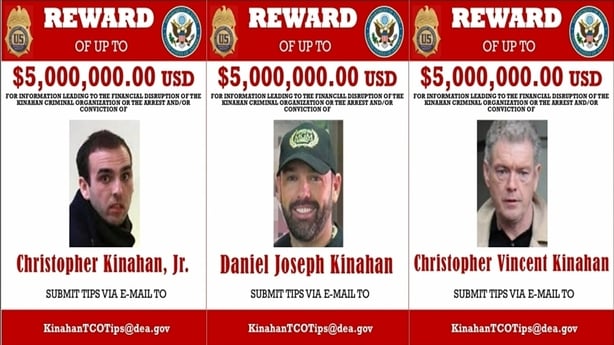 The travel ban appears to be particularly affecting individuals connected with the Kinahans through the world of professional boxing.
Assistant Commissioner O'Driscoll said "what has been displayed as a consequence of the sanctioning is the connection between the Kinahan organised crime group and, for example, sport - and businesses associated with boxing in particular. And its connections with the US are a particular focus of the US authorities."
The Minister for Sport has said anyone linked to the Kinahan organised crime group should be isolated from boxing.
Speaking on RTÉ's Today with Claire Byrne radio programme, Minister Jack Chambers said he did not know who was on the list but they had no place in sport.
He described the Kinahans as "a toxic force" and said he welcomed the strong co-operation between the gardaí and the US authorities in tacking the transnational criminal organisation.
It is not just boxing - any businesses and individuals connected with the Kinahan group's interests are being hit with travel bans.
"Of course, we've seen the wide range of other companies associated with those that are sanctioned. And anyone who has any part to play in any of those companies will be prevented from entering the US," Assistant Commissioner O'Driscoll said.
As well as the financial sanctions announced last month, the US Department of State posted a reward pool of up to $5m for information that could help to prosecute the group.
According to Assistant Commissioner O'Driscoll, that reward pot is yielding information that could assist in prosecutions in a number of jurisdictions.
One of his meetings this week was at the Drugs Enforcement Agency, to set up a system for sharing out the information to ensure it reaches the most appropriate agency to take action.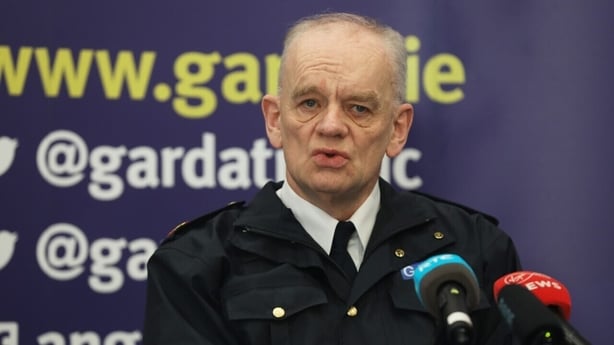 "We're satisfied following our meetings here in Washington that there has been considerable interest in that reward scheme to the extent that it requires some logistics around the sharing of the information and evaluating each piece of it.
"The amount is significant. It ranges in quality, but certainly does offer the prospect of additional actions being taken by law enforcement across the globe".
He said he was satisfied "that there will be additional actions in relation to criminal prosecution, both in Ireland and maybe further afield relating to those who are at the apex of the Kinahan organised crime group".
Assistant Commissioner O'Driscoll said that in follow-up talks with colleagues at Europe and the US agencies the initiative unveiled at City Hall in Dublin last month "is now described as a potential template for taking on other organised crime groups that have a transnational aspect to them.
"That is spoken about both here in Washington and in the Hague in terms of Europe's interest in how we went about our business in this particular project," he said.
Under Commissioner Drew Harris, An Garda Síochána has expanded its "liaison network" of officers stationed in other countries - which now includes Washington DC and Bogota, Colombia.
The liaison officers are tasked with engaging with law enforcement agencies in North, central and South America to ensure better coordination in operations targeting particular criminals and crime groups.
The Assistant Commissioner and the head of the Garda Anti-Drugs and Organised Crime Bureau, Detective Chief Superintendent Seamus Boland, visited the DEA special operations division, the Customs and Border Protection agencies National Targeting Centre and the Treasury Department's Office of Foreign Asset Control (OFAC).
As well as official agency business, Assistant Commissioner O'Driscoll attended the annual Peace Officers Commemoration, which took place on Capitol Hill, and was addressed by US President Joe Biden.
It is a part of the US National Police Week. The Commemoration was established by President John F Kennedy in 1962.
An Garda Síochána, which marks the centenary of its founding this year, was invited to participate in a wreath-laying ceremony on behalf of international law enforcement agencies.
"It's an event that serves to remind us of the tragic consequences of criminal activity by those engaged in serious and organised crime," Mr O'Driscoll said, adding that "it gives us an opportunity to demonstrate that those people who we commemorate today have not lost their lives in vain, and we are determined to continue the pursuit of serving our communities, protecting them from serious and organised crime".
"We also recall today all the members of An Garda Síochána who died in the line of duty, and indeed people like Private Kelly, a member of our Defense Forces who died in Ballinamore, along with Recruit Garda Gary Sheehan.
"We remember all those who have died in pursuit of protecting communities in Ireland. And I have an opportunity in representing International Law enforcement to recall colleagues that we have worked with in Europe and further afield in protecting those who are vulnerable to the activities of organised crime", he said.