The European Commission has confirmed a full ban on Russian coal imports into the European Union, worth some €4 billion, in the wake of Russian atrocities in Ukraine.
Announcing the EU's fifth sanctions package, Commission president Ursula von der Leyen said Brussels was also looking at a ban on Russian oil as part of "additional sanctions" that officials were working on.
She said: "It is important to sustain utmost pressure on Putin and the Russian government at this crucial point. The full packages of sanctions have hit hard and limited the Kremlin's political and economic options.
"We're seeing tangible results but clearly in view of events we need to increase our pressure further."
The latest package of sanctions, she said, would be "broader and sharper so that they cut even deeper into the Russian economy."
President von der Leyen said: "These atrocities cannot and will not be left unanswered. The perpetrators of these heinous crimes cannot go unpunished,
"Russia is waging a cruel and ruthless war, not only against Ukraine's brave troops, but also against its civilian population," she said.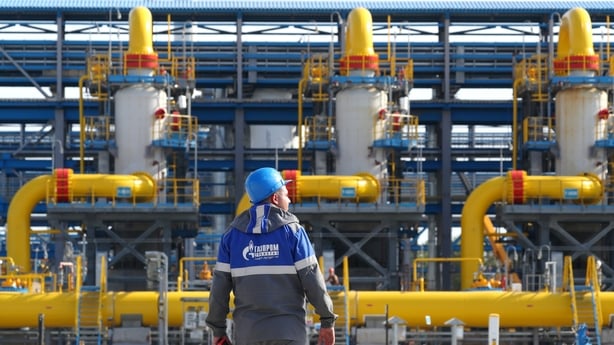 The sanctions will also hit four Russian banks, including VTB, the country's second largest bank.
"These four banks, which are now totally cut off from the markets, represent 23% of market share in the Russian banking sector," said President von der Leyen. "This will further weaken Russia's financial system."
Russian ships and Russian-registered ships will be banned from entering EU ports, and there will be a ban on Russian and Belarussian road transport operators entering the EU, in order to prevent companies using Belarus to circumvent existing sanctions.
The Commission has also proposed a further ban on €10bn worth of exports to Russia of quantum computers and advanced semiconductors, but also sensitive machinery and transportation equipment.
There will be import bans worth €5.5bn "to cut the money stream of Russia and its oligarchs" on products such as wood, salmon, seafood and liquor.
Member states are expected to adopt the fifth sanctions package at a meeting of EU ambassadors tomorrow.
Russia exports around one third of its coal to Europe, 90% of which is used in power stations.
Last year 1.67 million tonnes of coal, coke and briquettes worth €237m were imported into Ireland from abroad, according to the Central Statistics Office.
Around 1.04m tonnes of that, worth €140m or 59% of the total, came from Russia, with much of it used for generating electricity and the balance used as solid fuel for households.
Russia is waging a cruel, ruthless war, also against Ukraine's civilian population.

We need to sustain utmost pressure at this critical point.

So today we are proposing a 5th package of sanctions. pic.twitter.com/GEuPQf0Wgr

— Ursula von der Leyen (@vonderleyen) April 5, 2022
Minister for Foreign Affairs Simon Coveney said the European Commission had "responded strongly" with the new sanctions.
"The sanctions package needs to continue to get tougher, so that we continue to provide a very strong deterrent to Russia continuing this war and that means moving into the space of energy, oil, gas and coal as well as access to ports, as well as road access in terms of Russian hauliers," Mr Coveney said.
"I think the commission has responded strongly. We would like to go even further, particularly in relation to oil.
"In terms of sanctions Ireland continues to be at the sharp end of wanting to ensure that the deterrent is as strong as we can possibly make it."
EU allies expel around 150 Russian diplomats in two days
Italy, Spain and Denmark have joined EU allies in expelling Russian diplomats amid increasing outrage over the Ukraine conflict, with around 150 sent home in the last 48 hours.
The expulsions - many for alleged spying - follow international condemnation of killings in the town of Bucha, near Kyiv, where dozens of bodies were discovered after Russian troops withdrew.
Russia has rejected Western accusations that its forces were responsible, suggesting the images are fake or that the deaths occurred after they pulled out.
---
---
Kremlin spokesman Dmitry Peskov told reporters that the mass expulsions of its diplomats was "a short-sighted move".
"Narrowing down opportunities for diplomatic communication in such an unprecedentedly difficult crisis environment is a short-sighted move that will further complicate our communication, which is necessary to find a solution," he said.
"And this will inevitably lead to retaliatory steps," he added.
Italy's foreign minister, Luigi Di Maio, said 30 Russian diplomats were being expelled "for national security reasons" in the context of the ongoing war.
A few hours later, Spain's foreign minister announced its own expulsion of "around" 25 Russian diplomats.
"The unbearable images we have seen of the massacre of civilians in the town of Bucha after the withdrawal of the Russian army deeply outrage us," Jose Manuel Albares told reporters.
The Russian diplomats and staff "represent a threat to the interest of the country" and they will be expelled "immediately", he told a news conference following a weekly cabinet meeting.
Sweden's foreign ministry said it was expelling three Russian diplomats who conducted "illegal operations" there.
And Denmark announced a similar move for 15 Russian "intelligence officers" accused of spying on its territory, something it said was "unacceptable".
The Danish government condemned what it called "Russia's brutality" in Bucha, saying: "Deliberate attacks against civilians are a war crime."
But Foreign Minister Jeppe Kofod said diplomatic ties would remain with Moscow, noting that the Russian ambassador and embassy staff in Copenhagen were not being expelled.
The announcements follow similar moves by EU allies France, which on Monday expelled 35 Russian diplomats, and Germany, where officials said 40 diplomats had been sent home.
Also yesterday, Lithuania said it was expelling the Russian ambassador in response to "Russia's military aggression" and what it called the "horrific massacre in Bucha".
According to an AFP count, EU countries have now expelled around 260 Russian diplomats since the invasion.
"We are outraged at this immoral and barbaric attack on the civilians of Ukraine", Taoiseach @MichealMartinTD says, adding that Ireland and its EU partners are considering what further sanctions to impose on #Russia | https://t.co/MKSQmA4lZh pic.twitter.com/5Wn65VnRH5

— RTÉ News (@rtenews) April 5, 2022
Taoiseach Micheál Martin said it is absurd that the Kremlin and also Russia's Ambassador to Ireland say the images from Bucha in Ukraine are not real.
"I think that is a preposterous position that the Russian ambassador has put forward and indeed that the Russian Federation is putting forward," he said.
Speaking on his way into Cabinet this morning, Mr Martin said there are increasing accounts from independent observers who are witnessing the barbaric acts against civilians in Ukraine.
He said Ireland's relationship with Russia has "fundamentally" changed since the war began as its actions are immoral and "utterly reprehensible".
"We are outraged," he said.
The Taoiseach also said that "nothing has been ruled out at any stage" when asked if there would be further dismissals of Russian diplomats in Ireland.
Russia said on 29 March it was expelling 10 diplomats from Latvia, Lithuania and Estonia in a tit-for-tat move.
Ukrainian President Volodymyr Zelensky has urged the world to enforce tough new sanctions on Moscow over the killings in Bucha, which he has described as "war crimes" and "genocide".
The Kremlin has denied responsibility for the corpses lying in the streets, some with their hands bound behind them.
But newly released satellite photographs taken by Maxar Technologies in mid-March, before the Russian withdrawal, showed what appeared to be bodies in some of the same places they were later found by Ukrainian troops and seen by journalists.