Ukrainian President Volodymyr Zelensky challenged the United Nations to "act immediately" or "dissolve yourself altogether" during a blistering address in which he showed a harrowing video of dead bodies - including children - he said were victims of Russian atrocities.
Likening Russia's actions in Ukrainian cities such as Bucha to violence carried out by "terrorists" such as the Islamic State group, Mr Zelensky called on the 15-member council - which aims to ensure international peace and security - to expel Russia "so it cannot block decisions about its own aggression, its own war".
Russia, as one of the five permanent members of the Security Council, has a veto, which it has repeatedly wielded to block resolutions and negotiations on the global stage. Ireland is a non-permanent member of the council.
"If there is no alternative and no option, then the next option would be dissolve yourself altogether," Mr Zelensky continued.
The United Nations could be "simply closed," he said. "Ladies and gentlemen, are you ready to close the UN? And the time of international law is gone? If your answer is no, then you need to act immediately."
Bearded and dressed in his now trademark military green T-shirt, Mr Zelensky gave a chilling rendition of the atrocities he said were carried out by Russian troops against civilians in Bucha, a town outside the Ukrainian capital Kyiv, and aired the graphic video showing dead bodies, including several children.
"They were killed in their apartments, houses, blowing up grenades, civilians were crushed by tanks while sitting in their cars in the middle of the road, just for their pleasure. They cut off limbs... slashed their throats," he said.
"Women were raped and killed in front of their children, their tongues were pulled out only because the aggressors did not hear what they wanted to hear from them.
"So this is no different from other terrorists such as Daesh who occupied some territory, and here it is done by a member of the United Nations Security Council," he said, using another acronym for the Islamic State group.
"Accountability must be inevitable," he said, adding that "hundreds of thousands" of Ukrainians had also been deported to Russia.
Ukraine's President Volodymyr Zelensky demanded "accountability" at the UN Security Council today for Russian "crimes" carried out during Moscow's invasion of his country | https://t.co/eYzdj61aIh pic.twitter.com/8GIyI6fQV5

— RTÉ News (@rtenews) April 5, 2022
UN Secretary-General Antonio Guterres opened the meeting by warning of the global fallout from the conflict, with soaring food, energy and fertiliser prices affecting up to 1.2 billion people in 74 countries.
"The war in Ukraine must stop - now," Mr Guterres told the council, after calling it "one of the greatest challenges ever to the international order".
"We need serious negotiations for peace, based on the principles of the United Nations Charter," he said.
Russia invaded Ukraine on 24 February, sparking outrage across the world and displacing millions of Ukrainians.
Ireland will continue to support a robust investigation - Ambassador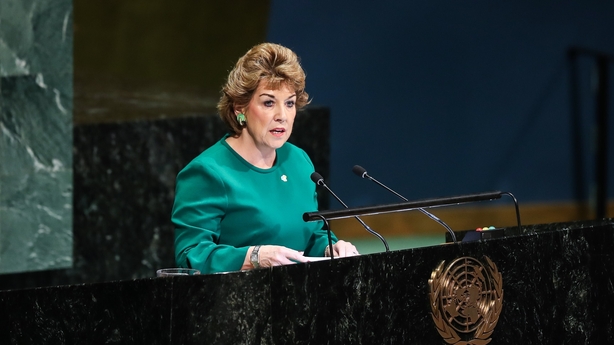 Ireland's representative at the UN Security Council said unprecedented levels of destruction - as well as sexual violence - have been witnessed in Ukraine over the last 40 days.
Speaking following Mr Zelensky's address to the UNSC, Ambassador Geraldine Byrne-Nason said his leadership and the courage of the Ukrainian people were an example to all.
Speaking of the pounding of Ukrainian cities and killings in towns and cities around Kyiv, such as Bucha, Ambassador Byrne-Nason said: "Let's be clear. Russian authorities are responsible for these atrocities committed while they had effective control of the area."
She added: "We've heard increasing allegations of sexual violence by Russian soldiers... we must stress that conflict-related sexual violence can constitute a war crime. The perpetrators of such crimes must be held accountable, they will be held accountable."
"Where crimes have been committed, they must be fully investigated and evidence preserved so that these crimes can be prosecuted by domestic and international courts, including the International Criminal Court.
"Ireland will continue to support efforts to ensure a robust and independent investigation of all violations of international law. We must have accountability and justice for the victims and for the survivors of this war. We at this table share that responsibility in the face of such atrocity."
She called on the Russian Federation to immediately cease military action and withdraw from the entire territory Ukraine, calling the attack unprovoked and unjustifiable.
"The reverberations of this war are reaching far beyond Ukraine, and its unacceptable that Russia's war of choice against Ukraine is also having and will continue to have a spill over effect across the globe, generating food insecurity, a surge in energy prices and increasing poverty," Ambassador Byrne-Nason said.
She said the most impoverished in developing countries would suffer the most as a result.
Visit to Bucha
Mr Zelensky's speech to the Security Council, the first to the body since Russia's invasion, comes after the Ukrainian President made an emotional trip to Bucha outside the capital, where dozens of bodies were discovered after the withdrawal of Russian troops.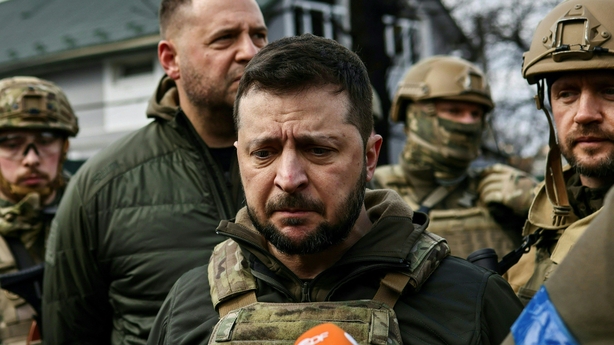 Horrific images of corpses lying in the streets, some with their hands bound behind them, have drawn international condemnation of Russia.
It has denied responsibility and suggested the images are fake or that the deaths occurred after Russian forces pulled out of the area.
But newly released satellite photographs taken by Maxar Technologies in mid-March, before the Russian withdrawal, showed what appeared to be bodies in some of the same places they were later found by Ukrainian troops and seen by journalists.
---
---
Yesterday, wearing body armour and visibly distressed, Mr Zelensky spent half an hour in Bucha, where he blamed Russian troops for the killings.
"These are war crimes and it will be recognised by the world as genocide," he said.
Later in his nightly address, he demanded "the sanctions response to Russia's massacre of civilians must finally be powerful".
"But ... did hundreds of our people have to die in agony for some European leaders to finally understand that the Russian state deserves the most severe pressure?" he asked in the video posted to Telegram.
We need your consent to load this rte-player contentWe use rte-player to manage extra content that can set cookies on your device and collect data about your activity. Please review their details and accept them to load the content.Manage Preferences
He also called for additional weapons from Western allies, saying more equipment could have saved thousands.
"I do not blame you - I blame only the Russian military," he said. "But you could have helped."
Ukraine's allies have called the killings in Bucha war crimes, with the EU offering to send investigators to gather evidence.
"(Russian President Vladimir Putin) is a war criminal," US President Biden told reporters at the White House. "What's happening to Bucha is outrageous and everyone's seen it."
The White House said it would announce fresh sanctions on Moscow "this week" with France suggesting new measures could target Russian oil and coal exports.
But Germany warned it was too soon to cut off Russian gas.
"We have to cut all economic relationship to Russia, but at the moment, it's not possible to cut the gas supplies. We need some time," German Finance Minister Christian Lindner said.
Elsewhere, the United States and Britain said they would seek Russia's suspension from the UN Human Rights Council - a move Moscow branded "unbelievable".
Russia calls for UNSC meeting
Russia has called for a UN Security Council meeting on what it dubbed the "heinous provocation of Ukrainian radicals in Bucha", but Britain - which holds the Council presidency - has so far refused the request.
The full nature of the killings in Bucha and other areas from which Russian troops have withdrawn is still being pieced together.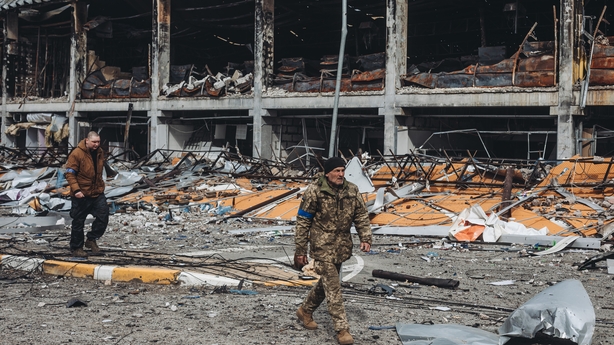 Yesterday, the bodies of five men were found in a children's sanatorium basement in Bucha. The Ukrainian prosecutor general's office said they were unarmed civilians, who had been bound, beaten and killed by Russian troops.
And in Motyzhyn, west of Kyiv, Ukrainian police showed AFP journalists the bodies of five civilians with their hands tied, including those of the village's mayor, her husband and son.
Ukrainian officials say over 400 civilian bodies have been recovered from the Kyiv region, many of whom have been buried in mass graves.
But Mr Zelensky has warned that the deaths in Bucha could be only the tip of the iceberg, saying he had information even more people had been killed in places like nearby Borodianka.
The Russian withdrawal from Kyiv has been seen as a pivot to a renewed offensive in the country's east and south, where Moscow wants to consolidate territory around occupied Crimea and the separatist statelets of Donetsk and Luhansk.
'Full-scale' attack
The Ukrainian government has warned Moscow is preparing a "full-scale" attack in the country's east and regional officials urged civilians to evacuate Lugansk fearing a major Russian attack.
The Pentagon estimates Russia has withdrawn about two-thirds of the troops it had around Kyiv and will redeploy them to the east and south, with the White House warning the war's "next phase could be measured in months or longer."
Even where troops have withdrawn, fears remain, with Kyiv mayor Vitali Klitschko telling residents to wait before returning, citing the danger of continued shelling and the danger of unexploded munitions.
Overnight, air raid sirens rang out across much of the country, from Lviv in the west to southern Mykolaiv, where officials said that Russian strikes killed 10 civilians and wounded 46.
Elsewhere in the south, concerns remain about civilians trapped in the besieged city of Mariupol.
Authorities say at least 5,000 people have been killed in the city, 90% of which has been destroyed, according to mayor Vadim Boichenko.
Around 130,000 residents are still trapped inside, and efforts to evacuate them are now on hold because of "incessant" bombing, he said.
The Red Cross said a team it sent to help get civilians out of Mariupol was being held by police in Russian-controlled territory.
Europe's worst conflict in decades, sparked by Russia's invasion on 24 February, has killed as many as 20,000 people, according to Ukrainian estimates.
More than 4.2 million Ukrainians have fled the country and about 6.5 million have been internally displaced, UN agencies say.
Additional reporting: Eleanor Burnhill