NI Deputy First Minister Michelle O'Neill has said the "disruption" to politics in Northern Ireland "cannot extend" any longer.
Ms O'Neill said she hopes the DUP will "deal with their internal matters quickly and get back to the business of sharing power".
It comes as Northern Ireland is facing a new period of political instability after DUP leader Edwin Poots announced his resignation after just 21 days in the job.
The move followed an internal party revolt after a deal between Sinn Féin and the British government on Irish language legislation.
Speaking on RTÉ's Drivetime, Ms O'Neill said: "It does start to disrupt the business of government and today is a case in point, where we were supposed to have a North-South Ministerial Council meeting for ministers across the area to come together on our common challenges or common opportunities, and that was disrupted today," she said.
"So that is tenable, that cannot extend. I hope that the DUP deal with their internal matters quickly so we can get back to the business of sharing power."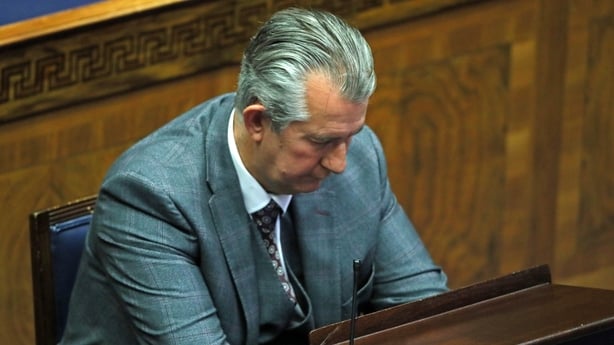 The Sinn Féin deputy leader said the DUP have been consistent "outliers" among politicians in Northern Ireland, who she said want to create "a modern progressive society".
"They have failed to deliver basic rights," she said.
Ms O'Neill said she will "work with whoever they choose", as she wants to "make politics work" in Northern Ireland.
She said legislation on Irish language had been agreed 15 years ago, adding she "does not accept" that a "concession" has been given.
"I don't accept that. The Irish language Act is not a concession. It is my right as an Irish National that is protected in law and is cherished. 15 years ago the British government made that commitment. We made politics work by securing a political agreement. No one has anything to fear from an Irish Language Act."
"This is not about zero-sum games. The DUP work on the basis that they see it as they are losing something to give other people their rights."
She also said that given the "volatility" in Northern Ireland, it is "possible" that elections could take place before next May.
"Sinn Féin will fight any election on the basis of progressive politics and delivering a modern and progressive society."
On the issue of a border poll, she said that "now is exactly the time to talk about constitutional change and to plan for the future" and called for a citizens assembly to be called on the matter.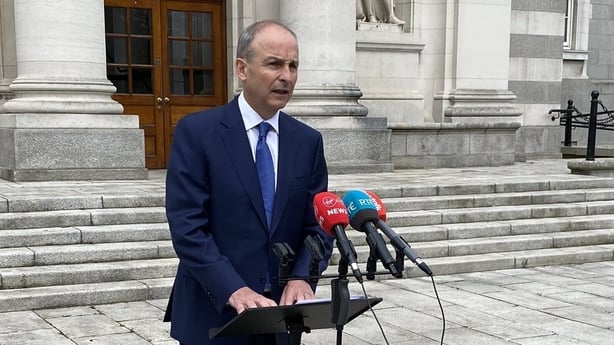 Earlier this afternoon, Taoiseach Micheál Martin appealed for "calm heads" following the announcement by Mr Poots last night.
Speaking outside Government Buildings this afternoon, Mr Martin said it was important that everyone works towards maintaining stability.
He said that the Government will work constructively with the new DUP leader, whenever that person is elected, adding that "it's been a very difficult time for Edwin Poots".
Mr Martin spoke of the importance of maintaining relationships and working constructively during this time, expressing his belief that the British government was acting in good faith when it brokered a deal involving the Irish Language Act.
Taoiseach Micheál Martin has appealed for calm heads, following the announcement by Edwin Poots last night that he is to step down as DUP leader | https://t.co/Y1rAUj8KIQ pic.twitter.com/jKkaSFqCJU

— RTÉ News (@rtenews) June 18, 2021
He said that, in his view, the Irish Language Act was not a cause of division given that it had been included in the New Decade New Approach agreement.
The Taoiseach said that "timing" had been the issue and that it was not a mistake for Northern Ireland Secretary Brandon Lewis to broker a deal involving the implementation of the legislation.
Mr Martin described Mr Poots as a pragmatic individual and said that perhaps he paid a price for that.
Earlier, Minister for Foreign Affairs Simon Coveney said the "last thing" Northern Ireland needs is to have its largest party divided.
Mr Coveney said the DUP needs to be given space respond to the challenges it is facing.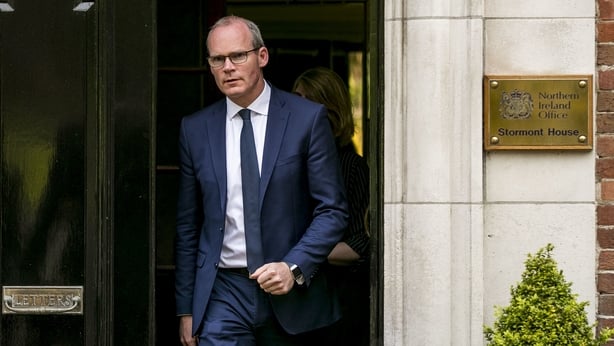 Speaking on RTÉ's Morning Ireland, Mr Coveney said: "We're back to square one, if you like, where the party has to find a way of electing a new leader that can unite the DUP, or at least attempts to. And that's important for politics in Northern Ireland."
The minister said with the region facing "potentially a very tense summer", what is needed is "stability and some predictability" in Northern Ireland politics.
Mr Coveney said it was "hard to tell" whether Paul Givan will resign as Stormont's First Minister following Mr Poots' resignation.
---
Read more: What went wrong for Edwin Poots?