Sinn Féin leader Mary Lou McDonald has said her party will be "vigilant" in ensuring that the Democratic Unionist Party will not obstruct any Irish language legislation that is passed by Westminster.
She was speaking after the British government agreed to introduce an Irish language act in Northern Ireland if the Stormont Assembly fails to do so by the end of September.
The British government's move to introduce an Irish language act in Westminster ends a dispute that had threatened to derail attempts to get the Stormont Assembly back up and running.
Northern Ireland's Assembly was restored this morning, but the political system was again thrown into disarray tonight with the resignation of Edwin Poots as DUP leader.
Ms McDonald told RTÉ's Morning Ireland today that Sinn Féin wanted to see no "blocking mechanism employed by the DUP at the eleventh hour".
"We have to be vigilant on this matter. We have discussed this with the British government and I am satisfied that we will avert any possibility of that happening."
She said the DUP has blocked agreement on marriage equality rights and there is "still a way to go on reproductive rights".
The process agreed last night with Britain's Northern Secretary Brandon Lewis would see "Irish language commissioners and a commissioner for Ulster-Scots in place by March 2022, within the mandate of the current Assembly term", she added.
Ms McDonald said this meant "we finally have a real timetable and the reality of 'as Gaeilge' being legislated for".
She said Sinn Féin had taken the initiative to go to the British government because "this matter needs to be resolved" and the DUP "flatly refuses to keep to its commitments".
When her party's delegation spoke to the British government, "we made it very clear that unionism can obstruct and delay change..[but] it cannot go on forever."
She said the "jig was up" and it was made clear that Westminster would have to intervene.
Ms McDonald said that Edwin Poots and his party had made it clear that it would not agree to an Irish language agreement that could come through the Executive and the Assembly.
"They made it clear that was not going to happen, they refused to do it and that is not going to change before September or October."
Asked about Tánaiste Leo Varadkar's remarks that the unification of Ireland can happen in his lifetime, she said it would happen "well within" his lifetime and he was "absolutely right" to say this.
Minister for Foreign Affairs Simon Coveney, meanwhile, said he hopes that legislation on the Irish language could be agreed by the Stormont Executive rather than being delivered through Westminster.
Speaking on RTÉ's Today programme, Mr Coveney said it will be "the real test" for leadership within unionism in Northern Ireland and "whether unionism can accept that Irish language is part of Northern Ireland".
Mr Coveney said there have been "obstacles every step of the way" over the last 18 months preventing the legislation being passed, when "it had been expected to be one of the first" pieces of law to be agreed on, in the New Decade, New Approach agreement.
He said there is "scepticism and a real lack of trust", as a result.
Mr Lewis said there is time for the Executive to agree a cultural package for language ahead of the British government's agreement to legislate for it.
---
Givan, O'Neill installed as NI First and Deputy First Ministers
---
Speaking on RTÉ's News at One, Mr Lewis said that "we want to see the Executive deliver this and want to give them space to try and do this.. but if not in October we will deliver legislation to ensure it is delivered as agreed".
Mr Lewis said that the British government has committed to delivering a balanced package for culture as set out in the New Decade, New Approach agreement.
He said that his government had stepped in as the parties could not agree on a timeline, but he said the DUP has "always said it is committed to New Decade, New Approach and [the DUP] agree and accept and want to deliver on all aspects of NDNA".
He said "it is important for all parties to have confirmation and guarantee that it will be delivered within this mandate".
He said it is "right and proper that we are clear to everyone in NI that as co-guarantors of the agreement we will ensure it is delivered on".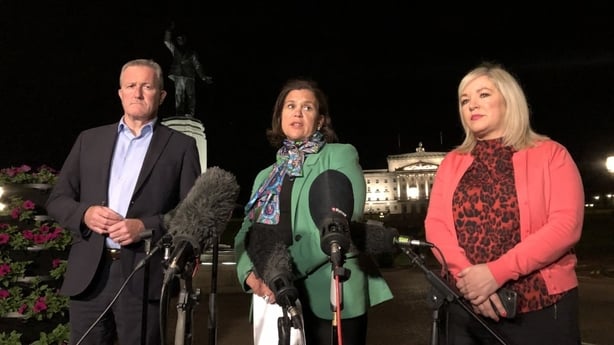 Furthermore, Mr Lewis said he was "pleased" the DUP and Sinn Féin had agreed to nominate First and Deputy First Ministers after holding separate meetings with the parties at Stormont last night.
He held talks with Mr Poots and his choice as Northern Ireland's next First Minister, Paul Givan.
The Sinn Féin delegation included Ms McDonald, its leader in Northern Ireland Michelle O'Neill, and its chief negotiator Conor Murphy.
Mr Poots today confirmed that he would nominate Mr Givan as First Minister at the "earliest opportunity" - before it was revealed that some senior members of his party were opposed to this idea.
Mr Givan and Ms O'Neill were formally nominated and installed as First and Deputy First Ministers at a special sitting of the Stormont Assembly this afternoon.
Mr Lewis said that the First Minister and Deputy First Minister have been nominated and are now in place and the focus needs to be on the key issues that effect everyday lives, including healthcare, jobs and education.
He said "it is important and the wider citizens and public want to see Executive working together on issues like Covid and dealing with waiting lists in healthcare system".
He would not comment on the internal working of the political parties saying "it is a matter for them".
Additional reporting PA