Ryanair has said it is considering cancelling a number of Irish routes as a result of the mandatory hotel quarantine system.
The airline said that routes to Paris, Brussels, Rome and Vienna are among those that could be axed in the coming weeks.
The airline described the quarantine system as "defective" and called on the Taoiseach to deliver a roadmap for the reopening of EU air travel in time for summer holidays.
It said the system was particularly "absurd" for EU arrivals into Ireland because of the 500km land border shared with the UK.
It said this allowed travellers into Ireland to easily avoid mandatory hotel quarantine by flying into Belfast or travelling to another EU country not on the list.
In a statement, Ryanair said the Government's travel policies are damaging Ireland's international reputation and severely impacting connectivity to and from the country.
Earlier today, the Taoiseach appeared to suggest that travel might be on the horizon by the middle of the summer.
Micheál Martin said the current advice on international travel will be re-examined in July, when it is expected there will be a significant numbers vaccinated here and across Europe.
Speaking on RTÉ's The Week in Politics, he said the travel advice will change and he did not believe Ireland can be "sealed off forever" because we are a global and interconnected island.
But the Minister for Foreign Affairs, Simon Coveney, struck a more cautious note, saying he did not believe we would be using the proposed EU Digital Green Certificate travel system in June.
Simon Coveney told RTÉ's This Week he did not think international travel would be a big feature of summer 2021 but the new EU system would enable the Government to make "positive decisions" on the issue.
We need your consent to load this rte-player contentWe use rte-player to manage extra content that can set cookies on your device and collect data about your activity. Please review their details and accept them to load the content.Manage Preferences
"I'm not in the space of being able to give dates on that but I think there is real hope on the horizon."
Travel expert Eoghan Corry, Editor of Air & Travel Magazine, said routes into and out of Ireland could be cut unless Ireland follows the EU system for resuming international travel.
But he believes there is still "some way to go" before airlines make that decision with many still planning full schedules for the summer months.
"I don't think the airlines are expecting to make a lot of money for the summer but they do need some sort of commitment from the Government that it is serious about keeping connectivity in place ... [but] it's only April, it's not a time to panic yet."
Paul Hackett, CEO of Click & Go and board member of the Irish Travel Agents' Association, said the industry is massively frustrated by the lack of a roadmap for the travel industry for the summer months.
"We need the Government to adopt fully and implement the EU Digital Green Certificates. They're going to be law from the start of June and they must be implemented by all member states within six weeks and the Irish Government has no veto on this.
"This is going to happen so they need to get behind that. There's nobody booking at the moment because people want certainty and they will have certainty by the vaccine roll-out and by Digital Green Certificates".
---
Stalled aviation industry waits in departure lounge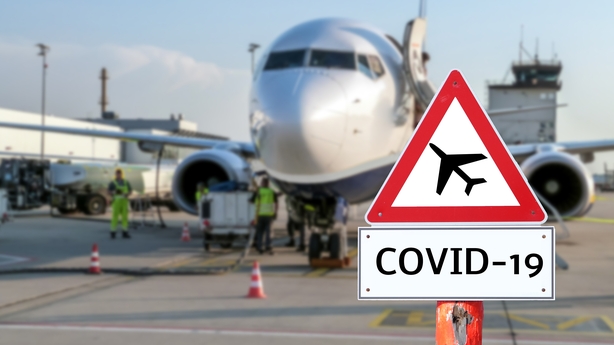 Aviation forms a sizeable portion of our economy and today's pilots, aircrew and aircraft inhabit unfamiliar territory on the ground, for what could be two summer seasons, writes Ray Kennedy