The Grenfell Tower fire in London claimed the lives of 72 people in June, 2017. But the longer term fallout from the fire safety issues raised by the tragedy is blighting the lives of up to four million people in Britain.
Not only are they living in buildings with fire safety risks, but they are finding themselves saddled with large bills to pay for fixing problems of external cladding, insulation, firebreaks, alarms and sprinkler systems, as well as rapidly rising insurance bills.
Increasingly, they find themselves unable to sell their properties, as banks and other mortgage companies will not finance apartment sales without hard-to-get proof of fire safety compliance.
This issue is affecting millions of apartment owners across the UK, some of whom face a four-year wait for fire safety certificates.
And evidence is mounting that the fire safety issue is causing a slump in apartment sales, affecting other rungs on Britain's property ladder.
Last summer, the UK parliament's housing and local government committee published a report on the cladding crisis, which said there are still 2,000 high risk residential buildings with dangerous cladding in England.
Of some 300 identified buildings needing remediation work, a further 11,300 buildings with combustible cladding need work to be done. Of those, around 1,700 are deemed high risk and need urgent attention.
The committee report stated "three years since the Grenfell Tower fire, to still have 2,000 high risk residential buildings with dangerous cladding is deeply shocking and completely unacceptable".
But even that may vastly understate the scale of this problem. Most of the initial attention in the Building Safety Programme undertaken in the wake of Grenfell was paid to buildings taller than 18 metres (roughly six storeys).
But more recently, attention has switched to apartment buildings of between 11 and 18 metres (three to six storeys).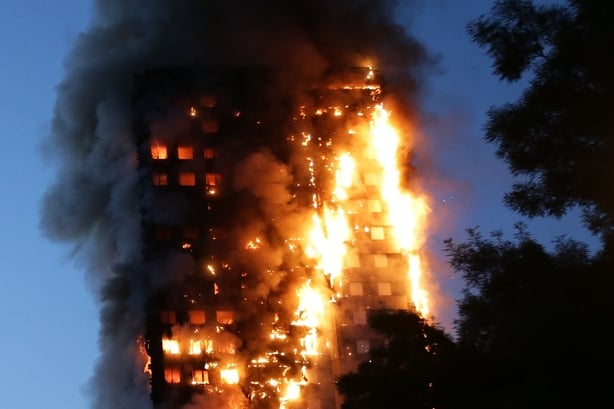 A report this month from the London Assembly describes these buildings as "a growing area of concern".
The UK ministry of housing, communities and local government estimates there are 77,500 residential buildings across the UK in this height category, of which 98% are apartments and flats and the remainder are student housing and sheltered accommodation.
The London Fire Commissioner said in London alone, some 72,000 buildings may be considered "high risk". The actual number is likely to be many more "because of emerging evidence of fire safety defects".
He said these buildings included care homes, sheltered housing blocks and hospitals, where the vulnerability of the residents is a crucial factor.
The public sector has moved faster in dealing with the identified problems. The UK Government's Building Safety Programme monitoring shows that just 22% of social housing towers - 17 buildings - have not had cladding removed.
In privately owned towers, two thirds have not had dangerous cladding materials removed. That is 96 buildings.
We need your consent to load this rte-player contentWe use rte-player to manage extra content that can set cookies on your device and collect data about your activity. Please review their details and accept them to load the content.Manage Preferences
'My flat is now worth zero, I can't sell it'
From the outside, Royal Artillery Quays in Woolwich, South-East London, doesn't look like it would be affected by the cladding problems thrown up by the Grenfell fire. For a start, there is no visible external cladding.
The 418 apartments in the riverside complex – which dates from 2003 – appear to be built from concrete, brick and render, with concrete and steel balconies.
But just over two years ago, a fire safety survey ordered after Grenfell revealed flammable materials were used in the 16-storey buildings.
That led to an immediate problem for DJ Maggie Sychta, who was selling the apartment she had part-owned for ten years.
"My ex partner and I bought this flat with a shared ownership scheme, so it's part mortgage, part rent. And in 2019, we decided to put it on the market and to sell it. That was after Grenfell, so obviously the issue was already well known.
"At the very last hurdle, when the sale was just about to be finalised, the lenders came over and told me that my flat is now worth zero. So I can't sell it. I can't move out. I'm still paying, including the rising costs of keeping the place safe - my service charges have gone up by £250 a month in the last year alone."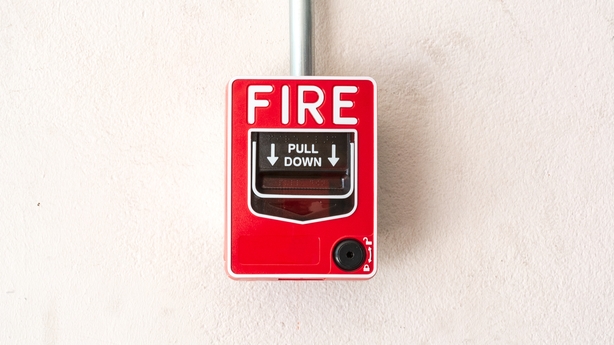 Maggie added: "So, not only am I living in a fire trap I can't move out to this fire trap, and I'm paying more and more money to live in it. I'm being asked to pay 100% of the cost (of remedying the defects)."
A big issue for anyone selling an apartment in the UK is the need for an EWS1 Certificate – an External Wall Safety Review, an industry standard backed by the British government in the wake of the Grenfell tragedy.
But a shortage of qualified inspection engineers, and the sheer numbers of buildings involved, mean there a big delays in getting certificates.
And the whole building must be done – a costly exercise for individual apartment owners seeking to sell up – so there are disputes between the freehold companies and the leaseholders who own individual apartments (or shares in individual apartments) over who pays.
Meanwhile, the certificate is only valid for five years, before it needs to be done again. This is to ensure a renovation or repair work done to a building is within fire safety standards.
A recent report in the Sunday Times suggested the issue is causing a large downturn in apartment sales. Looking at sales data from September, the key selling month in the autumn, the paper said while house sales were down 26% compared with September 2019 (mainly a Covid effect), apartment sales were down 48%.
In England's complicated system of buying and selling property, an impact in one segment of the property market leads to impacts elsewhere. In short, rungs are dropping out of the property ladder, leaving potentially millions of people trapped in properties they want to move on from.
The Royal Institute of Chartered Surveyors (RICS), the professional body for estate agents and surveyors in the UK (and Ireland), said the EWS1 form is not the cause of the problem in property sales, but rather a solution, which it argues "is helping to keep the home buying and selling market from stalling in exceptional circumstances".
It said the EWS1 review was set up by RICS and the two key UK mortgage lending bodies to "inform buyers, owners lenders and valuers on the extent of the works needed on the highest risk properties".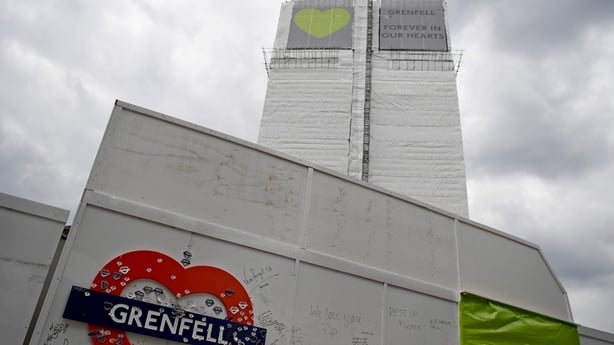 That was supposed to mean apartment buildings higher than six storeys. But UK government advice – and concerns among lenders – led to the EWS1 review being extended to virtually all apartment buildings. And that is blocking the sales route.
RICS is reviewing how the process works, and is ready to launch a programme to train up to 2,000 inspectors within six months. But a lack of professional indemnity insurance for inspectors threatens to halt this expansion.
'The decision to buy a flat is going to ruin me financially'
Buying, not selling, was the problem for Timea Szabo, originally from Hungary, who works in financial services. Shared ownership schemes, set up to help people get on London's very expensive property ladder seemed like a good idea - but that was before the cladding issue surfaced.
Now leaseholders who own a share in an apartment - 30% in Timea's case - are being asked to pay for 100% of the repair bill. Like many others caught in this problem, Timea said she is contemplating bankruptcy, to put an end to her financial misery - though it may also put an end to her career in financial services.
"I am devastated because it seems to be that this decision to purchase a flat for security and stability is going to ruin me completely financially.
"I am probably going to have to go bankrupt. I don't have £45,000 to pay the cladding bill so my only option is to go bankrupt. And all of my life savings are in it," she told RTÉ.
"I can't tell you the sleepless nights the stress the anxiety, this is causing. And, you know, trying to shield your child from it as well - it really has completely taken over and ruined everything."
Residents in her block - like hundreds of other apartment schemes in London alone - have had to pay for a Waking Watch. This is someone to patrol the complex 24/7 checking for fires, and getting residents out if there is one.
A British government report on Waking Watch costs, published last October, showed it cost an average of £499 per apartment, per month for Londoners.
The London Assembly Fire, Resilience and Emergency Planning heard there are 590 high risk buildings in the city that have a Waking Watch patrol or common fire alarms as "temporary" fire safety measures.
The fire brigade said there are some 250 buildings reliant on Waking Watch alone. It has to inspect those buildings every two weeks, a continuing drain on its resources, that will continue until all cladding is removed and the buildings declared safe.
Ritu Saha – a founding member of the UK Cladding Action Group, a pressure group to fight for a fair deal - lives in Northside, a building in Bromley, that has Grenfell type ACM and high pressure cladding.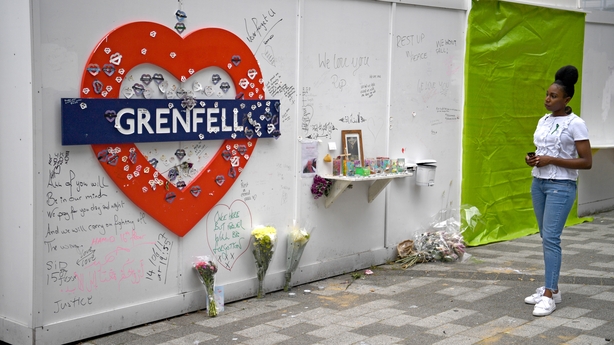 She told the Grenfell inquiry the cost of waking watch for the 57 families in her building has now passed more than half a million pounds. They have also had to pay £120,000 for a common alarm system.
This week consumer magazine Which? reported dramatic rises in insurance premia being demanded from people living in apartments affected by the cladding crisis. It found 16 blocks where the annual increase in insurance was 500%.
In the most extreme case the magazine came across, one block – The Decks in Runcorn, north west England -the block insurance cost had gone from £34,000 in 2019, to £254,000 last year to £525,000 this year – an increase of 1,448% over two years.
While the British government, builders, developers and landlords argue about the cost of putting things right nationally, the bills are landing in the first instance on the ordinary people who have put their money into bricks and mortar.
The hulk of the Grenfell Tower is covered and silent now, but it casts a long shadow over the lives of millions, caught in a nightmare that is absolutely not of their making.