Chief Medical Officer Dr Tony Holohan has expressed concern over a "worrying trend" of cases of Covid-19 rising in Ireland as well as "some new clusters".
There have been no further deaths from Covid-19 reported here in the past 24 hours, with the total number of fatalities remaining at 1,735.
There were 24 additional new cases confirmed by the Department of Health. There is now a total of 25,462 confirmed cases in Ireland.
Dr Holohan said: "We are starting to see a worrying trend, with the number of reported cases increasing, and some new clusters."
One of those clusters was located in the northwest of Ireland and its transmission was travel-related, originating in Iraq.
Dr Holohan urged people who have made bookings to travel abroad for holidays "not to go ahead with that booking" rather than risk picking up Covid-19 or bringing it back to family members or their local community.
He said as time goes on, the role and risk of travel will increase. "We are genuinely very concerned about that."
Earlier, the chair of the Irish Epidemiological Modelling Advisory Group, Prof Philip Nolan, said non-essential travel outside of Ireland is too big a risk to take.
Dr Holohan also said he hopes that over the coming days, legislation will be finalised to enforce the use of face masks on public transport.
The National Public Health Emergency Team (NPHET) is working with the Department of Transport on this detailed regulation.
It is now mandatory for people to use a face covering while on public transport.
Dr Holohan revealed that in relation to some recent Covid-19 cases, particularly among young people, "the numbers of contacts .... have actually been quite large".
Sometimes they have had to test in excess of 20 people as close contacts of individual cases.
That was a very different situation from back in April when there was a much larger number of cases, but the average number of contacts for each of the cases was two to three.
He wanted to remind people the virus is still here and when NPHET warned about large gatherings and house parties, it was not just aimed at young people, as older age groups were also participating in such activities.
While he still believes there are high levels of compliance, Dr Holohan said public health officials were witnessing slippage in some settings. If we get a resurgence of this disease, it will be things like this that will lead to it.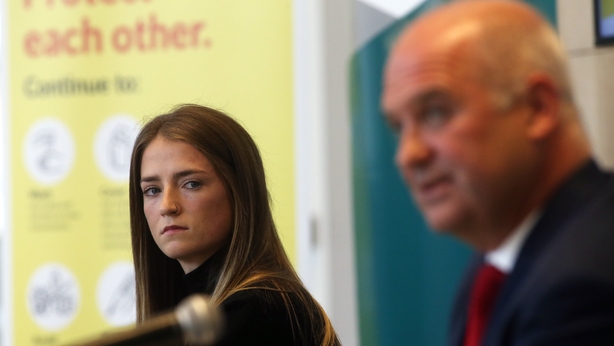 "As restrictions are lifted and people move about more, it's important that we use the tools that have helped us suppress the virus to date," said Dr Holohan.
"Handwashing, physical distancing, cough/sneeze hygiene and wearing face coverings are important personal behaviours" to help curb the spread of the virus.
Siobhán Killeen, Dublin GAA footballer, spoke of her battle with coronavirus.
"The after-effects of this disease are very serious, even for those who are fit and healthy. I was in very good health, but it was a very tough battle.
'I probably was naive in thinking my age and my health would protect me from a very infectious disease' - Siobhán Killeen, a Dublin footballer and former Republic of Ireland international, describes her experience of Covid-19 | Read more coverage: https://t.co/imcrSTD2KO pic.twitter.com/4K5hP0naV4

— RTÉ News (@rtenews) June 29, 2020
"I, probably like many others, was naive in thinking that my age and health would protect me from a very infectious disease."
Dr Siobhán Kennelly, HSE Group Lead for Older Persons said: "Many restrictions have now been lifted and people are getting out more, including those who are over 70 or medically vulnerable. 
"Socialising is important for your mental and physical well-being, but it's important that you are safe while doing so. Wear a face covering, know the symptoms of Covid-19 and contact your GP straight away if you feel unwell."
There has been one further coronavirus-related death in Northern Ireland, taking the official toll there to 551. There are six new cases, bringing the cumulative total to 5,757.
For the third consecutive day, there are no Covid-19 patients in ICU in Northern Ireland.
Dr Holohan said there have been no new admissions to ICU in the past 24 hours and, as of this morning, there were 13 patients in ICU in Irish hospitals.
Many of the remaining parts of the economy that were closed due to Covid-19 restrictions reopened.
Pubs serving food, cafés and restaurants, hotels, hairdressers and beauty salons, tourist attractions and remaining retail outlets can all resume trading.
However, they all must continue to abide by strict public health measures, including observing social distancing requirements and the wearing of protective equipment in certain circumstances.
---
Read more: Latest coronavirus stories
---