A consultant in infectious diseases has said if wearing face coverings becomes compulsory in Ireland, then it needs to be enforced rapidly.
From today, it is mandatory to wear face coverings on public transport and people are also encouraged to use them in situations where it is difficult to maintain social distance.
Professor Paddy Mallon said there needs to be visible enforcement of the rule on public transport and this needs to be brought in as soon as possible.
He said: "This virus moves very quickly and all you need is one person going into a crowded environment to cause a lot of onward transmission."
Speaking on RTÉ's Today with Sarah McInerney, Prof Mallon said that thought needs to be put into how to facilitate the public health measure of wearing a face mask, by making them cheaper and in some cases free.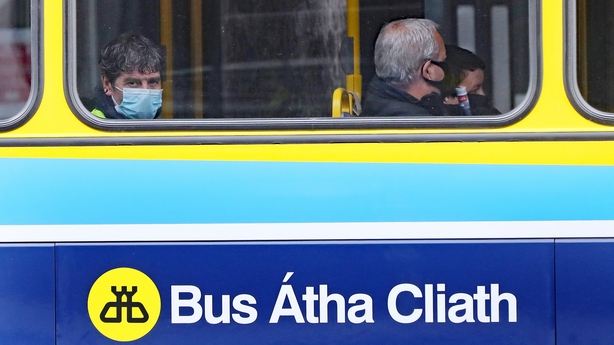 He said he does not expect there will be a second wave of the coronavirus, but instead there may be a resurgence in the number of cases which will come from a reintroduction of the infection into the country from people bringing it in and also from people not adhering to advice to stay physically distant or wear a face covering.
Prof Mallon said if Ireland can limit the impact of imported cases then he would be hopeful the country can keep on the trajectory it is currently on for as long as possible.
In terms of travelling abroad, he said, the green list of countries is going to be "tricky" as this is a scenario across Europe that is changing daily.
He added that "international leisure travel is probably fairly far down the list" of priorities that Ireland needs to do over the next four to six weeks.
He said the focus needs to be on "reopening our economy safely" and on situations such as childcare, getting children back to school, and "ways to get all these small businesses open again safely".
He said that for him the priority would be to reopen our economy safely rather than overseas leisure travel.
Prof Mallon also said that over the coming weeks, people need to be prepared that some of the proposals brought in may not work and if there is a resurgence in cases linked to specific activities, these activities will need to be reversed.
He said it is vital that people behave responsibly over the next few weeks.
He said a contact and tracing app, which is due to be launched, will help people engage in contact tracing, which will make a big difference in controlling the infection over the summer months.
But Prof Mallon said there also needs to be balance to limit the economic damage and he "wouldn't be sitting waiting for an app to be perfect before introducing it".
Confusion among passengers over face coverings - NBRU
The General Secretary of the National Bus and Rail Union (NBRU) said unless it is enforced or policed, people are not going to wear face coverings on public transport.
Speaking on RTÉ's News at One, Dermot O'Leary said there is still confusion among passengers and some have decided not wear them unless they are forced to do so.
He said bus drivers are telling him there is a very low uptake in the wearing of coverings and the NBRU wants the issue to be policed for the benefit of the whole community.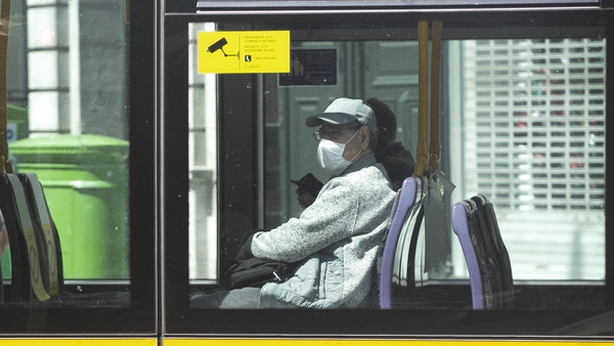 Mr O'Leary said he is not surprised by the low uptake after the "dithering and indecision over the last number of weeks on this issue."
Bus drivers are asking if this is signed into law yet and, he said, he believes it is not.
Mr O'Leary said the NBRU wrote to the National Transport Authority last Friday suggesting measures to police this issue, adding the sector wants the public to come back and use public transport in confidence.
He said that having a debate on the national airwaves about wearing face coverings is not going to instill that confidence.
Non-essential travel abroad too big a risk, expert warns
The chair of the Irish Epidemiological Modelling Advisory Group said non-essential travel outside of Ireland is too big a risk to take.
Restrictions on domestic travel have been lifted, but Professor Philip Nolan said Ireland does not need the risk or burden of importing cases unnecessarily.
Speaking on RTÉ's Morning Ireland, he said people who need to travel for work or to reunify a family should be prioritised and consideration must be given to protocols to enable them to travel.
Just because we can do something now, Prof Nolan said, does not mean we should do it.
He said today is a significant, hopeful and positive day, but people need to remember that "the virus is still out there."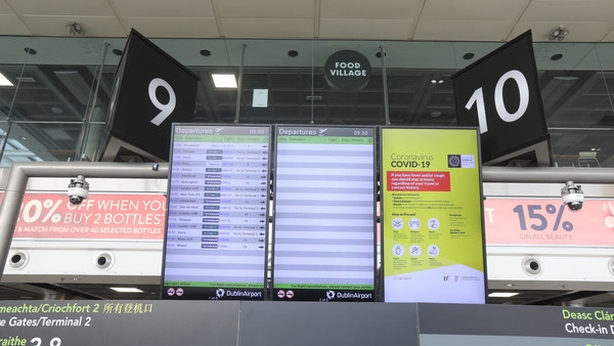 Prof Nolan, who is also a member of the National Public Health Emergency Team, said that although the travel-related cases were low in number, it is an early warning sign of the potential for travel-related infection to increase.
He said there needs to be a cautious, collective response from the European Union and things that are important and beneficial to us as a society should be prioritised.
Prof Nolan said that people should also isolate when they return to Ireland and the Government should give consideration as to how this could be legislated for.
Science not politics will determine travel decision - Coveney
The Minister for Foreign Affairs said that as the country reopens, people need to be vigilant to ensure "that we don't allow this virus back" in.
Simon Coveney said future decisions on easing international travel restrictions will be based on data and science and "not politics".
He said 9 July is the date set to facilitate international travel, but only to countries that have similar risk levels to Ireland and the Government is not encouraging people to travel to other countries where the risk of transmission is higher.
Mr Coveney said that at the moment there are very low numbers of people travelling in and out of Ireland - about 1% of normal rates - due to need to self-isolate for 14 days.
He said this showed the quarantine measures have been very effective and future decisions will be made cautiously and working with Ireland's EU partners.
Last week, the Chief Medical Officer expressed concern about the impact of travel on the spread of the disease.
Dr Tony Holohan said 2020 was "a year for a staycation" and urged people to stay in Ireland, spend locally and follow public health advice.