Analysis: with more and more of us wearing face masks in public, here's a guide to what to do - and what not to do.
This article is now available above as a Brainstorm podcast. You can subscribe to the Brainstorm podcast via Apple, Stitcher, Spotify or wherever you get your podcasts.
Just a few shorts months ago, practices like social distancing, physical distancing and cocooning were unheard of. However, since the Covid-19 pandemic reached our shores, they have become part of the everyday vernacular. Life in Ireland has changed radically, and these new public health measures have become the new norms. We have readily adapted, complied and have demonstrated maturity and resilience as a nation.
Despite Health Service Executive (HSE) advice to the contrary, other practices like wearing disposable gloves or a face mask in public places, have been gaining momentum too. While there is little or no evidence to support the use of disposable gloves as a public health measure, policy around the use of face masks in public has come under much scrutiny in recent weeks. While the HSE to date does not support this measure and advise that wearing a face mask outside of a healthcare setting is unlikely to be of any benefit if you are not sick, it is clear that many people are choosing to wear a face mask in the community. Currently, there is conflicting international policy and guidelines on the use of face masks or face coverings in the community and this adds to the uncertainty.
Since the report of the first death in China from Covid-19 on January 9th, the science around the source, spread and control of the virus is evolving and advice on face mask use has been shifting. There is growing evidence that individuals who are asymptomatic may be shedding the virus and viral shedding is high in asymptomatic carriers. The widespread use of face masks by asymptomatic individuals across many countries in Asia for example, China, South Korea and Japan, is an extension of the practice of face mask use by symptomatic persons.
All you need to know about what to do & what not to do when it comes to wearing face masks in public. Featuring @lizkingston @UL, video by @_lauragaynor https://t.co/tSf5fsU1Bm pic.twitter.com/isHS7b1wpu

— RTÉ Brainstorm (@RTEBrainstorm) May 6, 2020
The European Centre for Disease Prevention and Control (ECDC) recently reviewed the latest scientific evidence on the use of face masks in the community. It reported that the use of face masks by people who are asymptomatic may help reduce the spread of infection in the community. This is done by minimising the excretion of respiratory droplets from infected individuals, who may not even know they are infected and before they develop symptoms.
In recent weeks, we are seeing a shift in positioning on the use of face masks in public among many EU states. At the beginning of the pandemic, France was following World Health Organisation advice to only wear a mask if sick or caring for a person with suspected Covid-19 infection. France has now shifted its public health advise and now encourages the use of masks in the community among asymptomatic individuals.
As Germany prudently begins to lift restrictions imposed to flatten the curve of the coronavirus pandemic, chancellor Angela Merkel has advised that masks should be worn in public. Austria, Lithuania, Slovakia and Bulgaria are all recommending the use of face masks in public.
From RTÉ One's Prime Time, how effective are face masks?
Many are now wondering if public health advice in Ireland will change too, especially when the government begins to lift restrictions. The challenges around sourcing adequate Personal Protection Equipment (PPE) for healthcare workers in Ireland have been well documented. Clearly, PPE supply and use by healthcare workers needs to be prioritised and protected, therefore, it would be imprudent of the government to recommend the use of surgical face masks in public, in the absence of a stable supply chain. However, in recent days the HSE advised that adequate PPE supplies to meet current demands have been sourced. They have also moved to broaden guidance on the use of surgical masks by all healthcare workers in all healthcare settings when providing care to patients within two meters of a patient. Can we expect to hear more from the HSE around the expanded use of face masks in the community as a public health measure?
At the start of the Covid-19 pandemic, footage from China of people wearing face masks in public seemed unrelatable and perhaps excessive. But within a few short months, many in Ireland have adopted this practice and others may be considering it. If choosing to wear a face mask, there are some important considerations around making an informed decision for safe practice.
Who should wear a face mask?
Opinion is divided and advice on this varies greatly and can change. Current advice from the World Health Organisation is that you should wear a mask if you are coughing or sneezing. If you are healthy, you only need to wear a mask if you are taking care of a person with suspected Covid-19 infection. The HSE advice is that wearing a mask is unlikely to be of any benefit if you are not sick. However, the European Centre for Disease Prevention and Control suggest healthy individuals could consider wearing a face mask when using public transport, visiting busy closed spaces, such as supermarkets and for certain workplaces and professions that involve physical proximity to many other people.
What type of face mask should I use?
There are three general categories of face mask. The first is a cloth face mask. Non-medical cloth masks or face coverings will not prevent you from breathing in respiratory droplets that carry a virus, like Covid-19. However, cloth masks promote good cough etiquette by limiting how far the virus spreads when coughing. It will help to protect others, if you are infected with symptoms or pre-symptomatic (before symptoms develop).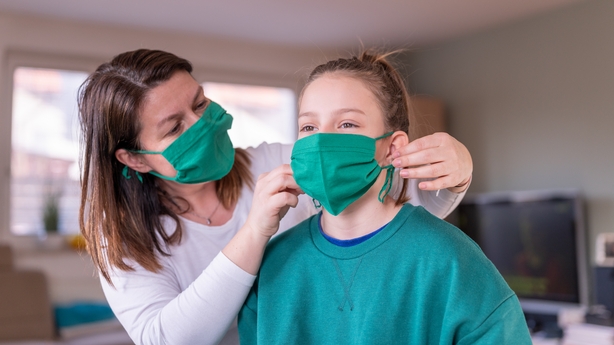 In the US, the Centers for Disease Control and Prevention recommends the use of cloth face masks as an additional, voluntary public health measure, especially in areas of significant community-based transmission. In recommending the use of cloth face masks, the Center does not recommend surgical masks or respirators among the general public, advising that these critical supplies must continue to be reserved for healthcare workers. Given the very limited evidence that the use of cloth face coverings is of benefit to the wearer in breaking the chain of infection, it seems unlikely that the Irish government will follow these recommendations around the use of cloth face masks in public.
A surgical mask is a disposable medical device or barrier covering the nose, mouth and chin, used predominantly by healthcare workers in preventing the spread of infection. These masks offer protection to the wearer by preventing facial contact with large respiratory droplets and splashes. A surgical mask can also help reduce the spread of respiratory droplets, from the person wearing the face mask. Surgical masks are single use, not intended for re-use and comply with EU standards.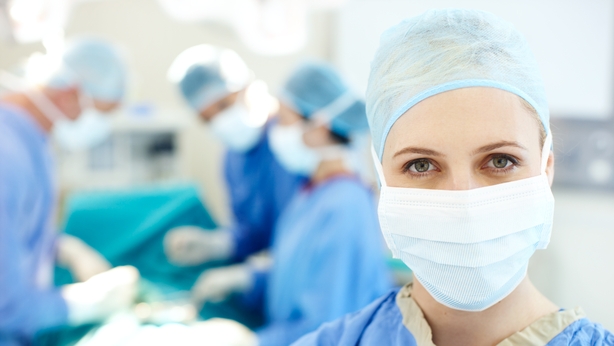 A respirator or filtering face piece (FFP), is also mainly used by healthcare workers to protect the wearer, especially during high risk procedures. These are designed to protect the wearer from inhaling small and large particle droplets by acting as a barrier that limits virus transmission. Their clinical use is recommended for certain high-risk procedures only. Respirators comply with specified requirements of European Standards.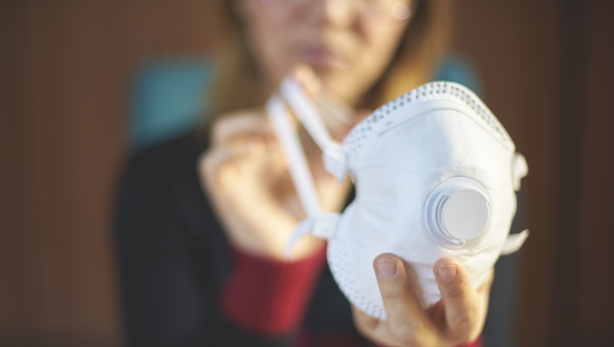 How to put on a face mask
Hands should be washed with soap and water or a hand sanitiser before putting on a mask.
Face masks should be put on carefully and placed over the nose and mouth, extending securely from the bridge of the nose to under the chin.
Face masks should fit snugly without gaps at the side of the face, and be secured around the ears, or the back of the head.
Face masks should allow unrestricted breathing.
What to do and not to do when wearing a face mask
When wearing a face mask, avoid touching the front of the mask.
If the mask is touched, this should be followed by hand decontamination.
If an adjustment to the mask is needed, hands should be washed first, the mask repositioned and hands washed again.
The mask should not be moved up or down the face, or left sitting under the nose or mouth.
If a single-use mask becomes damp, it should be replaced and not re-used.
From RTÉ Radio 1's The Business, Trevor Vaugh from Maynooth University on the history of personal protection equipment such as masks, gloves and goggles
How to remove a face mask
Hands should be washed before removing the mask.
The front of the mask should not be touched.
Individuals should be careful not to touch their eyes, nose and mouth when removing their mask.
The mask should be removed by the elastic ties or ear loops.
Can face masks be re-used?
Cloth face masks can be machine washed and dried regularly. You should not re-use surgical masks or respirators.
How to dispose of a face mask
Once removed, the face mask should ideally be disposed of in a plastic bag and sealed. The bag should be disposed of immediately in normal household rubbish in a closed bin. Hands should be washed with soap and water or an alcohol-based hand sanitiser.
"A false sense of security"
The use of face masks may lead to a false sense of security and to an increased risk of contamination and virus transmission while wearing and removing the mask. Therefore, a face mask should be used as a complementary measure and not as a replacement for other preventive measures recommended by the HSE, for example hand washing, respiratory etiquette, not touching the face and social distancing.
Before this pandemic, most people had probably never considered wearing a face mask and many might have viewed the practice as excessive. However, as more people wear face masks in public, the behaviour becomes more relatable as everyone endures their own concerns and set of circumstances around the Covid-19 pandemic. Despite divided public health opinion, it appears the behaviour has become more accepted by many.
As we anticipate announcements on how the Government intends to ease current restrictions, it remains to be seen whether wearing a face mask will form part of the strategy. In the meantime, washing hands, social distancing, physical distancing and staying at home are measures that are working. If choosing to wear a face mask, it is important to wear it correctly and dispose of it safely.
---
The views expressed here are those of the author and do not represent or reflect the views of RTÉ
---