A new centre for climate change should be established in the midlands, according to the Government's Just Transition Commissioner, Kieran Mulvey.
'Just Transition' is a key part of climate action policy aimed at helping create opportunities for workers whose jobs have been affected by environmental changes.
The former Labour Relations CEO was appointed to the job last November, after the ESB shocked workers in the midlands with news of its intention to close down two peat burning stations.
In today's first report to Government, Mr Mulvey's proposals include the new climate change centre which appears to be a cross between a museum and a high tech science lab.
It would document the midlands' transformative process to a low carbon economy and the eco-sustainability of Ireland's climate change policies and programmes.
The history of Bord na Móna and the ESB locally over the last seven decades should be incorporated in one central photographic /oral history archive, he suggests.
The centre could also be used to facilitate primary and secondary school visits, in particular transition year student visits, to support climate, environmental and other natural sciences education.
But some local workers are not happy with the pace of the Just Transition efforts.
"If it tells the truth, the visitor centre will express how we were promised a just transition period of up to 25 years to allow our families to build a different life in this part of the country," one worker told RTÉ news.
"Instead we are here with the sand shifting beneath our feet once again and still waiting for a transition fund that was launched six months ago to create even one single new job in the region."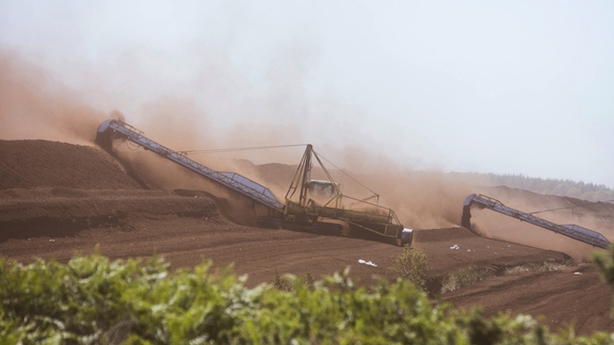 The Mulvey Report also contains calls from workers and employers for the Government to designate the midlands as a new energy hub and take urgent action to safeguard the remainder of Bord na Móna jobs in the region.
Even though it was anticipated that one final harvest would take place this year, that plan is embroiled in controversy.
Another planning issue relating to peat harvesting - the issue of substitute consent - has the potential to have a further impact on the midlands.
A decision by An Bord Pleanála is awaited in relation to an application by Bord na Móna for leave to seek substitute consent and if that is not successful, industry in the region faces a combined estimated loss of €240 million this year.
In his report, the commissioner noted the complicated nature of the planning and licencing process needed to develop any infrastructure that will help create jobs in a rural area like the midlands.
He had become aware of the plethora of regulatory requirements that need to be complied with. "While these are all understandable and necessary, nevertheless they can be complicated and difficult."
Mr Mulvey added: "The process is not helped by the time factors and, in some cases, delays in obtaining decisions. This whole area needs to be examined to see if greater cohesion and coordination could be developed to create a more fast-track 'one-stop-shop' framework for planning and licensing."
He also highlighted outdoor activities in the region in his report and said the arrival and location of Center Parcs, the rich historical heritage of the midlands, and a new reopening of the bogs, "present endless tourism opportunities".
Bord na Móna said it "welcomed" the first report by the Just Transition Commissioner. It said a broad coalition of partnerships is focused on building a new green economy so the future is "not simply seen as a retreat from peat but the dawn of a new, sustainable, green economy centred on the midlands.
"The report notes the importance of our Brown to Green strategy that involves a €1.6 billion investment and development programme ... as the company exits its traditional peat-based businesses Bord na Móna will continue to be a major employer in the midlands employing people in a range of new green activities."
These include a major peatland rehabilitation programme and expansion of Bord na Móna's recycling and resource recovery operations.