New figures have revealed a sharp increase in the number of nursing home residents who have tested positive for coronavirus.
It was revealed in figures released by National Public Health Emergency Team last night.
There are now 1,944 laboratory-confirmed cases of the virus in nursing homes.
That is 61% higher than the number of nursing home infections revealed by the NPHET on Monday, an increase of 740 cases in two days.
The number of nursing home residents who have died from the coronavirus also rose sharply.
It was up to 348 people yesterday from 276 on Monday, an extra 72 deaths.
Another 102 residents are also suspected or presumed to have died from the virus.
There are 28,000 nursing home residents in the State and 30,000 staff.
We need your consent to load this rte-player contentWe use rte-player to manage extra content that can set cookies on your device and collect data about your activity. Please review their details and accept them to load the content.Manage Preferences
---
Read:
Latest coronavirus stories
---
At the end of today, & since last Saturday, 18,000 residents & staff in Long Term Residential Care locations will have been tested for #Covid19. Thanks to our National Ambulance crews with support from our Community Teams & Defence Forces. @HSELive @defenceforces @AmbulanceNAS pic.twitter.com/Vi3FpSHPe9

— Paul Reid (@paulreiddublin) April 23, 2020
The sharp increase in lab-confirmed cases and deaths is understood to be a reflection of the campaign to rapidly test all nursing home residents and staff for Covid-19, as well as a census of nursing home mortality, both of which began last Friday.
The figures suggest that so far 18% of nursing home residents infected with the virus have died.
However, Dr Siobhan Kennelly, Health Service Executive Group Lead for Older People, pointed out that more people in nursing homes have recovered from the virus than have died from it.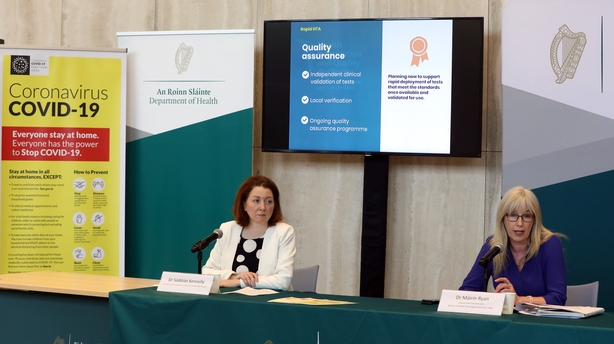 Meanwhile, the case fatality rate for Covid-19 in Ireland now stands at almost 5%. 
The latest detailed analysis of confirmed cases up until midnight on Monday 20 April shows that of 15,871 confirmed cases of the virus, 757 people had died. 
This yields a case fatality rate of 4.8%.
The figures were published by the Health Protection Surveillance Centre today. 
As of midnight on Monday, of all the confirmed cases, 15% of people were hospitalised (2,387), while just 2% of all people diagnosed with the virus were admitted to intensive care for treatment (322).
The figures show that there are 507 outbreaks or clusters of Covid-19, linked to 3,792 individual cases. 
The HPSC defines a cluster as at least two cases of the virus. 
175 of these clusters are in nursing homes, 90 are in residential institutions, 73 are in hospitals, and 25 are in community hospitals or long stay units. 
Healthcare workers now account for almost 28% of the total number of confirmed cases (4,393).
Meanwhile, Nursing Homes Ireland has said urgent staffing redeployment is required to support nursing homes. 
In a statement it said a huge crisis is emerging because the redeployment of staff is not manifesting on the ground. 
It says that the crisis is likely to be exacerbated due to the mass testing for Covid-19 in nursing homes. 
It says "a snapshot survey" of private and voluntary nursing homes yesterday shows that large numbers of nursing, care and other staff are unavailable due to the virus.
Asked if staff had been made available and redeployed by the HSE to support them - 96% of nursing homes (227 of 236 responses received) replied no, while 4% of nursing homes replied yes (nine).
The CEO of Nursing Homes Ireland, Tadgh Daly, has said many of the nursing homes informing the survey said they were informed by the HSE that staff are not available.
He said they redirected towards the use of agency staff. 
Mr Daly described as "astonishing" that nursing homes are being directed towards agencies when the dangers that present in the recruitment of such staff have been brought to national attention.
Over a week ago, the HSE and trade unions agreed that existing HSE staff could be re-deployed on a voluntary basis to work in private nursing homes affected by the coronavirus pandemic.
Later today, the Chair of NPHET's mathematical modelling team, Professor Philip Nolan, will brief the media about the latest trends in the evolution of the pandemic and the likely future course of the disease.
Yesterday, the Department of Health said a further 49 people who had been diagnosed with Covid-19 had died, bringing the total number of deaths here to 769. 
Ten deaths that had previously been reported are no longer classified as related to Covid-19. 
The number of additional cases of the virus diagnosed is 631, bringing the total number of cases to 16,671. 
Around 80% of cases of Covid-19 will be a mild to moderate illness, close to 14% have severe disease and around 6% are critical.
Generally, you need to be 15 minutes or more in the vicinity of an infected person and within 2 metres of them, to be considered at-risk, or a close contact. 
Additional reporting Ailbhe Conneely