Part of the consignment of Personal Protective Equipment, which was recently distributed to Covid-19 test centres, mobile ambulance units and hospitals, is being described as "not fit for purpose" and "unusable" by medical staff.
RTÉ News understands that some new deliveries of PPE distributed this week contained protective gowns that are three-quarter length on the arm.
This means that they are unusable to staff, since they do not give full protective cover.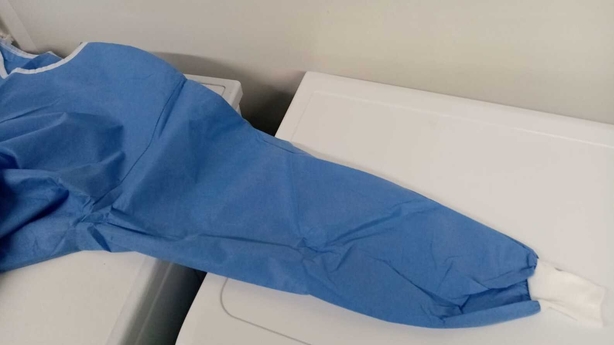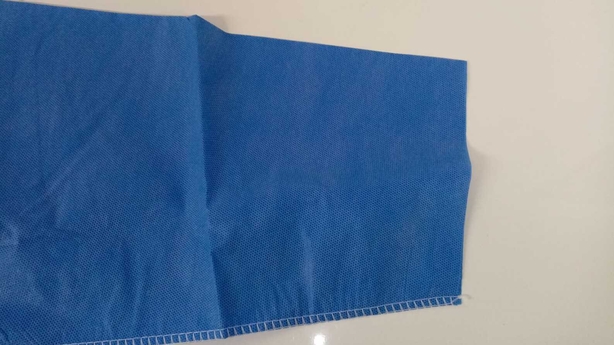 RTÉ News confirmed that these smaller gowns were discovered in new PPE supplies to hospitals and by National Ambulance Service staff in Dublin, Limerick, Galway, Sligo and Donegal within the past three days.
The gowns are understood to be supplied from China.
Frontline medical staff report that there are currently back-up supplies of gowns available to them, but in some areas they are running low. 
For example in Donegal, National Ambulance Service staff have expressed concern about their current back supply of gowns. They say it amounts to an average single day's supply.
Elsewhere, in a large Dublin hospital, nursing staff working on a ward that is exclusively for Covid-19 patients have expressed concern about the density of the material of the protective gowns they have been supplied with.
Frontline medical staff have also raised concerns about the short supply of protective goggles. 
Members of the National Ambulance Service say that they have been asked to disinfect and reuse goggles that are normally for single use only, using alcohol wipes and chlorine. 
They say that the disinfection of these single-use goggles should instead be done in centrally located sterilising centres, as recommended by Health Protection Surveillance Centre (HPSC).
The HSE has told RTÉ News that it wants to emphasise how grateful it is for the supply line that they have established with China Resource Pharmaceuticals for personal protective equipment for healthcare workers in a very difficult market.
The HSE said that while a small percentage of the equipment cannot be used and that some of it will need modification, they are working with the Chinese supplier and tweaking the order as the material arrives.
There is a serious worldwide shortage of Personal Protective Equipment as nations everywhere scramble for resources to help fight the Covid-19 pandemic.
Chief Executive of the HSE Paul Reid had previously expressed his appreciation and thanks for the work his procurement team did to source and secure such a huge supply line of protective equipment from China.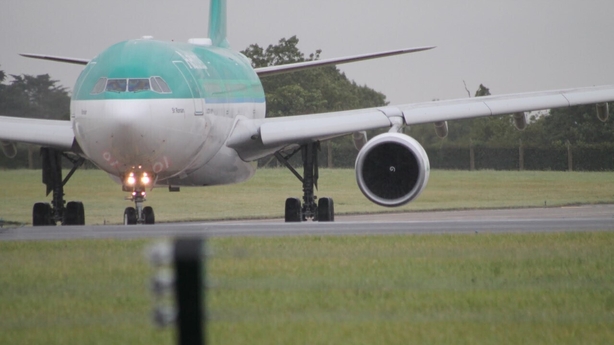 ---
Read more
22 more deaths from coronoavirus, 424 new cases
NPHET 'concerned' with number of nursing home clusters
---
Minister for Health Simon Harris said today that a new website has been launched for any company or manufacturer who feels they are in a position to supply any kind of healthcare and hospital equipment, including respirators and other essential materials.
The website is www.gov.ie/covidsupplies.
The details of the giant order for Personal Protective Equipment placed by the HSE with China Resource Pharmaceuticals are as follows:
The value of the order is €208m and it is to be delivered in five "batches".
Each batch involves up to ten flights from Ireland to pick up the equipment and bring it back from China.
The first of the flights carrying part of the first batch of equipment arrived in Dublin airport last Sunday.
The total order placed was for:
34 million face masks
24 million eye protection units (goggles)
24 million gowns
50 million gloves
The normal stock of these materials the HSE buys in a full year, is:
500,000 face masks
200,000 eye protection / goggles
100,000 gowns
4 million gloves
Only a partial load of the first batch of material has so far arrived in Ireland.
The HSE outlined in their press briefing last Sunday the amount of material due to be delivered from China between Sunday and Wednesday this week included:
1.6 million face masks
400,000 eye protection/goggles
265,000 gowns
254,000 gloves
---
Additional Reporting George Lee