The Department of Health has reported 22 more deaths from Covid-19 in Ireland, bringing the overall death toll to 120.
It said 424 more cases of the coronavirus had also been diagnosed, bringing the number of confirmed cases to 4,273.
The median age of those who have died so far is 82.
Of the 120 deaths reported, 96 of these people were reported as having an underlying health condition.
Chief Medical Officer Dr Tony Holohan said this evening 78% died in a hospital environment and 13% were "associated with admission to ICU".
So far, a total of 156 patients have been admitted to Intensive Care Units to be treated for the virus.
Dr Holohan said 31 patients have been discharged from ICU, while a further 15 have died. Today, 110 people are still being treated in intensive care.
Chief Medical Officer Dr Tony Holohan announces 22 further deaths linked to Covid-19, as well as 424 new confirmed cases | Follow live #coronavirus updates: https://t.co/O0JghGfiPw pic.twitter.com/QyF5vNMCOy

— RTÉ News (@rtenews) April 3, 2020
Of the 156 admissions, 115 were male, and 41 were female, while the median age of patients in ICU related to this illness is 63.
Of the 3,655 cases recorded up until midnight on Wednesday, Dr Holohan said there are now 171 clusters of the virus, relating to 626 cases.
Dr Holohan said that 28% of all cases so far have been hospitalised, while 4% were admitted to ICU.
He said 948 healthcare workers have the virus, accounting for 26% of all cases.
The county with the largest number of infections is still Dublin, with 2,077 of the 3,655 cases.
Chief Medical Officer Dr Tony Holohan says the majority of nursing homes reporting clusters of infection are in the east, and says infection control measures are being strengthened | Follow live #coronavirus updates: https://t.co/O0JghGfiPw pic.twitter.com/U00bRoi7P0

— RTÉ News (@rtenews) April 3, 2020
In Northern Ireland, 12 more coronavirus-related deaths were announced today bringing the total in the region to 48.
There has also been 130 new cases of coronavirus confirmed there today, bringing the total number of cases to 904.
There have been 168 deaths on the island of Ireland from Covid-19 and 5,177 infections in total.
The number of people who have been tested for Covid-19 has "increased significantly" since the 30,000 number given at the beginning of the week.
An updated figure will be provided next week.
HSE Chief Clinical Officer Dr Colm Henry said that most of the community testing sites are back up and running after testing had to be halted earlier in the week as a result of a shortage of swabs.
He said that since the case definition for testing changed, testing centres are able to accommodate demand.
Around 80% of cases of Covid-19 will be a mild to moderate illness, close to 14% have severe disease and around 6% are critical.
Meanwhile, part of the consignment of Personal Protective Equipment, which was recently distributed to Covid-19 test centres, mobile ambulance units and hospitals, is being described as "not fit for purpose" and "unusable" by medical staff.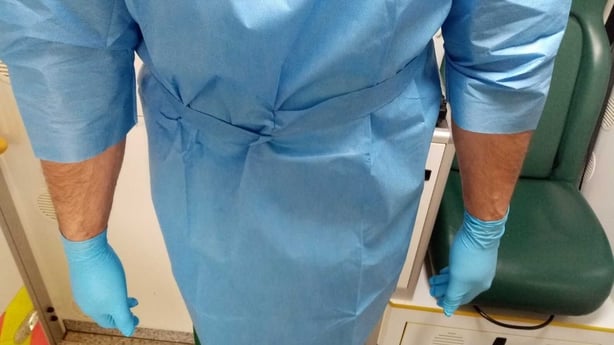 RTÉ News understands that some new deliveries of PPE distributed this week contained protective gowns that are three-quarter length on the arm.
This means that they are unusable to staff, since they do not give full protective cover.
RTÉ News confirmed that these smaller gowns were discovered in new PPE supplies to hospitals and by National Ambulance Service staff in Dublin, Limerick, Galway, Sligo and Donegal within the past three days.
The gowns are understood to be supplied from China.
Speaking at the Department of Health press briefing this evening, Dr Henry said that the Government was going back to suppliers of PPE to ensure that any future supplies "complies with what our healthcare workers need".
Dr Henry said that on one hand, the HSE is "relieved" to have secured the supply, which he said was multiple years' worth.
However, he said that "some elements" of what arrived in the order from China were "not appropriate for use in our healthcare system".
Chief Clinical Officer Dr Colm Henry says the demand for Personal Protective Equipment is beyond anything they've seen, and says the HSE is in contact with suppliers to ensure that suitable supplies are being shipped to Ireland| Follow live updates: https://t.co/O0JghGfiPw pic.twitter.com/CKUUgmqP4m

— RTÉ News (@rtenews) April 3, 2020
---
Read more:
---
The National Public Health Emergency Team met today to review the latest information about the spread of Covid-19 and consider its next move.
Issues around the testing backlog, protecting staff and patients in nursing homes, PPE for healthcare workers, and what more can be done to slow the spread of the virus were on the agenda.
HSE Chief Executive Paul Reid said the HSE was engaging worldwide to secure alternative stocks of PPE should the supplies negotiated through a massive €200 million order recently placed with China not materialise to the extent that the HSE expects.
HSE Chief Executive Paul Reid says some of the Personal Protective Equipment delivered from China is not to the specification required, and says they will not be distributing something to healthcare staff if it is not suitable pic.twitter.com/kLd1YMqGoJ

— RTÉ News (@rtenews) April 3, 2020
Appeal for people to 'Shine a Light' over Easter
The Government has announced an initiative for tomorrow week, Saturday 11 April, asking everyone to shine a light for all the sick, frontline workers and anyone affected by Covid-19.
Families, creative groups and media have all been asked to take part in the 'Shine Your Light' initiative.
Public buildings and Irish embassies will be lit up in solidarity.
Minister for Culture, Heritage and the Gaeltacht Josepha Madigan said there had been an outpouring of creative responses to the pandemic, especially online.
Elsewhere, a virus-hit cruise ship with around ten Irish citizens on board has docked in Florida.
Most of the passengers from the Zaandam and its sister ship the Rotterdam will begin disembarking today.
They will be taken by bus to a nearby airport and flown home on charter flights.
After being refused access to various ports and left stranded at sea, the Zaandam and its sister ship finally docked last night in Fort Lauderdale, Florida.