Public health doctors, senior nurses and medics are to be deployed to nursing homes as concern grows over the number of coronavirus clusters in the facilities.
The National Public Health Emergency Team met today to review the latest information about the spread of Covid-19 and consider its next move.
Issues around the testing backlog, protecting staff and patients in nursing homes, Personal Protective Equipment (PPE) for healthcare workers, and what more can be done to slow the spread of the virus were on the agenda.
Speaking at a briefing this evening, Chief Medical Officer Dr Tony Holohan said: "We are concerned with the number of clusters identified in nursing homes. We have identified a range of measures, working with the HSE.
"We need to see continuous actions being taken to reduce the risk of transmission in nursing home and long-term residential facilities."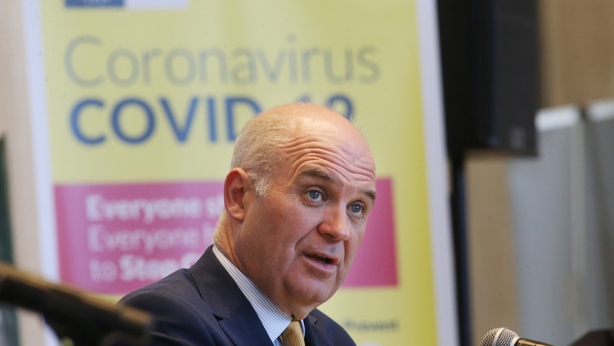 HSE Chief Executive Paul Reid said that the medical staff will support the nursing homes with infectious disease control and with the proper use of personal protective equipment.
Mr Reid said that it was far too early to say how so many clusters of the Covid-19 virus came to be in nursing homes around the country.
He said the HSE was looking at instances where agency staff may have been working at a number of nursing home sites throughout the week.
Mr Reid said the HSE was working with those agencies to ensure staff were dedicated to just one site, saying this was a "major part of control procedures".
Dr Holohan said officials will be in a "good position" at the end of next week to assess the impact of the most recent measures implemented to slow down the virus, adding that the next seven to ten days will be crucial.
Chief Medical Officer Dr Tony Holohan says the majority of nursing homes reporting clusters of infection are in the east, and says infection control measures are being strengthened | Follow live #coronavirus updates: https://t.co/O0JghGfiPw pic.twitter.com/U00bRoi7P0

— RTÉ News (@rtenews) April 3, 2020
Dr Ronan Glynn, Deputy Chief Medical Officer at the Department of Health, said: "We are now facing into the end of week one of new measures.
"It has been a tough adjustment but these efforts save lives. We will continue to protect vulnerable groups against this virus, by staying home and following public health advice. These efforts result in lives saved.
"Anyone over 70 years of age should remain cocooned as per public health advice, and for essential food and prescription shopping, call on family, friends or services to help you. Over 70s should not be leaving home."
Dr Colm Henry, Chief Clinical Officer at the HSE, said: "There is now a clear picture of more severe illness in older people.
"This underlines the importance of our advice on cocooning and requires all of us to support any vulnerable people who find themselves in isolation."
Elsewhere, the HSE's National Clinical Advisory Group Lead for Older Persons has urged residents in nursing homes to "have a conversation with their families, GPs and directors of nursing, if they do not want to be taken to an acute hospital" for additional care in the midst of the Covid-19 crisis.
Dr Siobhán Kennelly was speaking on RTÉ's Drivetime.
She said residents "should make their wishes known", but should be assured "that if a particular care is needed, that care will be available to them".
"Nobody in a nursing home is going to be denied an appropriate hospital transfer" during the Covid-19 crisis, she said.
Meanwhile, part of the consignment of Personal Protective Equipment, which was recently distributed to Covid-19 test centres, mobile ambulance units and hospitals, is being described as "not fit for purpose" and "unusable" by medical staff.
Dr Henry said the demand for PPE is beyond anything they have ever seen before, not just in Ireland, but worldwide.
He said that in ordinary times, the HSE would prefer to have PPE "designed to the exact specifications" that healthcare workers need and are used to, but he said that "this isn't peacetime".
Dr Henry said in a worldwide deficit of these materials, the priority is now to secure "as much stock as we can".
Chief Clinical Officer Dr Colm Henry says the demand for Personal Protective Equipment is beyond anything they've seen, and says the HSE is in contact with suppliers to ensure that suitable supplies are being shipped to Ireland| Follow live updates: https://t.co/O0JghGfiPw pic.twitter.com/CKUUgmqP4m

— RTÉ News (@rtenews) April 3, 2020
He said the HSE is "relieved" to have secured the supply, which he said was multiple years' worth of equipment.
However, he said that "some elements" of what arrived in an order from China were "not appropriate for use in our healthcare system".
Feedback on the equipment that is not appropriate is being given to the suppliers, with the aim of receiving more suitable supplies in future.
Dr Henry said some of what arrived can be used as classified, while other elements need to be recategorised.
The HSE has also secured other lines of stock, he said, including from Irish producers such as Irema in Limerick, which has "doubled or trebled" it's production of surgical masks.
Later, the head of the HSE said that only a "smaller proportion" of PPE that has arrived in Ireland was unusable.
Mr Reid told RTE's Six One News that if something was not usable, then the HSE would not be distributing it out to staff.
Mr Reid said the HSE is grateful to have been able to secure the orders and that "many countries are envious" of the scale of PPE that we have been able to secure here.
HSE Chief Executive Paul Reid says some of the Personal Protective Equipment delivered from China is not to the specification required, and says they will not be distributing something to healthcare staff if it is not suitable pic.twitter.com/kLd1YMqGoJ

— RTÉ News (@rtenews) April 3, 2020
The HSE has said that although the equipment being delivered is up to World Health Organization standards, and will work to protect healthcare staff, it is not the type of equipment that Irish healthcare staff have been used to.
There are concerns that some of the equipment may be more robust and heavy duty than nurses and doctors expected.
There have also been complaints from some nursing quarters that the protective gowns in the shipment are too small and the face masks of poor quality.
---
Read more:
Latest coronavirus stories
22 more deaths from coronoavirus, 424 new cases
Some new PPE 'not fit for purpose' - medical staff
---
The President of the Irish Association for Emergency Medicine has said that a surge in cases of Covid-19 is expected to happen "quickly and strongly" over the next two weeks.
Dr Emily O'Connor said evidence in the UK suggests that when the surge comes, a large number of people "will get seriously ill, quickly and at the same time" and that may be when hospitals struggle.
Speaking on RTÉ's Morning Ireland, Dr O'Connor said that a surge in cases is occurring in nursing homes now and hospitals are "as ready as they can be".
She said clusters of virus in nursing homes are affecting hospitals located near to them.
Dr O'Connor said space has been made in emergency departments with "Covid-streams and non-Covid streams" for admissions.
Some hospitals have set up triage tents outside of emergency departments and have had time to practice the use of PPE, she said.
Meanwhile, the HSE has secured a deal with a laboratory in Germany to help clear the backlog of about 15,000 Covid-19 swabs that have already been taken but were awaiting laboratory analysis.
Several thousand of those swabs have already been flown to Germany and it is expected the backlog will be cleared in about ten days.
Minister for Health Simon Harris has also signed two statutory instruments to relieve some of the pressures on GPs, pharmacists and patients in accessing prescriptions.
The maximum period of validity of a prescription has increased from six months to nine months, as of the date specified on the prescription.
The Medicinal Products (Prescription and Control of Supply) (Amendment) Regulations 2020 allow for the electronic transfer of prescriptions to a pharmacy via the HSE's Healthmail an electronic system.
Some temporary changes to the way in which prescriptions can be repeated are also being introduced to enable pharmacists to ensure the continuity of care of patients without necessarily requiring a new prescription.