The operators of one of the largest illegal dog breeding centres in the country have been convicted of animal cruelty and banned from owning animals at their homes.
ISPCA Inspectors had to put down animals after recovering over 80 valuable breeds of dogs in poor condition at a shed in Co Roscommon.
Castlerea District Court was told two people had a hands-on control of the dog breeding operation at a house at Killaster, Ballinagare, Roscommon, in July 2018.
Colm Sharkey, who lived in the UK, was charged with 45 breaches of the Animal Health and Welfare Act. His partner Fiona Quinn was charged with 54 breaches of the act.
Mr Sharkey pleaded guilty to ten of the 45 charges against him, while Ms Quinn pleaded guilty to six of the 54 charges against her.
The case was taken against both accused by the Department of Agriculture, Fisheries and Food.
The court was told of an extensive dog-breeding operation where up to 88 dogs were kept in sheds at the rear of a house, which was rented by both co-accused.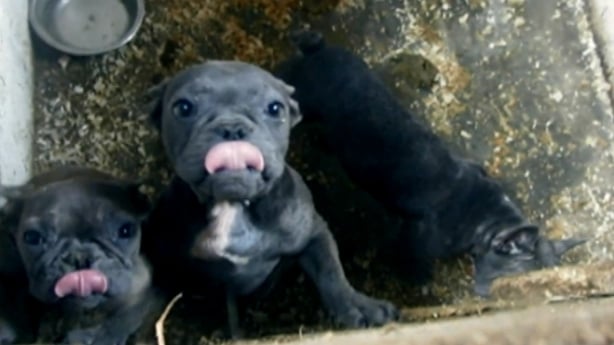 Judge Deirdre Gearty heard the sheds in question were erected without the permission of the owner of the property and had not been the subject of planning approval.
The court was told 63 adult dogs, 50 of these being female and a further 23 young dogs or pups were removed from the premises after a complaint had been made to the Irish Society for the Prevention of Cruelty to Animals (ISPCA) in July last year.
Evidence was also given of an assortment of pedigree breeds on the site of the operation, which included King Charles Cavaliers, Cocker Spaniels, Shih Tzu, female cross breeds as well as French Bull Dogs.
Evidence was given of a number of cases of dogs found in a distressed state, discovered with mange, overgrown nails, wax discharges from ears, dental and eye infections, as well as lesions on skin.
The court was told of one of the dogs experienced a 'false or phantom' pregnancy, causing extreme distress to the particular animal.
The dogs were removed on four separate occasions on 27 and 29 July 2018. Costs incurred in the transfer of the dogs amounted to €9,750.
A total of 39 dogs were removed from the property on the first occasion with a further 47 dogs removed on 29 July, leaving only two dogs on the property, one of which was owed by Ms Quinn's son.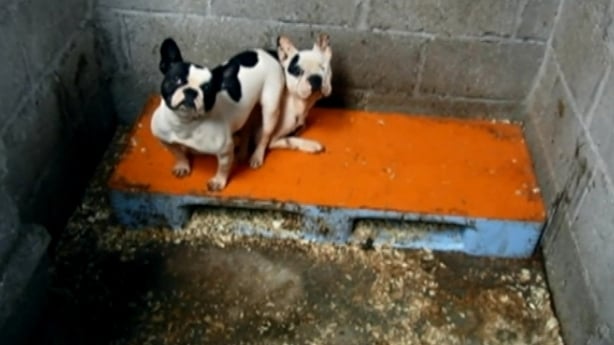 An official from the ISPCA, Karen Lyons said Mr Sharkey was met at Knock Airport on 1 August last year and signed documentation confirming the removal of the dogs from the site.
Later on 1 October in Roscommon town, Mr Sharkey was interviewed by ISPCA Inspector Kevin McGinley.
Solicitor for both co-accused, Mary Mullarkey, admitted the case "was extremely disturbing".
She said Mr Sharkey had bought a number of the pups which were part of the operation online. She said responsibility for looking after the dogs fell to Ms Quinn, while Mr Sharkey was working in the UK.
The court was told the dog compound was operational for approximately 18 months. Ms Mullarkey added that Ms Quinn was "extremely distressed" by the case before the court.
"She was left to handle the situation and was looking up things online but was falling short," Ms Mullarkey said.
Ms Mullarkey said her clients had two children, aged eight and 11. Mr Sharkey was not working at present, owing to a workplace accident. She said both her clients were willing to make a substantial contribution to the ISPCA "if given time to do so".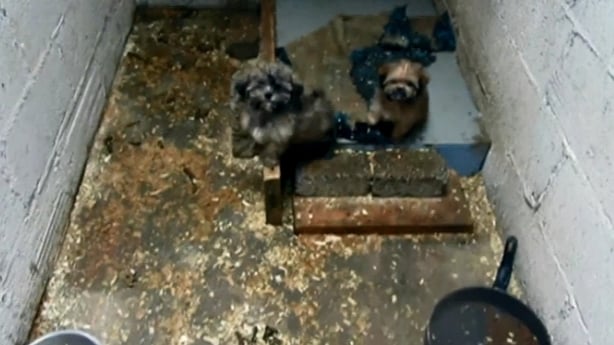 Passing sentence today Judge Deirdre Gearty said she wanted to make it clear that these offences were extremely serious, she pointed that custodial sentences had been handed down to defendants in other parts of the country for similar offences.
She noted that neither of the accused had previous convictions and said that having reviewed probation reports on them she was going to impose community service orders.
The judge banned Colm Sharkey from owning an animal for ten years in lieu of a six-month sentence.
She banned Fiona Quinn from owning an animal for two years and she ordered both of the defendants to carry out community service.
She also made an order for the two accused to pay costs of over €600 for the care and removal of the dogs.