I didn't know that most normal chewing gums are made from synthetic rubber mixed with artificial bases.
But I learned a bit about it yesterday at the BT Young Scientist and Technology Exhibition, thanks to a team of students from Our Lady's Bower secondary school in Co Westmeath.
Their project explains that the synthetic rubber which gives gum its chewy texture is not biodegradable.
That apparently is why chewing gum sticks to footpaths and can take up to 500 years to break down.
The students at Our Lady's developed their biodegradable chewing gum, which they say tastes great and has a texture similar to normal chewing gum.
The big benefit is that after two showers of rain their gum completely falls off concrete footpaths within six hours. Wow!
I didn't know either, that skipping is the most efficient exercise for burning calories. But that's what students from Douglas Community in Co Cork, have scientifically proven for their project titled - 'How much time does it take to burn 100 calories using different exercises'.
And who would have known that chicken feathers can provide a brilliant form of thermal insulation for flooring and be a great source for cavity and roof insulation too.
That's what three girls from Colaiste Dun an Rí in Co Cavan, worked out for their science project.
And they didn't stop there.
They went on to develop two original insulation products using chicken feathers that according to Kingspan would be viable in the Irish market.
---
Read more:
550 projects on display at BT Young Scientist and Technology Exhibition
Every student taking part in Young Scientist exhibition already a winner
---
I learned too that even if they tried to, a person could not get "high" on hemp (a form of cannabis).
That's because it is not a narcotic and the levels of intoxicants in the plant are too small to penetrate our systems. But hemp has 50,000 uses and benefits. It can be made into a lightweight biodegradable plastic that can replace oil based plastics. It is non-toxic and can be grown without pesticides.
It is durable and it can be moulded and used for almost anything including electronics, containers, toys, furniture, bottles, bags, and even car parts. The most exciting thing about hemp, however, if you plant hemp it will absorb three-and-a-half times more carbon dioxide than trees as well as growing over 80 times faster making it really valuable in the fight against climate change.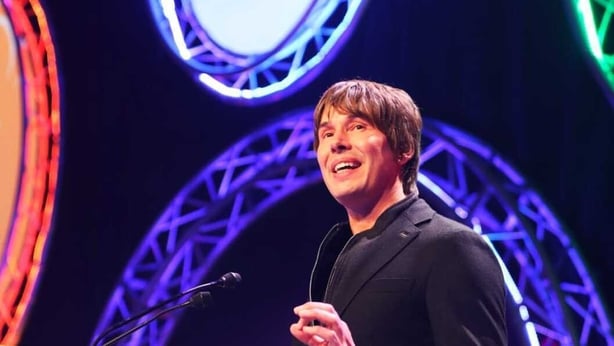 All of that information was thrown up by the science project submitted by three students from Millstreet Community School in Co Cork. It's really interesting work.
And did you know that spreading slurry over farmland promotes earthworms to grow heavier and longer?
So although slurry spreading can have negative effects on waterways and other organisms in the environment, the effects are not entirely negative.
The fact is that longer, fatter, and heavier earthworms can be very positive for soil services.
At least that is the result of the experiments and research conducted by a group of boys from St Muredach's College in Co Mayo.
All that is just a tiny flavour of some of the kind of fascinating stuff the 1,100 students participating in this year's young scientist exhibition at the RDS have found out.
And they have so much more stuff to tell us about.
In all, 550 science projects have been picked from 1,850 entries. That means not far off one-in-three got through to the exhibition. The standard is very high and the results from all the work conducted are really interesting and brilliant.
Internationally renowned particle physicist Professor Brian Cox of Manchester University was a big attraction at the RDS yesterday.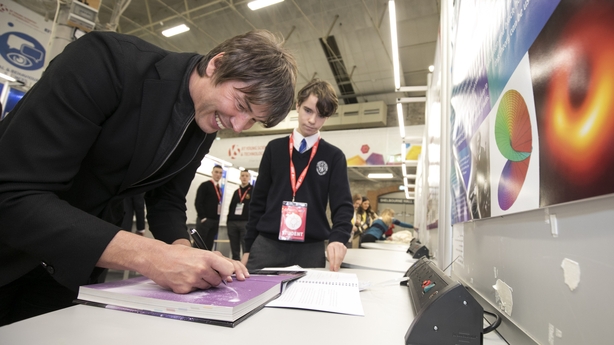 He said he was astounded by the event, that it made him envious, that the Irish students taking part are operating at a very high level, and that there was a great span of interests and expertise on display.
He said he would love to bring colleagues of his in the British education sector over to Ireland to see the BT Young Scientists Exhibition and witness for themselves what decades of good investment in scientific education has achieved.
He was simply blown away by what he saw.
On that score there is no doubt that the organisers and main sponsors of the event, BT, deserve great credit.
British Telecom took over the Young Scientist and Technology Exhibition when they bought Esat Telecom from Denis O'Brien in 2001.
Aer Lingus had of course been the main sponsor of the exhibition for 33 years before Esat. But in the 20 years since BT has been involved they have invested enormously in it.
BT has turned this exhibition into a flagship Irish event whose international reputation and renown in scientific and education circles continues to grow.
The great news from yesterday is that the board of BT agreed to continue sponsoring organising and developing the exhibition for at least another three years until 2023. 
We need your consent to load this rte-player contentWe use rte-player to manage extra content that can set cookies on your device and collect data about your activity. Please review their details and accept them to load the content.Manage Preferences
But you don't have to be a world famous physicist like Brian Cox to recognise that Ireland's BT Young Scientist and Technology Exhibition is a truly world class student science exhibition.
Anyone prepared to spend a morning or an afternoon there listening to the bright-eyed, open and honest young people from every corner of this island talking excitedly about the fascinating new things they have discovered will see it for themselves.
And for those who do take the time to go to the RDS to support and encourage this younger generation they will receive a great reward.
The reward is the feeling they will have by the time they depart.
It is a feeling of being uplifted, more hopeful about the future, proud of our young people, more excited and interested in the world around us, and truly fascinated that science can be so accessible and so relevant to the lives we all live.