ESB has announced that it is to close its two peat-fired electricity generation plants in the Midlands at the end of next year.
The plants, which are located at Shannonbridge in West Offaly and Lanesboro on Lough Ree, currently burn two million tonnes of peat per year supplied by Bord na Móna.
It had been hoped that electricity plants would be able to switch to burning a mix of peat and biomass.
However, An Bord Pleanála refused a planning application by ESB in 2018 to extend the life of the West Offaly Power Plant to continue operating with biomass on environmental grounds.
It was open to ESB to appeal that decision.
Today, ESB said that having considered the key planning, environmental and commercial issues associated with peat and biomass, regrettably there is no viable business model beyond 2020.
Therefore, both stations will cease generation of electricity at the end of December 2020.
In a statement, it said: "Given our long history of power generation in Shannonbridge and Lanesboro, this is a matter of significant regret for ESB.
"ESB very much appreciates the commitment of our staff and the support of the broader community over many decades during which ESB, in strong collaboration with Bord na Móna, played a key role in the development of the economy in the midlands."
The CEO of ESB has acknowledged that the decision is a blow to the Midlands region.
Pat O'Doherty said the company had tried for the last two years to secure a future for both plants, but was unable to due to environmental, planning and commercial reasons.
He said the 80 ESB staff working across the two sites will be re-deployed or offered voluntary redundancy, and that he did not envision any compulsory redundancies.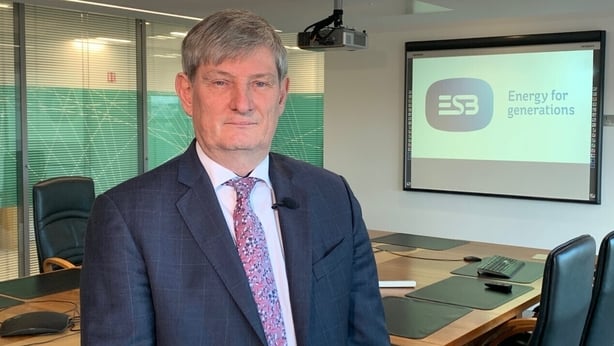 Mr O'Doherty also defended the company's decision not to appeal An Bord Pleanála's decision not to allow the burning of biomass at the West Offaly Plant, which would have secured its operations until 2027.
The Bord na Móna group of Unions has said it was disappointed with this morning's announcement and accused ESB of misleading staff over the last two years with plans for alternative activities.
We need your consent to load this rte-player contentWe use rte-player to manage extra content that can set cookies on your device and collect data about your activity. Please review their details and accept them to load the content.Manage Preferences
RTÉ News understands the structures of the two plants will be dismantled, returning the area where they currently are to brown field sites.
From an environmental perspective, this accelerated exit from using peat for power generation will save the emission of about 1.25 million tonnes of greenhouse gas emissions per year, amounting to a cumulative saving of nine million tonnes by 2027.
ESB will now begin the process of engaging with staff and stakeholders to prepare for an orderly closure of the stations.
The Government recently announced the creation of a €6m Just Transition Fund for the midlands, and in light of the closure of the two stations, ESB said it will make an additional contribution of €5m to this fund.
Minister for Communications, Climate Action and Environment Richard Bruton said he was "acutely aware" of the impact that an accelerated exit from peat will have on workers, and on the broader region.
In a statement, he said: "We are bringing forward a number of initiatives as part of our Just Transition Plan.
"The Government prioritised just transition in the recent Budget, including a number of measures which will help ensure the transition."
Former Workplace Relations Commission chief Kieran Mulvey has been appointed as the first Just Transition Commissioner.
Minister Bruton went on to say that exiting peat early will have a "significant impact on our emissions". He said this must be managed in a way that ensures the Midlands is supported through the transition.
The Minister will visit the Midlands region next week to meet workers and community representatives.
He also announced that the Government has been engaging with the European Commission to put in place an extensive Bord na Móna bog rehabilitation programme, funded through a re-purposed Public Service Obligation.
The programme will rehabilitate 77,000 hectares of bogs used for harvesting peat for electricity generation to a high standard.
Additional reporting Ciaran Mullooly
---
Read more