The US Vice President Mike Pence has called on both Ireland and the European Union to "negotiate in good faith" with the UK on Brexit.
Speaking at Farmleigh, Mr Pence said that as the deadline for Brexit approaches, Ireland and the EU should  "negotiate in good faith with Prime Minister Johnson and work to reach an agreement that respects the UK's sovereignty".
In a prepared statement to the media, after a bilateral meeting with Taoiseach Leo Varadkar, Mr Pence said the US also recognises the "unique challenges" posed by Brexit on the border on the island of Ireland.
He added the Trump administration would press for the Good Friday Agreement to be respected.
In his comments, Mr Varadkar warned bluntly that Brexit could be "deeply disruptive", adding that was why Ireland will have to "stand its ground" when it comes to the Withdrawal Agreement to ensure no hard border on island of Ireland.
Mr Pence also said Ireland was becoming an increasingly important security partner to the US and said he was pleased that security ties would be strengthened between the US and Ireland.
The US Vice President described Shannon Airport as an "important transportation hub for United States armed forces travelling in supportive missions around the world".
He said he was grateful that the Taoiseach had indicated that he would double Ireland's number of overseas deployed forces by 2025 and would also work with the US to address hybrid threats from counter-terrorism to cyber-threats.
He also referenced US trade talks with China and urged Ireland and the EU to reject equipment that could compromise the integrity of shared telecoms infrastructure.
US @VP Mike Pence urges all sides to work towards a #Brexit agreement that respects the UK's sovereignty and the Good Friday Agreement pic.twitter.com/tOQNBpIHDZ

— RTÉ News (@rtenews) September 3, 2019
---
Read more:
Mike Pence criticised for staying at Trump property
US wants Brexit that encourages stability in Ireland - Pence
What are Mike Pence's Irish roots
---
There was a disco outside the Dáil to protest against the US vice-president's trip to Ireland 🕺 pic.twitter.com/EQt1jPBneu

— RTÉ News (@rtenews) September 3, 2019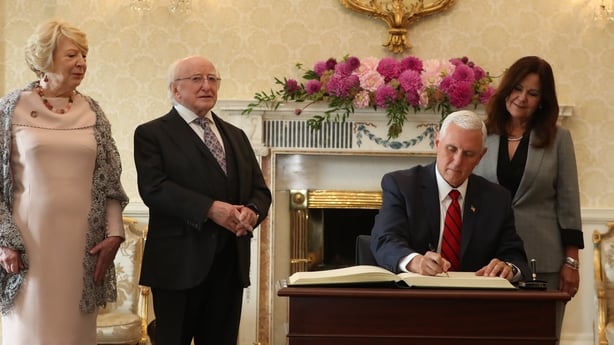 Earlier, President Michael D Higgins welcomed Mr Pence to Áras an Uachtarain.
Mr Higgins and his wife Sabina escorted Mr Pence and his wife Karen to the state dining room.
The US Vice President greeted the press before signing the official visitor's book, in which he paid tribute to his Irish grandfather Richard Michael Cawley, who served with distinction in the Irish Defence Forces during the Civil War.
He wrote: "In the memory of a great Irishman, Richard Michael Cawley (Mr Pence's maternal grandfather) and on behalf of the United States of America -  we are delighted to be back in Ireland."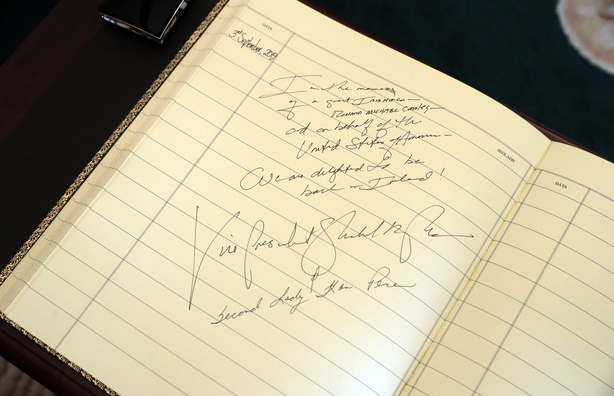 They held a meeting where they were expected to discuss multilateral co-operation to address climate action, Brexit and its impact on Ireland as well as human rights and equality issues.
Other topics were expected to include Northern Ireland and modern challenges of migration.
Following his engagement with Taoiseach Leo Varadkar, Mr Pence met business people at the residence of US Ambassador Edward Crawford before returning to Doonbeg in Co Clare for a private dinner with Irish relatives.
It is the second day of Mr Pence's official visit to Ireland, after arriving at Shannon Airport yesterday afternoon on Air Force 2.
We took the opportunity to show the Vice President and his mother Nancy the military service record of his grandfather, Richard Michael Cawley, who served with distinction in the Irish Defence Forces during the Civil War. pic.twitter.com/fQIciUy3ty

— Leo Varadkar (@LeoVaradkar) September 3, 2019
America & Ireland are prospering because our nations are bound together by the connections of family & history but also a deep commitment to individual liberty & freedom. I'm proud to be part of an administration that respects the dignity & worth of every person, born & unborn. pic.twitter.com/9dMUdynmMe

— Vice President Mike Pence (@VP) September 3, 2019
Business leaders seek Congress help
A group of civic and business organisations from across Northern Ireland have called on the US Congress to help protect the Good Friday Agreement.
The group has written an open letter welcoming statements from Mr Pence and from US Speaker of the House Nancy Pelosi highlighting the need to respect the Good Friday Agreement.
The letter is signed by a range of civil liberty groups, community organisations, trade unionists and representatives of businesses across Northern Ireland and is addressed to Speaker Pelosi.
The letter, seen by RTÉ News, urges the US Congress to scrutinise any future trade deal with the UK to ensure full compliance with the Good Friday Agreement.
"We urge Congress to satisfy itself that the truly transformational foundations for peace and prosperity here, which were laid with the indispensable aid of the United States, are not undermined in any manner by decisions to be taken in Congress," the letter states.
A delegation from Northern Ireland will travel to Washington later this month to raise their concerns with Speaker Pelosi and other senior US politicians from both parties in Congress.
A group of civic and business organisations from across Northern Ireland has written to @SpeakerPelosi urging the US Congress to scrutinise any future trade deal with the UK to ensure full compliance with the Good Friday Agreement. @rtenews pic.twitter.com/qncgBjdz8X

— Brian O'Donovan (@BrianOD_News) September 3, 2019
Additional reporting Aisling Kenny, Brian O'Donovan, PA