US Vice President Mike Pence has defended the decision to stay at the Trump International Golf Links and Hotel in Doonbeg during his Irish visit.
The Co Clare hotel is owned by US President Donald Trump, who also used it as his base while visiting Ireland earlier this summer.
Mr Trump stepped down as a director of the companies behind the resort on the day before his inauguration as US President in January 2017.
California Democratic Congressman Ted Lieu has accused Mr Pence on Twitter of "funnelling taxpayer money" to Mr Trump by staying at the hotel.
"You took an oath to the Constitution, not to Donald Trump," Mr Lieu said.
The Democratic National Committee tweeted that Mr Pence's choice of hotel meant "your tax dollars: making the Trump family richer".
Mr Pence addressed the criticism of him staying at Mr Trump's hotel in Doonbeg when he spoke to reporters after his meeting with Taoiseach Leo Varadkar.
He said it was important for him to stay there for at least one night due to family connections.
Mr Pence also said it made sense to stay there due to security reasons and he said he was pleased to return to his family's home town.
Hey @VP @mike_pence: You took an oath to the Constitution, not to @realDonaldTrump. Funneling taxpayer money to @POTUS by staying at this Trump resort is sooooooo corrupt.

Also, I hope you don't encounter bedbugs. Many people say there are lots of bedbugs at Trump properties. https://t.co/KgJfnMRSgt

— Ted Lieu (@tedlieu) September 3, 2019
He said: "It's deeply humbling for me to be able to come back to Ireland and have the opportunity to go to the very hometown of my mother's grandmother.
"We'll have dinner tonight at a little pub that I worked at when I was 22 years old, when I came over here shortly after my grandfather passed away.
"It was important for me, before our original trip [was] planned, to at least spend one night in Doonbeg. And I understand political attacks by Democrats, but if you have a chance to get to Doonbeg, you'll find it's a fairly small place.
"The opportunity to stay at the Trump National in Doonbeg, to accommodate the unique footprint that comes with our security detail and other personnel, made it logical. 
"We checked it with the State Department. They approved us staying there."
While travelling on board Air Force Two from Shannon to Dublin earlier, the Vice President's Chief of Staff Marc Short was questioned by reporters about the decision to stay at Trump Doonbeg.
He said President Trump had not ordered the Vice President to stay at the hotel. "I don't think it was a request, like a command. I think that it was a suggestion," he said.
Mr Short added that the US Secret Service was familiar with the Doonbeg hotel after Mr Trump stayed there earlier this year.
"It's a facility that could accommodate the team. Keep in mind, the secret service has protected that facility for him, too, so they sort of know the realities, they know the logistics around that facility," he said.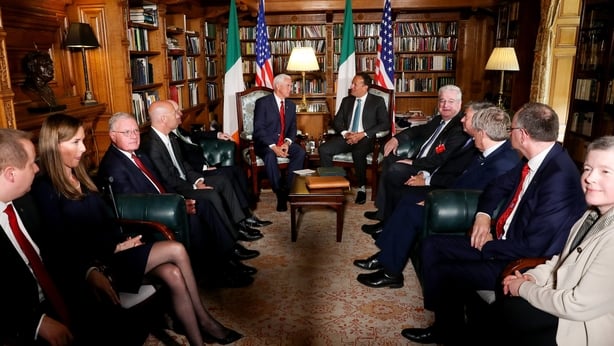 Asked if Mr Trump was allowing Mr Pence to stay at his hotel for free, Mr Short replied: "No, this is following the normal procedures that we usually have. Because it has, again, the size that can we think can accommodate us and secret service can protect us."
Mr Short also told reporters that the US Vice President is personally paying the cost of travel for his mother and sister who are accompanying him on his trip to Ireland.
Mr Trump valued the hotel and golf course at between $25m-$50m in a financial disclosure to the US Office of Government Ethics earlier this year.
That document said Doonbeg generated income of $14.5m from what was described as "golf-related revenue".
That figure is an increase of around $300,000 compared to last year's filing. Mr Trump bought the golf course in Co Clare in February 2014 for an estimated €15m.
Doonbeg dinner with relatives
We need your consent to load this rte-player contentWe use rte-player to manage extra content that can set cookies on your device and collect data about your activity. Please review their details and accept them to load the content.Manage Preferences
It was an emotional evening for Mr Pence as he undertook an unscheduled walkabout and shook hands with well-wishers in the home village of his ancestors in Doonbeg.
He said he felt a great debt of gratitude to his emigrant ancestors who had gone before him.
Mr Pence said it was particularly emotional to be in Doonbeg with his 90-year-old mother Nancy, his wife Karen and his sister Anne.
He said he worked in Morrissey's bar in 1981 and cut turf on the family bog, staying about a month.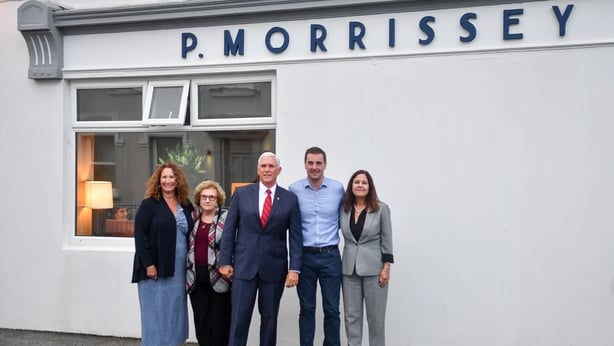 Mr Pence joked that they made sure he earned his keep.
That year he had planned to return with his grandfather Michael Cawley, but he died before the trip could take place.
Mr Pence pointed out the cottage on the street where his great grandmother's family, the Downes, lived.
He thanked people for the warm welcome, before joining relatives for a private family meal with distant cousins in Morrissey's.
⁦@VP⁩ walks the streets of his ancestors in Doonbeg ⁦@rtenews⁩ pic.twitter.com/Rgp8jgyclP

— Cathy Halloran (@HalloranCathy) September 3, 2019
Additional reporting Cathy Halloran