As US Vice-President Mike Pence arrives in Ireland for a two-day visit, we take a look at his heritage, his political career and his links to Ireland.
Mike Pence is named after his grandfather, who emigrated from Tubbercurry, Co Sligo, to Chicago where he was a bus driver. He arrived in the US in 1923, an event Mr Pence tweeted about earlier this year on Independence Day.
The Vice-President's great-grandparents emigrated from Doonbeg in Co Clare in the 1890s. He is believed to have visited the village several times, the last trip being in 2013 with his wife and children.
On April 11, 1923 an Irish immigrant named Richard Michael Cawley stepped onto Ellis Island and began our family's story in America. Because he had the courage and faith in America that is displayed in all of you, that's how Michael Richard Pence became Vice President of the US. pic.twitter.com/bIcCwAZJRB

— Vice President Mike Pence (@VP) July 4, 2019
Mr Pence will once again visit the Clare village during this trip and is expected to meet a few of the locals while there. However, he's unlikely to partake of a Guinness or two, because just like US President Donald Trump, who owns the Trump International Golf Links & Hotel Doonbeg, he is said to avoid drinking alcohol.
Mr Pence turned 60 on 7 June. One of six children, born and raised in Columbus, Indiana. His parents, Edward Pence and Jane Cawley, ran a group of petrol stations. He was raised as a Catholic but when he went to college he became a born-again Christian.
Lawyer to lawmaker
He earned a BA in History from Hanover College in 1981 and a law degree from Indiana University in 1986.
In 1986 he married Karen Batten, a teacher and artist, whom he had met at an evangelical church while at college. They have three children: Michael, Charlotte and Audrey all aged in their 20s.
After university Mr Pence went into private practice as a lawyer. He ran unsuccessfully for a congressional seat in 1988 and in 1990.
In 1993 he began hosting The Mike Pence Show, a talk radio programme in Rushville, Indiana.
In 2000, Mr Pence ran again for the House of Representatives and won the seat. While in Congress he was part of the Tea Party Caucus [A congressional group of conservative members of the Republican Party].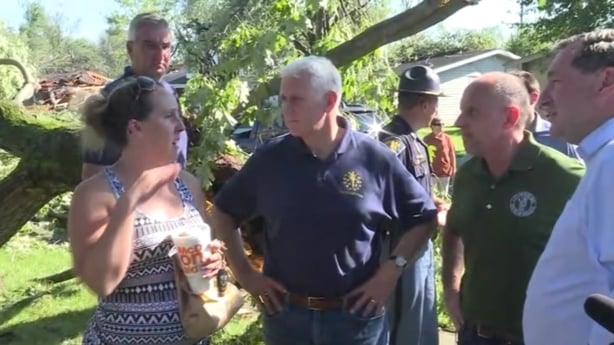 He was re-elected four more times. He lost his bid to become leader of the Republican party in 2006 but in 2009 was elected as the Republican Conference Chairman, the third-highest Republican leadership position.
While showing a reporter around his Congressional office in 2010 he pointed out a well-read bible that he had on his desk saying: "Somebody said to me one time a bible worn out is a sign of a life that's not".
He also had what he referred to as a "table of heroes", with photos of President Ronald Reagan, Vice-President Dan Quayle and Republican politician Jack Kemp, who served as Housing Secretary under George H Bush, which he said "reminds me of who I am".
The books displayed on his shelves were all "of great consequence" to him and included Tom Clancy's 'The Hunt for Red October', CS Lewis' 'Mere Christianity', and Steven R Covey's 'The 7 Habits of Highly Effective People', all of which he said had "an enormous influence" on his thinking. He said that he has found that he can "tell a lot from people by what's on their bookshelves".
We need your consent to load this YouTube contentWe use YouTube to manage extra content that can set cookies on your device and collect data about your activity. Please review their details and accept them to load the content.Manage Preferences
He served six terms in congress and carved out a record of social and economic conservatism that tea party republicans fancied long before they became a force within the Grand Old Party. 
In 2013 he narrowly won the race to be Governor of Indiana. He ran for a second term in 2016 but ended his campaign on 15 July that year as Donald Trump announced his selection as his running mate.
Governor Pence joins Team Trump
In that presidential campaign Mr Pence had initially endorsed Texas Senator Ted Cruz in the Indiana primary that clinched Mr Trump's status as the presumptive nominee and earlier in the campaign he publicly opposed Mr Trump on two big issues - temporarily banning Muslim immigration and a new trade deal in Asia called the trans-pacific partnership.
But Mr Pence came around to Team Trump and sang his praises once he was nominated to run on the ticket for Vice-President, saying Mr Trump is "a builder, he's a fighter and he's a patriot".
Mr Trump called Mr Pence "a man of honour, character and honesty."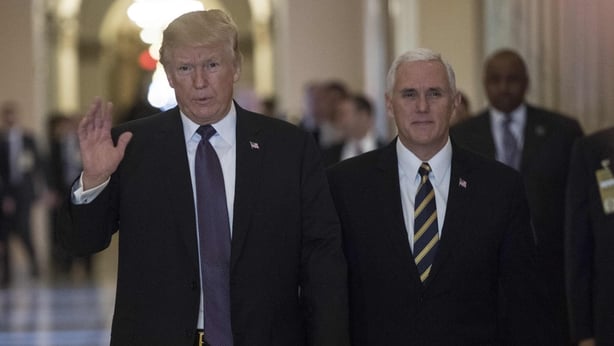 Mr Pence has stood against same-sex marriage over the years and in 2006 in a speech in the House of Representatives supporting a constitutional amendment that would have defined marriage as between a man and a woman, he said "societal collapse was always brought about following an advent of the deterioration of marriage and family.
In 2015 he came under fire for signing the Religious Freedom Restoration Act, a bill that allowed businesses to deny services based on their religious beliefs.
Those who argued against the bill said it could be used to discriminate against gay, lesbian, bisexual and transgender people in the name of religion. 
However, after swift opposition across the country, Mr Pence had the law redrafted which stopped the act from diminishing state protection on human rights.
He was sworn-in as US Vice-President on 20 January 2017.
Meeting with Taoiseach in Washington
Taoiseach Leo Varadkar met Mr Pence in Washington DC in March 2018.
In a break with protocol, Mr Pence's officials did not allow media attend the traditional St Patrick's event at his Naval Observatory residence.
The move came after Mr Varadkar stated he was going to raise the issue of LGBT rights with the vice-president.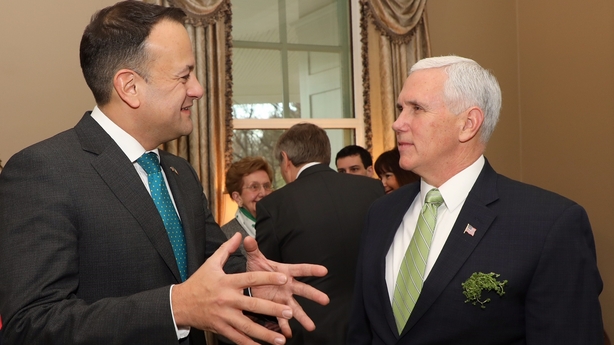 Media were only permitted to capture the arrival of Mr Varadkar at the event.
Mr Varadkar did not mention gay rights during a speech at the gathering but it is understood he did talk about the matter during a private conversation with Mr Pence.
Mr Pence invited Mr Varadkar and his partner Matt to visit his home.
As part of his St Patrick's Day visit this year, Mr Varadkar and his partner Matt Barrett met Mr Pence and his sister Anne at his residence in Washington.
Mr Varadkar took the opportunity to speak about his experience growing up in Ireland where he said that he is judged not by his sexual orientation but by his political actions.
Unlike the previous year, it was open to the media.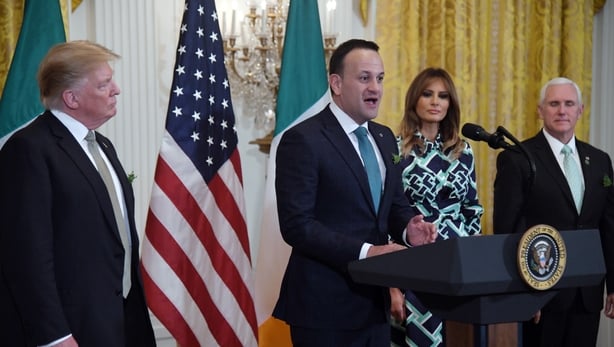 Speaking at the breakfast meeting, Mr Varadkar said that while growing up in Ireland he was fascinated by American politics.
"In many ways it helped to inspire me to believe in the power of politics to do good because ultimately that is what politics is all about," he said.
"It helped inspire me to run for office, to become involved in making laws and driving change.
"But I also knew at the time that I lived in a country where, if I tried to be myself at the time, it would have ended up breaking laws, but today that is all changed.
"I stand here, leader of my country, flawed and human, but judged by my political actions and not by my sexual orientation, my skin tone, gender or religious beliefs," said Mr Varadkar.
Finally, on September 6-7 we will travel to Ireland, a country that is very near to my family's heart, where we look forward to meeting with President @MichaelDHiggins, Taoiseach @LeoVaradkar, and Tánaiste @simoncoveney while celebrating my Irish roots!

— Vice President Mike Pence (@VP) August 15, 2019
At that meeting Mr Pence confirmed his plan to visit Ireland and said he would be bringing his mother Nancy with him.
Mr Pence said: "I am happy to report to the Taoiseach that I have spoken to Mom, first generation Irish-American and mother-of-nine, and she has confirmed that she will travel with us to Ireland and we are making plans to return to my grandfather's homestead as we speak."