The family of missing teenager Nóra Quoirin is offering a £10,000 (€10,790) reward for information on her whereabouts.
The 15-year-old vanished more than a week ago from a rainforest resort about 70km south of Malaysia's capital, Kuala Lumpur.
The reward was donated by a Belfast business.
In a statement, Nora's family said: "Nóra is our first child. She has been vulnerable since the day she was born.
"She is so precious to us and our hearts are breaking. We are appealing to anyone who has information about Nóra to help us find her."
The family confirmed that 50,000 MYR was donated by an "anonymous Belfast-based business for any information that directly helps us find Nóra".
Meanwhile, officers from the UK's National Crime Agency, Scotland Yard and An Garda Síochána are supporting Malaysian authorities in the search for Nóra.
At a press conference, Malaysian police confirmed that officers from Ireland, Britain and France were in the country helping authorities with their investigation, but did not specify what kind of support they were giving.
They also said there were now 353 people involved in the search for Nóra, adding that heavy rain affected the search efforts today.
We need your consent to load this rte-player contentWe use rte-player to manage extra content that can set cookies on your device and collect data about your activity. Please review their details and accept them to load the content.Manage Preferences
'Our hearts are breaking' - £10,000 reward offered in search for Nóra Quoirin | https://t.co/3eUiCbJ64W #FindingNora #NoraQuoirin pic.twitter.com/JwDc61DonU

— RTÉ News (@rtenews) August 12, 2019
Statement from family of #missing Nora Quoirin pic.twitter.com/jZ2dvoD8nE

— Lucie Blackman Trust (@MissingAbroad) August 12, 2019
They said they were still committed to the search to find Nóra.
A spokeswoman for the NCA said: "The National Crime Agency, the Met Police and the Irish police are working together to help and support the Malaysian authorities relating to Nóra Quoirin's disappearance."
With hundreds of people, including an elite police force, out daily looking for any trace of Nóra, there is still no indication of what happened to her.
On Saturday, a garda liaison officer arrived in Malaysia to assist police with their investigation and to help the Department of Foreign Affairs as it provides consular assistance to Nóra's family.
Police are still treating this as a missing persons case even though the family think she was abducted.
Authorities have opened a hotline number in Malaysia for information connected to the teenager's disappearance.
Meanwhile, more than €100,000 has been donated to help the family of Nóra, who was born with the brain defect holoprosencephaly and has special needs.
The teenager's aunt set up an online fundraising page in the aftermath of her disappearance, which has so far collected more than £89,000 (€95,000).
A second campaign created by Nóra's uncle to collect money in euros now totals more than €14,000.
A new week into this search. Scotland Yard and the UK's National Crime Agency are assisting Malaysian authorities with their investigation. pic.twitter.com/A8jlmpzNsa

— Jackie Fox (@jackiefox_) August 12, 2019
---
Read more
---
Separately, The Lucie Blackman Trust, which helps families of those missing abroad, said it has received more than 1,500 contacts from people offering help and support, as well as anonymous alleged intelligence that needs to be verified and passed on to the relevant authorities.
The trust has also printed off 10,000 posters with Nóra's image on it and is appealing to people to help distribute them in nearby towns and villages.
It has also set up a Facebook group for people in Malaysia's capital Kuala Lumpur to help-coordinate these efforts and distribute posters.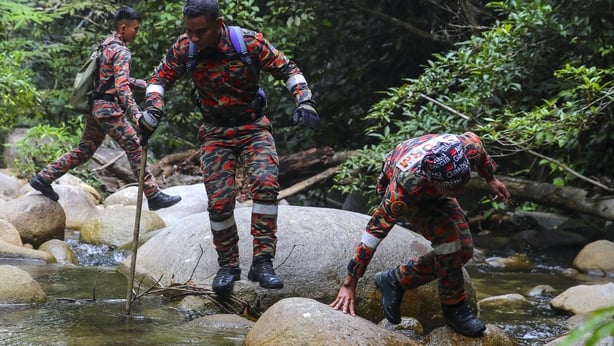 Even as millions celebrated the Eid al-Adha festival in the Muslim-majority country yesterday, a search team almost 300 strong trekked through dense jungle near the resort in southwest Malaysia in an increasingly desperate hunt.
The search team includes helicopters, sniffer dogs and drones, but no trace of the teenager has been found so far.
Officials narrowed the search area over the weekend as they believe that Nóra cannot have strayed far from the resort.
They have also been playing a recording of her mother's voice through megaphones.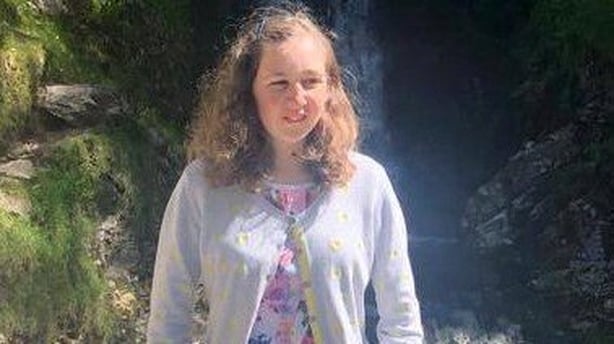 Her parents, Meabh and Sebastien Quoirin, a Irish-French couple who have lived in London for 20 years, thanked those involved in looking for her.
"You have given up your time especially at a special festival time," said Ms Quoirin.
She added: "We want to say thank you to each and every one of you. We know you're searching night and day for Nora.
"We see you working so hard and also praying with us and being with us."
The family have said they remain hopeful after police leading the investigation refused to rule out a "criminal element".
The schoolgirl went missing from the 12-acre Dusun Resort, which lies near a forest reserve in the foothills of a mountain range.
Her family says it would be extremely unusual for the reserved youngster to have wandered off on her own.
An open window was found in the cottage where the family was staying at the resort.
Police have questioned a number of people, are examining fingerprints found on a window, and looking into reports that villagers heard a truck early on the morning that the girl disappeared.
Additional reporting PA, AFP