The family of missing teenager Nóra Quoirin have said her parents are devastated at her disappearance in Malaysia.
Her aunt Éadaoin Agnew made an emotional appeal for support as the search for the 15-year-old is now in its fourth day.
Nóra arrived with her family at a rainforest resort southwest of Kuala Lumpur on Saturday. She was reported missing the following morning.
Her mother is from Belfast and her father is French and it is understood she travelled on an Irish passport.
Ms Agnew said: "Our family is unable to deal with this at the moment, but we must remain hopeful and we ask everyone to keep Nóra in their thoughts and to continue to support the ongoing search for her.
"Nóra is still missing and she is very vulnerable and we need to do everything we can to bring her home."
We need your consent to load this rte-player contentWe use rte-player to manage extra content that can set cookies on your device and collect data about your activity. Please review their details and accept them to load the content.Manage Preferences
She said that the family was overwhelmed by the support it has received from around the world and thanked all those involved in the search operation.
"We're so completely overwhelmed by the support we have received from all over the world," she said.
"This is extremely traumatic for the whole family. Meabh and Sebastien (Nóra's parents) are understandably devastated and too upset to speak themselves at this time."
Malaysian police have questioned at least 20 people in the search, as more than 200 searchers, dogs and two drones scoured the surrounding thickly-forested area around the resort.
Police interviewed Nóra's family and resort staff, and swept the hotel room where she was last seen for fingerprints, a police spokesman said.
"Our forensics team has gone through the entire building, and the investigation process is still ongoing," he added.
Forensics experts were able to take fingerprints from an open window in a downstairs hall, not in the bedroom upstairs.
---
Read more
---
Police are still treating the disappearance as a missing persons case, but did not rule out the possibility that she may have been kidnapped.
Nóra's family believe she was abducted and questioned the Malaysian authorities' refusal to redesignate her case.
Authorities deployed two drones for an aerial search over an area of six square kilometres around the resort, which is perched on the edge of a sprawling forest reserve.
More than 200 people are sweeping the area, assisted by dog units, police said, with a checkpoint also set up on the road to the resort.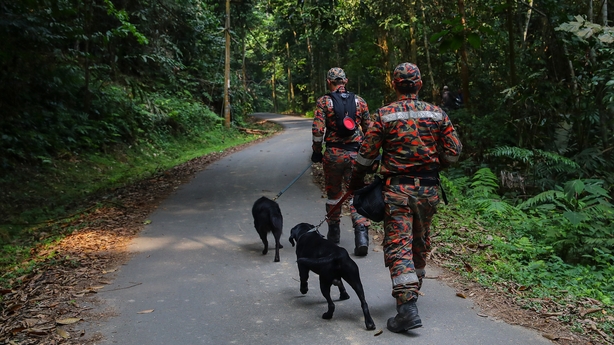 Her French grandfather, Sylvain Quoirin, said Nóra "disappeared in extremely mysterious conditions since she was sleeping in the room with her sister and brother".
He said it would be entirely out of character for Nora to disappear of her own volition or to run away.
Mr Quoirin said he last saw his granddaughter over the Easter holidays, when the family spent a week together in Brittany.
He described Nora as a shy, timid, reserved girl, who was quite fragile and vulnerable.
She can communicate well in both English and French, he said, but added that she has a mild learning difficulty.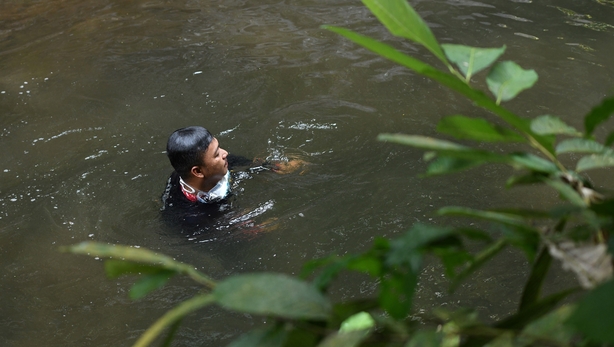 He added: "In the morning, the window was open and she had disappeared, whereas after an 18-hour flight and a seven-hour time difference you would sleep soundly and not go for a stroll at night," Mr Quoirin told AFP by phone from Venisy, in north-central France where he is the mayor.
"Everyone went to bed tired, and in the morning Nóra wasn't there."
The family had planned to stay for two weeks, he said, and Nóra was "absolutely not" in the habit of running off.
He said the search effort left him optimistic that she will be found.
Management of the Dusun Resort, where the family were staying, said in a Facebook post that its employees were "extremely distressed and worried" about Nóra's disappearance and were assisting in the search.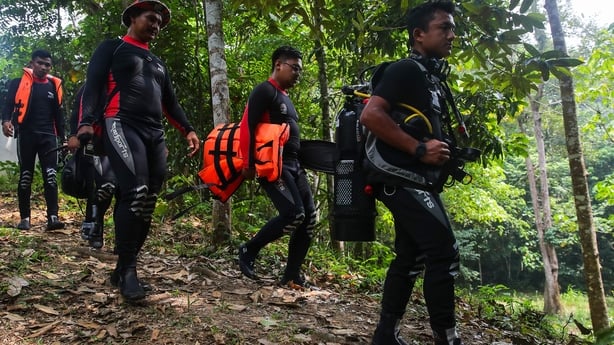 In a statement released yesterday, the teenager's family said they believed she had been abducted.
They said: "We are especially worried because Nóra has learning and developmental disabilities, and is not like other 15-year-olds.
"She looks younger, she is not capable of taking care of herself, and she won't understand what is going on.
"She never goes anywhere by herself. We have no reason to believe she wandered off and is lost."
The Department of Foreign Affairs said it is aware of the case and is providing consular assistance.
Additional reporting AFP