Police in Malaysia involved in the search for Nóra Quoirin that has been missing from the Dusun rainforest resort for over a week now have opened a hotline number so people could call with any information.
Speaking at a daily press briefing, they said they have not had a case like this in 10 years, asking the public not to speculate when it comes to the search operation and the case.
They have also said that they have spoken to Nóra's family about the possibly of offering a reward for information about her whereabouts, adding that they could not comment further.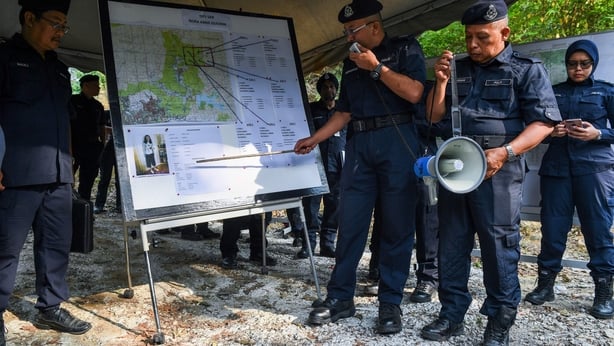 The second in command of the Malaysian police force also met with Nóra's parents about the search for their daughter.
The Deputy Inspector General, Mazlan Bin Mansor also met authorities at the rainforest about the operation.
It is understood that a Garda Liaison Officer, who has been deployed to Malaysia to help investigate the disappearance Nóra Quoirin, has arrived in Kuala Lumpur.
The officer will also assist the Department of Foreign Affairs in providing consular assistance to Nóra's family.
It is now one week since Nóra Quoirin was reported missing by her parents from the Dusun rainforest resort in Malaysia.
Seven days of searches have produced no breakthrough.
The operation has seen at its peak over 300 people scanning the land around the cottage, where she was staying with her family, only to find no clues.
This weekend, they have been divided into six teams re-checking key locations.
Canine units have swept in and around the cottage Nóra was staying at for her scent but cannot find any trace of the teenager who vanished last Sunday.
Police are working round-the-clock as they search for Nóra Quoirin in the Dusun rainforest - @jackiefox_ reports | https://t.co/csx7OB5PzB pic.twitter.com/5LgcwHfS1A

— RTÉ News (@rtenews) August 11, 2019
---
Read more:
Locals offer help and prayers for Nóra's safe return
---
Divers once again scoured a river that cuts through the rainforest without any luck as teams used loudspeakers to broadcast familiar voices known to Nóra through the dense land in the hope of coaxing her out, if she is still there.
An indigenous community, famed for their tracking skills, was also brought in to help .
Police have reduced their target area for this operation from 8 sq km to a 4 km radius around the accommodation Nóra was staying in.
Police in Malaysia say they have spoken to Nóra's family about the possibility of offering a reward for information on her whereabouts. They also opened a new hotline number if anyone has important info to share ?? pic.twitter.com/SMz2ktrq7J

— Jackie Fox (@jackiefox_) August 11, 2019
At a press conference, they said they believe that if she is still in the vicinity, she would be in this zone.
But authorities are worried about her chances of survival as day eight in the search for Nóra begins.
Police are still treating this as a missing persons case and reiterated yesterday that they have no reason to believe she was taken.
However, they have not ruled out a criminal element stating they are checking phone and email records in the area and have been speaking to those who were in contact with Nóra's family before she vanished.
Forensic experts are also analysing fingerprints found at an open window in a downstairs hall of the cottage.
Nóra's family believe she was kidnapped as they found a window open in the cottage the morning she went missing.
Helicopters scan the ground below on day eight in the search for Nóra. I think everyone is really desperate for some breakthrough today. pic.twitter.com/V0ti32skca

— Jackie Fox (@jackiefox_) August 11, 2019
They also said for her to wander off is totally out of character.
"Nóra was born with holoprosencephaly - this means that she has a smaller brain. All her life she has spent a lot of time in hospital" the family said in a statement on Friday.
The Irish-French family, who have lived in London for 20 years, arrived in the rainforest resort about 70km south of Malaysia's capital, Kuala Lumpur, a week ago.
Her parents Meabh and Sebastien Quoirin stood in front of those looking for their daughter yesterday. In the local language they said 'terima kasih' - thank you.
Just after dawn, Meabh Quiorin thanked teams for their hard work over the last seven days https://t.co/wKFo1XTpou pic.twitter.com/3zeJfHijQ9

— RTÉ News (@rtenews) August 10, 2019
So far no trace of the 15-year-old has been found. The circumstances surrounding the teenager's disappearance on day eight of this search still remains a mystery.