When a tragedy of this magnitude happens, those suffering are inundated with thoughts and prayers from people who are genuinely heartbroken and touched by events.
Social media has been awash with these kinds of tributes as the world looks on and remains baffled by the circumstances surrounding the disappearance of 15-year-old Nora Quoirin from a rainforest resort in Malaysia.
Here in this southeast Asian country, those wishes are more than conveying concern online. Some of the locals traditionally believe the rainforest is alive with spirits and are praying to them for Nóra's safe return.
While most Malaysians speak English, Nóra's distressing disappearance has left them unable to put this terrible development into words.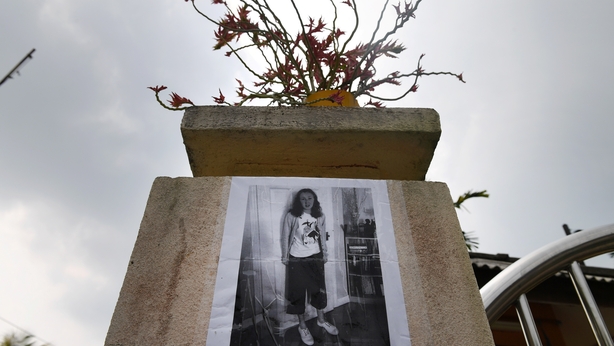 It's every parent's worst nightmare for their child to go missing. That's why one father collecting his son from school, not too far from where Nóra went missing, said he waits outside for him every day on his motorbike just to make sure he is OK.
When he was asked about Nóra, he shook his head, sighed and said he hoped she would be found soon.
The locals here in Seremban are seriously concerned for her welfare. Each evening as I come rushing back to the hotel from the rainforest after a day of reporting, the staff run up to me to ask for updates with hope in their eyes that I have some good news.
But each evening I can't give them the answer they are looking for, as Nóra's whereabouts become more of a mystery with every hour that passes.
The locals here in Seremban (where I'm staying) are so genuinely concerned for Nóra. Every time I come rushing back to the hotel, they run up to me asking for updates - with so much hope that I have some good news. pic.twitter.com/Yzh85sOCJL

— Jackie Fox (@jackiefox_) August 10, 2019
They also want to help as much as they can. Every morning, a plastic bag hangs from the door handle of my room. Inside is a copy of the local paper as staff know I want to see how local media is reporting Nóra's disappearance.
It is now day eight in the search for Nóra and personnel have resumed their mission today despite it being an important date in the Muslim calendar, Hari Raya Haji.
From 6am, morning prayer rang out through speakers in Seremban and it is understood some rescue workers have been given leave this morning to attend those celebrations.
Here at the media area, just beside police HQ, local reporters are also marking the day with coconut steamed rice called lemang, sweet biscuits and roti canai - a fried flat bread.
As the rescuers come back from their morning's search, they offer them some quick snacks which they happily take.
An elderly woman later hopped out of a car driven by her niece. Kak Yai, but also known as Mama Mila, drove over an hour from Kuala Lumpur to the rainforest to bring food and refreshments to rescue workers and those volunteering.
The vehicle is packed with snacks, cookies and biscuits to keep people going.
Mama Mila is originally from near the resort and used to come to the rainforest as a child with her family to visit.
Some people have the kindest hearts 💛 This woman got her niece to drive her over an hour to the rainforest so she could bring food and treats to volunteers who are looking for Nóra. She grew up not too far away & used to come here with her family as a child. pic.twitter.com/fZyqefD4oK

— Jackie Fox (@jackiefox_) August 11, 2019
Tears filled her eyes when I asked her about Nóra. She heard in the news what happened to Nóra and took action to help with the place also holding a special place in her heart.

Mama Mila is not the only one. Coming down the hill from police HQ are around a dozen people looking like they are about to join the search for the teenager.

After stopping them in the tracks, the group said they are locals who spend some time hiking in the resort and want to do their bit to assist officials.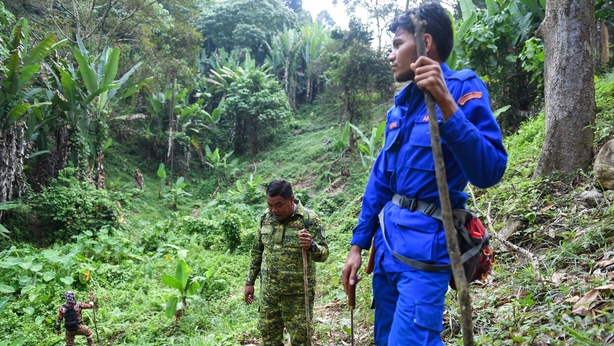 Police have vowed to keep going in their search, even though they say they can find no trace of the teenager who was last seen at the cottage she was staying in with her family one week ago.

In a restricted area very close to where Nóra went missing, police and rescue workers are camping out in tents and sleeping bags as they work round-the-clock to find the teenager.

One journalist here said he heard teams use the loudspeakers broadcasting Nóra's mother's voice into the night sky, in the hope that if she is still out there that there will be some response.

Drones also flew through the dark sky using technology to try and detect any body heat below.
With the pressure mounting on them to find any clues, the world is watching through the eyes of the international media.
All major news groups are following the story, but in the absence of any clues or significant leads it is a difficult story to report, especially when there is a family suffering in the worst possible way.
We can only hope there is a breakthrough soon to end the agony for the Quoirin family.