Pope Francis has said he will not respond to accusations by a former top Vatican official that the Pontiff had covered up sexual abuse, saying that the document containing the allegations "speaks for itself".
He dismissed the 11-page statement, or testimony, from his former Papal Nuncio to the United States Archbishop Carlo Maria Vigano, which accused the Pope of being aware of serious abuse allegations against Cardinal Theodore McCarrick, five years before the cardinal resigned in June.
The Pope told reporters he had read the document but that he "will not say a single word on this".
He said: "I must tell you sincerely that, I must say this, to you and all those who are interested, read the statement carefully and make your own judgement."
He added: "I believe the statement speaks for itself. And you have the journalistic capacity to draw your conclusions. It's an act of faith. When some time passes and you have drawn your conclusions, I may speak."
Without going into specifics, the Pope also said: "I would like your professional maturity to do the work for you. It will be good for you."
In a wide-ranging news conference on board the Aer Lingus flight, Pope Francis addressed issues ranging from clerical abuse to homosexuality and migration.
The Pope also said he would study a memorandum provided by the Minister for Children on the issue of mother and baby homes, telling reporters on his flight from Ireland back to Rome that Katherine Zappone had informed him that the Catholic Church "had something to do" with the issue.
---
Read more: Pope Francis in Ireland
---
We need your consent to load this rte-player contentWe use rte-player to manage extra content that can set cookies on your device and collect data about your activity. Please review their details and accept them to load the content.Manage Preferences
However, Pope Francis appeared to disagree with Marie Collins over the form of church tribunal required to remove bishops over the issue of clerical sex abuse.
The Pontiff said that while he held Ms Collins in high regard, she had become what he called "fixated" on one particular legal mechanism to remove a bishop.
The mechanism, known as Madre Amorevole, is an option in canon law whereby the church can, of its own accord, remove a bishop from office for "grave reasons".
Pope Francis issued a notice on the procedure in 2016. However, he said that it was not always appropriate.
Asked to respond to Marie Collins' claim that the Vatican did not approve of new accountability tribunals for bishops, Pope Francis responded: "No, no, it is not like this.
"Marie Collins is a bit fixated - I hold her in high regard, at times we call her in the Vatican to give conferences - on the idea of the Madre Amorevole (motu proprio) that it would be good to judge bishops, that would be good to have a special tribunal.

"But we saw this wasn't practical for different reasons, for the different cultures of the bishops that had to be judged."
Pope Francis said there should be a different jury for each bishop, as opposed to a fixed tribunal jury. He said not all bishops were able to leave their parishes to face fixed tribunals.
He said in the last such tribunal involving the Archbishop of Guam, the archbishop had appealed, and the Pope himself had decided to take over the case because it was "very difficult".
Pope Francis added: "I told Marie Collins that the spirit of the recommendation of the Madre Amorevole would be done. But not the same tribunal, as it is not possible. She did not understand this well. I care for her, when she comes to Rome I will explain to her."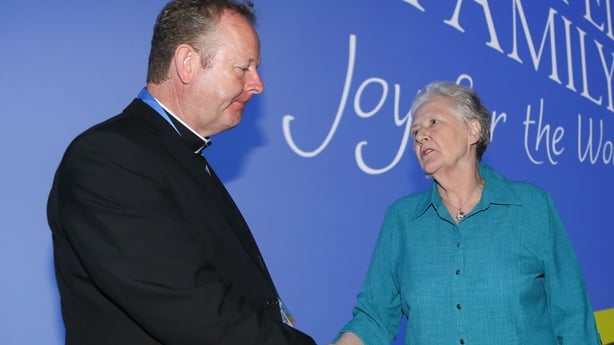 Ms Collins has said she was quite proud to be fixated with the matter of clerical sex abuse.
Speaking on Today with Miriam, she said she wanted to see every church leader around the world who protected abusers, who harmed children, to face justice.
She said the Pope told her when they met that the tribunal she had previously recommended as part of her work with the commission, was not a viable idea and that he would prefer to have smaller "tribunals around the world".
Ms Collins said she believed there should be a transparent tribunal that holds these men accountable and that it should be done in public.
She believed there was a "moving forward" this weekend and the fact that the Pope asked for forgiveness meant responsibility had been admitted. 
Ms Collins commended Minister Zappone for saying what she said to the Pope and said the fact that he acknowledged it in his speech at Dublin Castle meant it had had an effect on him.
She said she felt the Pope not only listened to the survivors during their meeting, but heard what was being said to him. She described the meeting as emotional and difficult.
She added that the Pope made sure that he understood what the survivors wanted and that he got it right.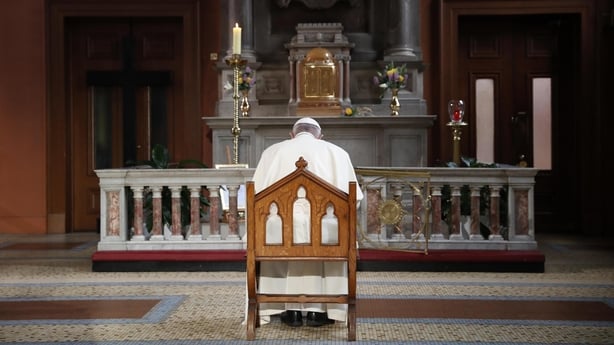 Asked about Taoiseach Leo Varadkar's speech on the diversity of Irish families, and the abortion referendum, the Pope said he was not opposed to abortion on religious grounds, but because it was a problem of "human anthropology".
"The problem of abortion should be studied anthropologically," he said. "There is always the anthropological problem of the ethics of eliminating a human being to resolve a problem. 
"But this is already to enter into the discussion. I just want to underscore this: I will never allow that the discussion on abortion begins on the religious fact."
On homosexuality, Pope Francis responded: "There have always been homosexuals, people with homosexual tendencies. Always. Sociologists say, if it's true, that in times of epochal changes, some social, ethical phenomena increase; one of them would be [homosexuality]. 
"This is an opinion of some sociologists. Your question is clear: what would I say to a father who sees that his son or daughter has that tendency? I would say first to pray, don't condemn, dialogue, understand, make space for them. Let them express themselves.
"But I'll never say that silence is a remedy. To ignore a son or daughter with homosexual tendencies is a lack of paternity and maternity. You are my son or daughter, as you are, I'm your father, mother, let's talk ... don't throw them out of the family."