Minister for Children Katherine Zappone has made a request to Pope Francis asking the Catholic Church to accept responsibility for its part in mother-and-baby homes.
The request was made in a memorandum provided by Ms Zappone to the Pope during his two-day visit to Ireland.
She wrote: "It is my strong conviction that given the role of the church in this shameful chapter of recent Irish history it must play a practical role in addressing the hurt and damage.
"I believe that the church should contribute substantially to the cost of whatever option is decided by the Government.
"This should be done willingly, unconditionally and quickly. Nothing less will demonstrate remorse."
Speaking to reporters on the flight back to Rome last night, the Pope said that Ms Zappone informed him that the Catholic Church "had something to do" with the issue.
He said that Minister Zappone had told him during a meeting at Áras an Uachtaráin on Saturday that the authorities "found mass graves of children, buried children", telling him "we're investigating … the church has something to do with this".
Speaking on RTÉ's Today with Miriam, Ms Zappone revealed what she said to Pope Francis.
She told him: "I am responsible for the Tuam mother-and-baby home. Children's remains were found in the sewage system there.
"I hope the church will make reparation for its part in this shameful chapter. It is important and I will write to you in detail."
Ms Zappone said that the Pope responded to her in English and said "thank you for saying that".
The minister said she felt Pope Francis heard her and understood her. She also said that when she mentioned the words "Tuam mother-and-baby home", a clear sense of recognition crossed his face.
Ms Zappone said that there were a lot of issues she could have raised with the Pope, but felt it was most appropriate to raise the mother-and-baby home issue as it was so significant for her ministry right now.
When speaking at Dublin Castle on Saturday, Pope Francis departed from his prepared script to refer to his meeting with Ms Zappone.
"I thanked her, up to the point she touched my heart. This is why I wanted to repeat it afterwards," he told reporters last night.
When asked about the Pope's comments this morning, the minister said she "blown away" by this.
Silent vigil at Tuam mother-and-baby home site
While the Pope was celebrating mass at the Phoenix Park yesterday, at least 1,000 people took part in a silent vigil at the site of a former mother-and-baby home in Tuam, Co Galway.
The vigil was in memory of the 796 babies who died at the home, which was managed by the Sisters of the Bon Secours between 1925 and 1961.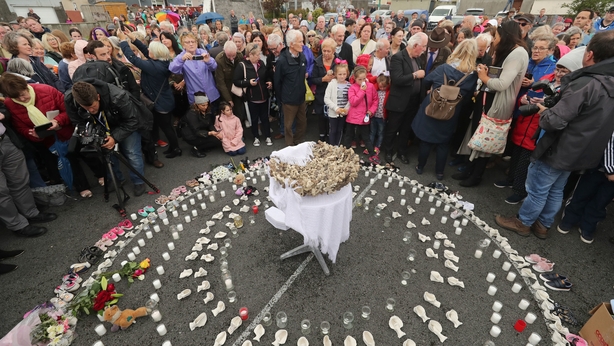 Pope Francis said that there was constructive collaboration between the Government and the Vatican over the issue.
He acknowledged that there was a "complaint" that "once the church maybe had not been helpful". The Pontiff said his exchange with the minister was "polite" and "respectful".
On Saturday, Pope Francis met eight survivors of clerical abuse at the Papal Nuncio's residence for more than 90 minutes.
Paul Redmond, who was born in Castlepollard mother-and-baby home and adopted at 17 days, was one of the survivors at the meeting and he said that Pope Francis apologised for what happened in the homes.
---
---
During the mass at the Phoenix Park, Pope Francis asked for forgiveness for a number of issues, including the abuse of single mothers, and the inaction of some in the church to tackle situations of abuse.
He said: "We ask for forgiveness for some of the church hierarchy who did not take charge of these situations and kept quiet. We ask for forgiveness.
"We ask for forgiveness for all those times in which many single mothers were told that to seek their children who had been separated from them - and the same being said to daughters and sons themselves - that this was a mortal sin. This is not a mortal sin. We ask for forgiveness."
In 2013, local historian Catherine Corless discovered official records showing that around 800 children died at the home in Tuam.
In March last year, a commission of investigation announced it had found "a significant number of human remains" at the site.
Ms Corless believes most of the children are buried on the site, part of which had a local authority estate built on it in the 1970s.