Louise Lennox makes her chocolate tin-can cake on Today with Maura and Dáithí.
Ingredients
Prep time: 15 minutes
Bake time: 30 minutes
Decorate time: 20 minutes
Feeds: 4
Shopping list for the cake:
60g caster sugar
60g butter - softened
1 large egg
50g self-raising flour
10g cocoa powder
¼ teaspoon baking powder
Decorate:
1/3 recipe for Swiss vanilla frosting
5 different gel food colouring
2 tablespoons chocolate spread
Hot water
Stuff you'll need:
1 Tin can – washed and dried
Baking paper
Bowl
Whisk
Spoon
Knife
Chopping board
Scissors
5 small piping bags or zip lock freezer bags
Small butter knife
Method
Let's bake:
Put all the cake ingredients into a bowl and whisk until all mixed together.
Cut out a piece of baking paper to line the inside and the bottom of tincan.
Spoon the cake mixture into the tincan.
Bake for 25-30 minutes at 160oC fan or 175oC electric oven.
Allow to cool completely in the tincan. Then carefully remove from the tin, take off the baking paper.
Trim off the top to make the cake even and slice the cake 3 times.
Spread a thin layer of chocolate spread in between 2 layers. Then cover the whole cake with a thin layer of swiss vanilla frosting. Place in the fridge and allow the frosting to harden.
Let's decorate:
Divide the frosting into 5 bowls. Place a little bit of gel colouring into each bowl, mix and then fill a piping bag with each different colour.
Cut of the top of the piping bag and put a blob of each coloured icing down along the cake.
Dip the knife into the hot water and pull it through the icing at the top. Wipe the knife in a napkin, dip in the hot water and pull it through the next coloured icing. Rotate the colouring and continue piping around the whole cake until completely covered to make a rainbow.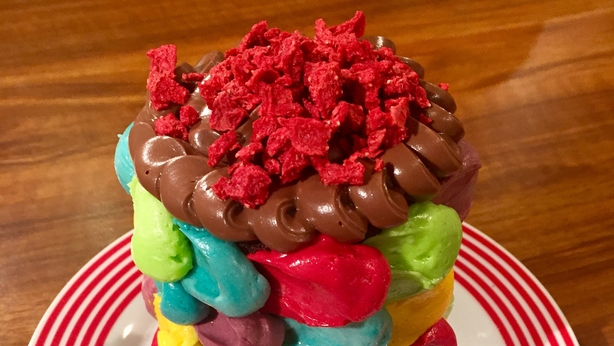 Tips
The best tin to use for baking the cake is on that you have to use a tin opener to open it.
If you have a tin with a pull ring, simply turn it upside down and open the bottom (now top) with a tin opener. The reason is because the pull rings when opened have a small lip on the inside which makes it very difficult to take the cake out without it breaking.
It's easier to decorate the cake if you make it the day before as the sponge isn't too soft