We all know the benefits of eating fresh fish but aside from grilling up a salmon fillet, it's hard to think about new ideas. Roz has the answer...
Ingredients
2 large boneless, skinless salmon fillets
15g fresh coriander
1 egg white
½ garlic clove, minced
1 tbsp grated fresh root ginger
1 tbsp tamari
1 tbsp sesame oil
80g black or white sesame seeds, to coat
1 tbsp rapeseed oil, for frying
Avocado and feta dip, to serve
Salad leaves, to serve
Method
Roz says: "Why don't I get sick of eating so much salmon? Because I change it up! These burgers are super easy and satisfying, and you can even make them ahead of time."
Preheat the oven to 190°C. Line a baking tray with non-stick baking paper.
Place all the ingredients except the sesame seeds and rapeseed oil into a food processor and pulse briefly until just combined.
Divide the mixture into four portions and shape into patties.
Place on a plate, cover with cling film and let the burgers sit in the fridge for 30 minutes to firm up.
Place the sesame seeds on a shallow plate. Press the salmon burgers into the seeds, one at a time, and pat them gently to coat them all over in the seeds.
Heat the rapeseed oil in a non-stick frying pan over a medium heat. Fry the salmon burgers for 2–3 minutes on each side, until they're nicely browned. Transfer the burgers to the lined tray and bake in the oven for 10 minutes, until cooked all the way through.
Serve with avocado and feta dip and salad leaves.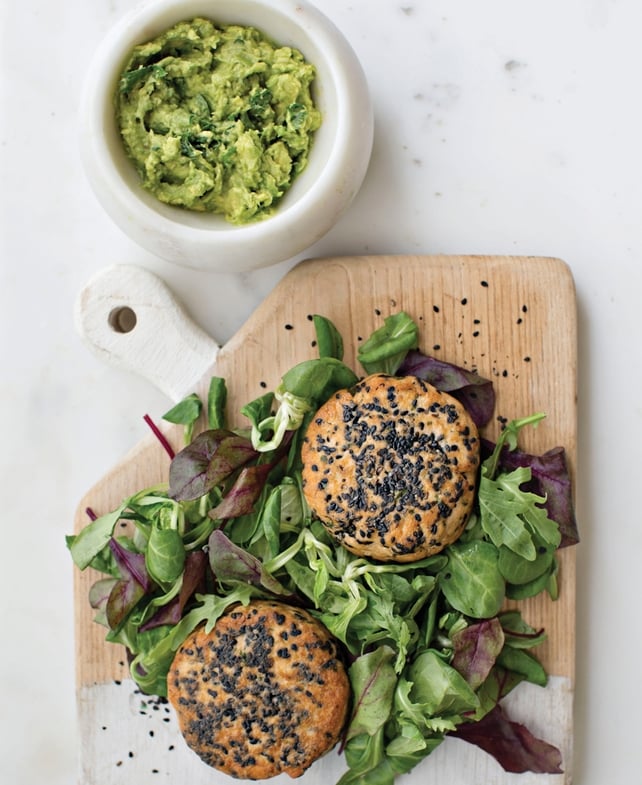 Read our RTÉ Food review of Roz Purcell's new cookbook, Natural Born Feeder, here