The model and cook loves her sweet things but a healthier version than the processed variety. Here's her yum recipe for the ever popular Rocky Road.
Ingredients
450g dark chocolate (at least 70% cocoa solids)
1 x 400ml tin of full-fat coconut milk
4 tbsp honey or maple syrup
MARSHMALLOW:
250ml water
3 tbsp gelatine
4 tbsp honey
1 tsp vanilla essence
BISCUITS:
110g ground almonds
1 tbsp tapioca flour
30g butter or coconut oil
1 tbsp honey or maple syrup
Method
Roz says: "Making homemade marshmallows is surely up there as one of those important life skills that everyone should learn! It can be tricky to get it right, but it will become easier everytime you make it."
You need to make the marshmallow first, so start by lining a 2lb loaf tin with non-stick baking paper. Pour 125ml of the water into a bowl that's big enough to use a hand-held mixer with later and sprinkle over the gelatine, or use the bowl of your stand mixer if you have one.
Give it a stir and let it 'bloom'. Pour the remaining 125ml of water into a saucepan with the honey and vanilla. Bring up to a simmer and let it bubble away without stirring for 8–11 minutes, until the colour lightens and the mixture thickens and reduces.
Remove from the heat and slowly pour it into the gelatine mix, whisking with a hand-held mixer on a low speed until light and fluffy (this will take 8–10 minutes).
Pour into the lined tin and smooth the top until it's level and even. Let the marshmallow sit at room temperature, uncovered, for 2–4 hours, until firm.
Lift the marshmallow slab out of the tin, peel away the paper and cut into 2.5cm squares.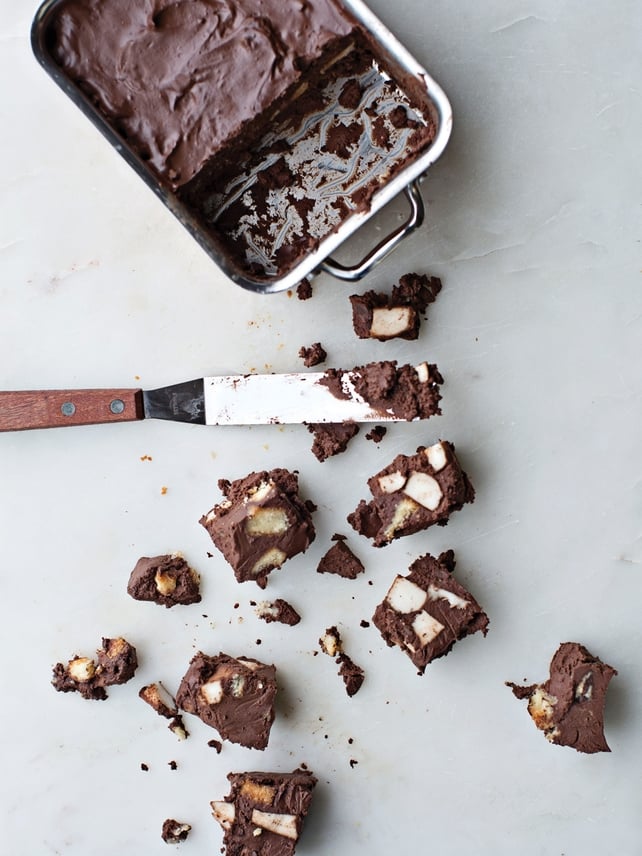 Read our RTÉ Food review of Roz Purcell's new cookbook Natural Born Feeder