The Wetherspoons Brideshead Revisited is back for another movie. Just bask in the feelgood
The last time we saw the poised and elegant denizens of Downton they were roused from their gilded languor by no less than a visitation from the King and Queen of England, come to bunk over on some royal tour or other.
This time out, it is 1928 and the modern world comes crashing into the genteel veneer of the big house with the arrival of something even more vulgar - a film director who wishes to use the dreaming towers of the Victorian pile as the location for one of his new-fangled kineographs.
We need your consent to load this YouTube contentWe use YouTube to manage extra content that can set cookies on your device and collect data about your activity. Please review their details and accept them to load the content.Manage Preferences
Naturally, Lord Grantham (Hugh Bonneville) is appalled at the idea, but that leaking roof won't pay for itself and once dashing movie maker Jack Barber (Hugh Dancy) waves a fat cheque under the good lord's nose, the cameras start rolling in the library and the downstairs staff are left in a star struck trance.
Meanwhile, lady Violet has some rather intriguing news. An old flame from the previous century has died and has left her a splendid villa in the south of France and naturally the older Downton crew take a flit across the channel in an ocean liner to check it out.
This may be where alarm bells start ringing for it has become a rule of TV-to-film adaptations that taking the cast overseas for shenanigans ends in ignominy (ok, it worked for the In-Betweeners movies) but Downton creator Julian Fellowes is too clever to make that mistake.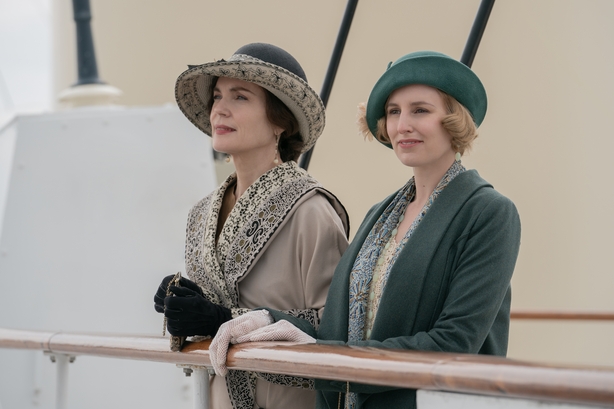 Downton: A New Era is split between the aristos sweating it out on the Riviera as they try to get to the bottom of this villa business and the shooting of silent movie The Gambler back at the old gaff. After all, the castellated wonder of Downton itself has always been the real star here.
The best scenes and the best fun are to be had with the movie shoot. We are spared any knowing meta stuff about a movie within a movie. Instead, technical difficulties conspire with a prima donna actress to create a comedy of errors at a time when cinema was navigating the difficult transition to the talkies.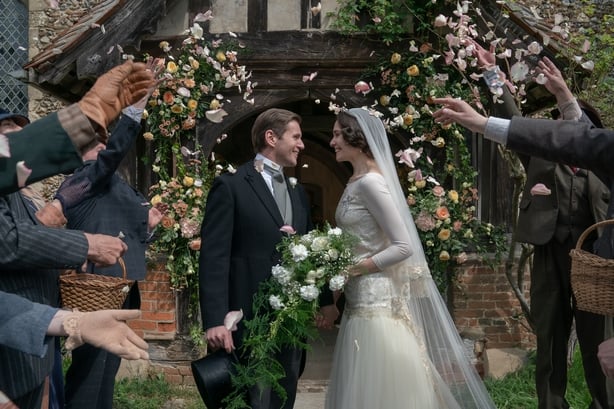 Dominic West twinkles and grins winningly as a kind of David Niven/Clarke Gable hybrid who's made it big in Hollywood while Laura Haddock stomps about as proto-English screen idol Myrna Dalgleish, a classically beautiful platinum blonde who is not all she seems and may owe something to Lina Lamont in Singing in The Rain.
As ever, it is all presented as a glossy visual feast but unlike the first Downton movie, A New Era actually looks cinematic, with director Simon Curtis (husband to leading lady Elizabeth McGovern) capturing vivid panoramic views of the awe-inspiring Highclere Castle and the French Riviera with a degree of splendour.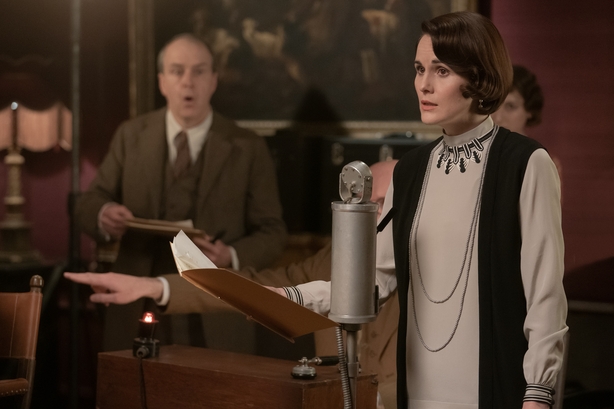 Lady Violet, as usual, has the best lines and indeed the last laugh and that tweedy bulwark of tradition Lord Grantham sees his legendary stiff upper lip tested by twin crises. Meanwhile, Lady Mary (Michelle Dockery) is all poise and grace as she seethes in quiet resentment as her absentee husband gads about Europe messing about with racing cars.
Fellowes' pursuit of the feelgood is all surface elegance and zero substance. It's too long and has more false endings than Elton John's career and while it won't frighten the horses, it certainly flogs a few dead ones. But as a kind of Wetherspoons Brideshead Revisited, the new Downton is more than enough.
Alan Corr @CorrAlan2
Downton Abbey: The New Era is out this Friday, April 29th