The denizens of Downton roll out the red carpet for a visit from the king and queen in a right royal lark of a movie
Well bless my stars! The King and Queen of Engerland are coming to visit Downton Abbey and upstairs and down(ton)stairs have got their bloomers in a right old twist.
Well, not quite. Those doughty souls skulking in the dim light of the basement do indeed go into a scurrying and skivvying meltdown, while those in the gilded, over-upholstered rooms above sigh manfully with aristocratic poise, loll elegantly on settees, and murmur stuff about "duty" in accents you could use to carve a chandelier.
So here it is, then! Julian Fellowes' long-awaited Downton Abbey movie and it will not disappoint fans of the lifestyles of the fantastically rich and the fantastically well-bred. Cliched, silly, and with a plot more telegraphed than a Midwest highway in 1930, it really does lay it on thick. It's about as sweet and insubstantial as a royal blue bushel of candy floss.
Watch our interview with Downton Abbey stars Phyllis Logan, Hugh Bonneville, Elizabeth McGovern, and Jim Carter
It's also paced and plotted like two episodes of the TV show jammed into one and you can really spot the join after the first hour but as an indulgence of the aristocratic fantasy beloved by Yanks and dewy-eyed Brits, it is a jolly wheeze. Multiple plots and subplots are tied up in a neat little art deco bow by the final credits but who cares! Let your eyes rest on those lingering shots of the glorious clothes, the sparkling crystal and that glinting silverware.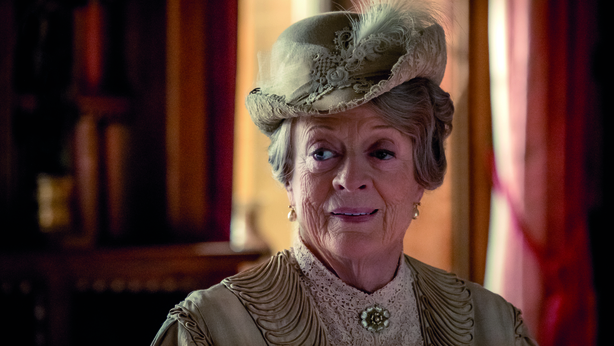 Set in 1927, a year after the General Strike and not long before that "nice Mr Hitler" comes to power, news of the royal visit brings upheaval, and not just in terms of breaking out the dusters and Brasso to get the gothic pile (more on the Dowager Countess later) up to the scratch.
Watch our interview with Downton Abbey stars Kevin Doyle and Michael C Fox
With a script lubricated by tea and punctuated by arched eyebrows, there are parades, balls, lavish dinners, intrigue above stairs and a mini-palace revolution below. Everyone has something to do. For the returning Dowager, Maggie Smith on delightfully acerbic form, it all becomes a matter of family pride when she learns that her estranged cousin will be part of the royal visiting party.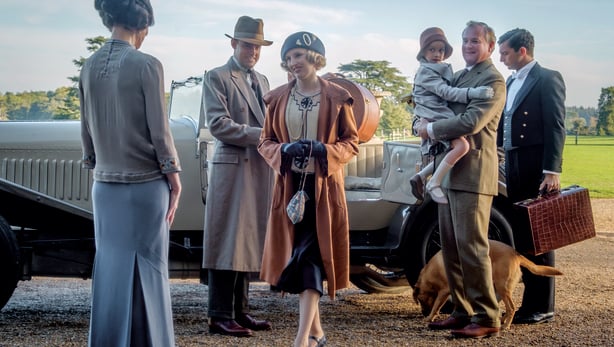 Meanwhile, loyal footman Barrow grapples with his homosexuality and Carson comes out of retirement to right the ship. Eldest daughter Lady Mary (Michelle Dockery), sporting a symmetrical bob hairstyle that would take your eye out if she turned around quick enough, makes all the right noises about the era of the big house coming to an end; and in what is the movie's most derring-do sequence, the eye of suspicion falls on reformed Irish republican Tom Branston (Alan Leech) when a certain member of the aristocratic brood worries that he might go rogue with the arrival of king and queen.
Leave your inverted snobbery at the door - this is the cinematic equivalent of a warm bath on a Sunday night in autumn.
Alan Corr @CorrAlan