Yep, but, nope, but, yep, but, nope, but . . .
There may be a temptation to write Jordan Peele off as the new Night M Shyamalan. Like the Sixth Sense director who went from high concept to low expectations very quickly, Peele began his career as a movie maker with two slam dunks - Get Out, a nifty black comedy about liberal hubris, and the far less compelling body swap shocker Us.
Could Peele's third film Nope be the one that sees his comedy of the macabre come undone? Well, nope, but this is a movie that does seem to stumble about too much in the dark before reaching any sense of a satisfying conclusion. It's a fierce pancake for sure but it lacks the sheer audacity of Peele's first two features.
We need your consent to load this comcast-player contentWe use comcast-player to manage extra content that can set cookies on your device and collect data about your activity. Please review their details and accept them to load the content.Manage Preferences
Watch: Daniel Kaluuya and Keke Palmer talk to RTÉ Entertainment
There are so many strands to Nope's loosely interwoven plot that it begins to resemble the very UFO that's spooking the horses and the locals down in the valley somewhere in California. This airborne jellyfish with a bad dose of IBS lurks in the skies above a ranch run by brother and sister OJ (a taciturn Daniel Kaluuya, reuniting with Peele after his star-making turn in Get Out) and Emerald (a livewire Pepe Palmer).
Styling themselves as "the only black-owned horse trainers in Hollywood", OJ and Emerald train and wrangle horses used in film and TV productions. When they start glimpsing strange phenomena in the vast skies above, it is the horses' sixth sense that first alerts the siblings that something wicked this way hovers.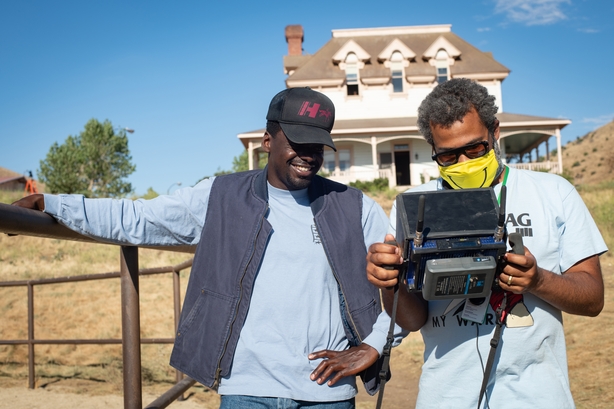 The laconic OJ has a love for his animals and a deep suspicion of the film industry that short-changed his late father and refused to recognise African-America's contribution to the industry. The snooty denizens of nearby Tinseltown frown at the idea of a black cowboy (too much Blazing Saddles, perhaps) and recoil when they learn that his name is OJ. Meanwhile, people person Emerald hides her insecurities under a veneer of over-confidence and showmanship.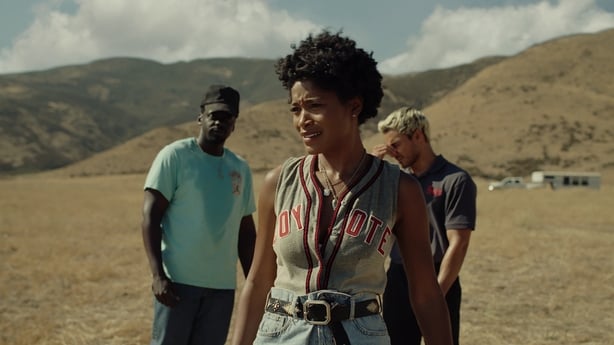 They have a sparky but loving relationship and they could be the reverse of Mulder and Scully from The X Files. When she first learns that an alien spaceship may be lurking in a strangely stationary cloud above the mountains, Emerald is excited about getting "aliens on camera" - the "Oprah shot - that will solve their money problems. Unlike Richard Dreyfus's haunted obsession in Close Encounters of The Third Kind, OJ is far more wary, divining something far more malevolent at work than the means to a quick buck from TMZ or The National Enquirer. "There's plenty of videos of flying shit online." he drawls.
And that's Peele's jumping off point to explore several themes in a brooding movie that lets panoramic visuals and deeply creepy FX do the talking far more than the actual plot or characters.
We need your consent to load this YouTube contentWe use YouTube to manage extra content that can set cookies on your device and collect data about your activity. Please review their details and accept them to load the content.Manage Preferences
Nope is a summer blockbuster with soul that makes a lot of claims on its own behalf. Peele says it's about our need for spectacle, and a history lesson about "the erasure of Black contributions" from cinema history, and a critique of the romanticised history of the American West.
Into this already interesting mix, Peele introduces Steven Yeun as Ricky 'Jupe' Park, a former child of a hit nineties sitcom which ended abruptly in front of a live audience when the star of the show, a chimpanzee named Gordy, went on a murderous rampage on the set. Are we about to head down another dust trail here? Maybe Peele is about to add a Planet of The Apes angle to the already busy proceedings?
OJ and Emerald are also joined by Brandon Perea as Angel Torres, a committed ufologist and techie who gets involved in their UFO watch when they ask him to install CCTV on their ranch. They also draft in grizzled cinematographer Antlers Holst (Michael Wincott) to capture evidence and Peele further burnishes his cineaste credentials when Holst uses a wind-up analogue camera contraption to defy electromagnetic fields and other UFO jiggy pokery.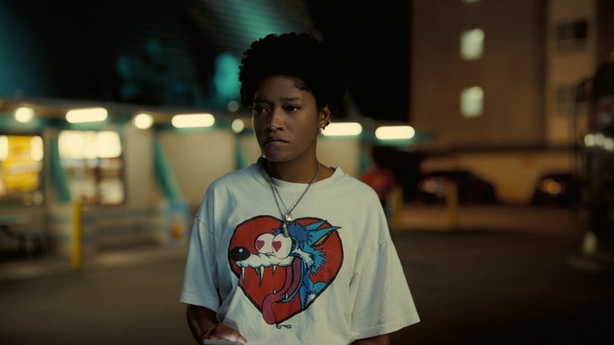 There is a spookily atmospheric build-up and impressive visuals that recall Close Encounters of The Third Kind (there is also a variation on the red lichen ectoplasm that spreads across the landscape in War Of The Worlds). Peele makes maximum use of those grand California vistas, that big, sky and the nervy tick tick of Michael Abels' excellent score. Kaluuya and Palmer have real chemistry.
(And not to give too much away about the UFO but try to picture a man on a horse being chased around scrubland by a Storm Thorgerson album cover and you're close).
Nope has a stillness and mercurial compulsiveness that elevates it way above an extended episode of The Twilight Zone. Peele's macabre humour is on show again but there is not a lot to scare the horses. It's a riddle wrapped in a mystery inside an enigma, but it never quite unlocks its own internal logic. As summer blockbusters go, that's more than enough.
Alan Corr @CorrAlan2