Is the movie with the best title of the year any good? Does a bear sniff in the woods?
Gamely ignoring the old injunction that you should never work with children or animals, Keri Russell has a wild time in this deranged bad taste romp about a large black mummy bear who runs riot in a forest in Georgia after ingesting a planeload of class A drugs.
Russell, the star of quality cold war tv series The Americans, plays Sari, a nurse and single parent who is desperately trying to find her young daughter in the woods as the furry critter becomes increasingly irate as he forages for the lost drugs.
We need your consent to load this comcast-player contentWe use comcast-player to manage extra content that can set cookies on your device and collect data about your activity. Please review their details and accept them to load the content.Manage Preferences
Watch our interview with Keri Russell
She's joined by a starry cast including the late Ray Liotta - in his final role - as a ruthless drug king pin determined to recover his stash, O'Shea Jackson Jnr and Alden Ehrenreich as his bumbling henchmen, a great Margo Martindale as an impatient park ranger and feisty child actors Brooklynn Prince and Christian Convery.
Based loosely on the 1985 true story of how a hapless drug smuggler dumped a tonnage of cocaine over Georgia from his plane before it crashed, it wears its 18 cert proudly on its bloodied sleeve. It ain't quite Leo DiCaprio being savaged by that bear in The Revenant.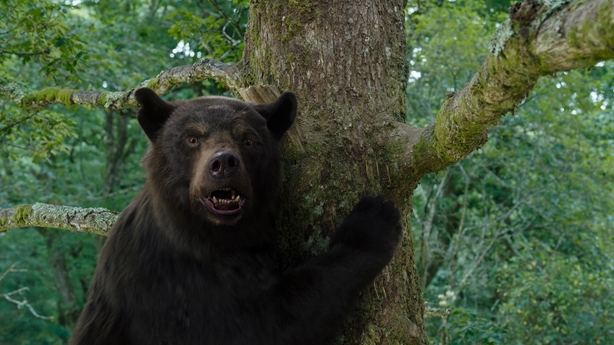 With the woods of Wicklow standing in for rural southern states, naturally the apex predator gets a serious case of the munchies and dines alfresco on unfortunate backpackers, rangers and anyone else within prowling range.
Liotta's appearance leaves a bittersweet aftertaste and it gives us one of the most memorable sights in recent cinema - a bear sniffing cocaine from a severed human leg. One bravado episode sees two luckless paramedics exiting, pursued by a bear while Depeche Mode's banger Just Can't Get Enough soundtracks the carnage.
A real gore-fest and a celebration of gleeful bad taste, that title is certainly eye-catching and as a lovingly manufactured future cult movie it succeeds with claws. Could it be that we haven't seen the last of this mummy bear?
Alan Corr @CorrAlan2