Actors Hilary Rose and Alex Murphy, who play mother and son duo Mairead and Conor from The Young Offenders, spoke about the runaway success of the first season of the TV series, saying it's "mad" but that they're "really chuffed".
Speaking to RTÉ Entertainment on the red carpet at the IFTA Gala Television Awards, they said they were delighted the comedy show was nominated for a whopping seven IFTA Awards but were humble about their chances: "Hopefully we'll get one", Rose said with a laugh. "Seven's not bad," Alex chipped in. "I think we should get one."
The series ended up landing two of the most hotly-contested awards on the night, with Chris Walley winning the best male performance gong while writer/director Peter Foote won best director comedy/soap.
The TV stars said they are blown away by the reaction to the show, which has earned rave reviews in Ireland and the UK.
"Yeah it's mad because we were always worried it wouldn't live up to the film, but it seems to have, which is nice. And people over in England too, so we're delighted", Murphy said.
Dominic MacHale, who plays the embattled Sergeant Healy, added his thoughts: "It's just incredible that a humour that you think is so specific to one area can really translate and I think it's because people can identify with the characters."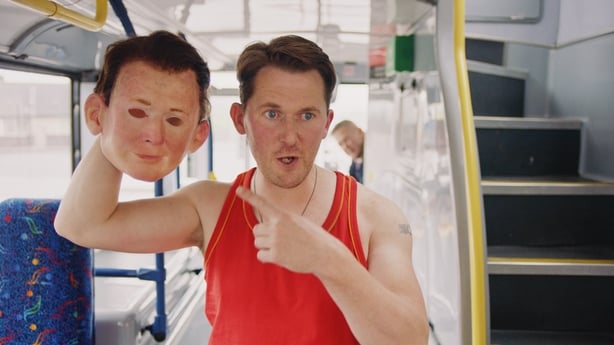 "We focused on the locale enough to make it universal. I think that's what you wanted to say really isn't it?," Shane Casey, aka Billy Murphy, chipped in.
"That's a more eloquent way of saying what I was trying to say", MacHale concurred.
Rose added that they're "really chuffed" the series was commissioned so quickly for a second season by BBC Three and BBC Comedy, in association with RTÉ. "I think we felt that this first season was so strong that it would be a positive thing, and it happened really fast. We're really chuffed with it", she said.
Do they have any ideas what Conor, Jock, Maired and the gang will be up to in the second season?
"Not a clue. They wouldn't be telling me anyway because if they did I would say it", Murphy quipped.
Murphy's co-star Chris Walley couldn't make the IFTAs as he is in rehearsals in London for the West End production of Martin McDonagh play The Lieutenant of Inishmore. "He's gutted he can't make it, and I'm gutted too", Alex said, before adding that he already has tickets for the show when it kicks off in June.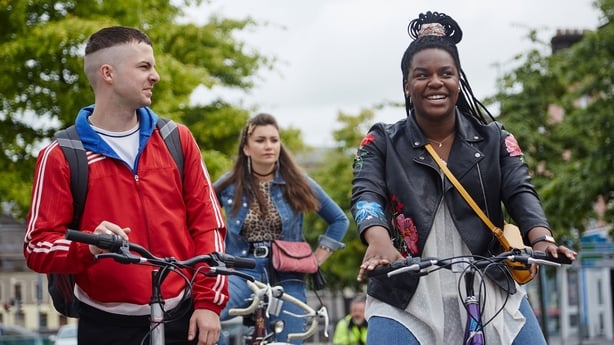 The Young Offenders stars Jennifer Barry and Demi Isaac Oviawe, who play Siobhan and Linda, (pictured above) walked the red carpet at the IFTAs on Thursday evening for the first time, saying "it's crazy!"
"I used to hold a hairbrush in my room when I was younger pretending it was an IFTA Award, and we might actually get to hold a real one", Barry said, before adding excitedly: "The Derry Girls hugged us when we walked in, it was crazy! I was like 'I love you so much!'"
"There's no words to describe how great it is at the moment!", Oviawe agreed.
Check out all the winners from the 2018 IFTA Gala Television Awards here and see the red carpet style here.