RTÉ continues its contribution to this centenary year with a series of special performances and events in Dublin Castle as part of Culture Night on Friday 16th September.
Presented by RTÉ in partnership with the Ireland 2016 Centenary Programme, Dublin City Council and The Office of Public Works, Culture Night with RTÉ will see Dublin Castle transformed for one night only, filling its historic rooms and outdoor spaces with live music, theatre and spoken words.
From 6 - 10pm visitors of all ages can explore a myriad of workshops, talks and readings dotted throughout this majestic building and its surrounds, while a special open-air concert will take place in Dublin Castle's upper courtyard from 7pm.
RTÉ will bring the magic and vibrancy of this Culture Night centenary special to audiences at home and abroad across television radio, online and mobile with RTÉ Radio 1's Arena broadcasting live from Dublin Castle from 7-10pm on the night.
Announcing the programme, Lorelei Harris, RTÉ's Head of Arts/Cultural Strategy said, "This is RTÉ's most ambitious Culture Night to date. As part of the Ireland 2016 Centenary Programme and in partnership with Dublin City Council and The Office of Public Works, we are able to mark this centenary year with a very special and eclectic programme of music, theatre, talks, screenings and workshops for all the family. The quality of those performing, talking and hosting these events means that whether you are in Dublin Castle, listening on RTÉ Radio 1 or accessing online you will enjoy a wonderful cultural programme which is entertaining, engaging and thought-provoking and, hopefully, inspiring and memorable".
Heather Humphries, Minister for Arts, Heritage, Regional, Rural and Gaeltacht Affairs said, "Culture Night has become one of the most anticipated nights of the year when thousands of people, young and old, experience a whole range of free cultural events taking place across the country. As part of our programme to mark this special centenary year, I am delighted that the best of Irish arts and culture will be on show at this unique event in Dublin Castle. Access and participation have been at the heart of the Ireland 2016 Centenary Programme and Culture Night at Dublin Castle, which will be broadcast live by RTE, will bring all the magic of this fantastic event into every home in the country."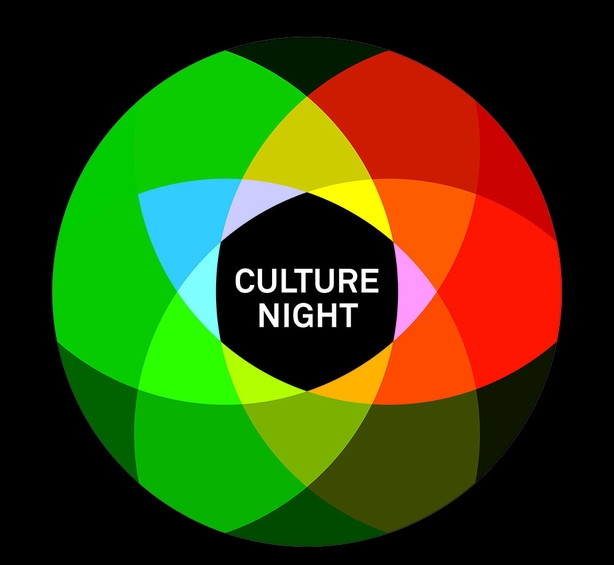 Culture Night with RTÉ and Ireland 2016 highlights:
Upper Courtyard:
7pm-10pm (and live on RTÉ Radio 1) RTÉ Radio 1's Arena with Sean Rocks presents and open-air concert from the upper courtyard of Dublin Castle, broadcast live on RTÉ Radio 1 from 7pm to 10pm. The RTÉ Concert Orchestra will be joined by a host of guests from the world of music, theatre, comedy, poetry and literature including Little Green Cars, Laureate of Fiction Anne Enright, Opera Theatre Company, musician Lisa O'Neill and many more.
The Coach House:
From 6.30pm RTÉ Radio 1's Inside Culture, Sunday Miscellany, The Poetry Programme and The Book Show invite audiences to join them in recording these special programmes for Culture Night between 7pm and 10pm. There will also be workshops and listening sessions from RTÉ Radio 1's Drama on One and Documentary on One throughout the castle.
The Morrison Room:
6.30-7.30pm Sunday Miscellany
8-8.30pm The Poetry Programme with Rick O'Shea
The Kane Room:
7-8pm Inside Culture with Fionn Davenport
9-10pm The Book Show with Sinead Gleeson
Conference Centre:
Ireland 2016 and RTÉ Radio 1 host a series of talks and discussions reimagining the nation in the wake of the Easter Rising from 6pm to 10pm chaired by presenter Áine Lawlor.
6.00-6.20pm Reimagining the Proclamation - a presentation of the report 'Children Seen and Heard' by the young people who contributed to the report (in partnership the Dept of Children and Youth Affairs).
7.00-7.30pm Women of 1916 - How they can inspire a future generation of Irish women. Panel includes: Sinead McCoole, Catherine Marshall and Lian Bell
8.10-8.50pm Banter – What would an Irish revolution look like in 2016? Panel includes: Lois Kapila, Una Mullally, Blindboy Boatclub and John Gibney. Chair: Jim Carroll
9.30-10.00pm Reimagining the nation through Arts & Culture. Panel includes: Pat Cooke UCD, Sarah Glennie IMMA and Eugene Downes KAF
Poetry Ireland at Culture Night in association with RTÉ
Chapel Royal:
6-7.30pm Readings from this year's Trócaire and Poetry Ireland competition winners, performance poetry from the WRaPParound schools initiative, and performances from Poetry Aloud 2015 finalists. MCs for the performance will be poet Colm Keegan and Trócaire's Trish Groves.
Please use Palace Street entrance. Tickets allocated on a first-come-first served basis from 30 minutes before the performance.
8-9.30pm All Through the Night Launch Celebration: Poetry Ireland will mark the launch of All Through the Night, a new anthology of night poems and lullabies edited by Marie Heaney, with a concert in the Chapel Royal. Hear Marie Heaney and poets including Moya Cannon, Mairéad Donnellan, Gerald Dawe and Enda Wyley read from the anthology, and enjoy live music from violinist Claire Duff, and vocalist Lisa Lambe with Jack O Rourke, keyboard/piano and John Mc Loughlin, guitar. The guest MC for the evening will be Marian Richardson, presenter of RTÉ Radio 1's Playback.
Please use Palace Street entrance. 
NOTE - Advance tickets for this event are currently sold out. However, please join the wait list and we will notify you when more are released. It is also likely that there will be a limited number of tickets allocated on a first-come-first served basis from 30 minutes before the performance - join the wait list now.
Castle Hall:
5pm, 6pm, 7pm & 8pm All Through the Night Illustration Workshops: Children aged 3 to 12 can create their own nocturnal creature with Paula McGloin, illustrator of All Through the Night.
Please use Corke Hill entrance. Places are limited and advance registration is recommended. A limited number of tickets will also be allocated from 10 minutes before each workshop on the night.
Register now for the 5pm workshop
Register now for the 6pm workshop
Register now for the 7pm workshop
Register now for the 8pm workshop
Medieval Undercroft, 6pm, 6.40pm, 7.20pm 8pm, 8.40pm

All Through the Night Sleep Clinic: Visit a walk-in sleep clinic in the atmospheric underbelly of Dublin Castle with a Buteyko breathing technique expert from the Snoring & Sleep Apnoea Clinic Ireland.
Please use Palace Street entrance. Places will be allocated on a first-come-first-served basis from 5.30pm on the night.
The Arts Council at Culture Night in association with RTÉ
George's Hall:
The Arts Council are delighted to be collaborating with RTÉ for Culture Night 2016 and bringing two emerging yet highly accomplished ensembles to Dublin audiences.
6.30-7.30pm Landless
Formed in 2013, Landless sing unique arrangements of songs from the Irish, English and Appalachian traditions in unaccompanied 4-part harmony. Landless emerged from the highly popular and uber-cool folk song revival in Dublin 7 and are founding members of the singing collective in The Night Before Larry Got Stretched.
7.45-9.00pm Slow Moving Clouds
Slow Moving Clouds are a unique contemporary acoustic group based in Dublin. They combine roots in Nordic and Irish traditional music with minimalist and experimental influences. The individual musicians are highly accomplished soloists and they can be found playing regularly in the Dublin traditional music session scene.
Including archive film screenings from the Irish Film Institute
Bedford Hall:
RTÉ Radio
Join the award winning RTÉ Documentary on One and RTÉ Drama on One teams for a series of short workshops.
RTÉ TV Documentaries
Screenings of a trio of remarkable TV arts documentaries:
7-8.00pm A Terrible Beauty: Culture and Revolution in Ireland
Professor Declan Kiberd looks at the role that artists and writers had in reinventing Ireland in the late Nineteenth Century - and asks whether the Celtic Revival really was the spark that ignited the revolutionary flame.
8-9.00pm Fire in the Blood: Lady Gregory
Derbhle Crotty looks at the contribution of Augusta, Lady Gregory, a dramatist who co-founded the Irish Literary Theatre and the Abbey Theatre with WB Yeats and Edward Martyn.
9-10.00pm Brent Pope: Inside Out
As he prepares to stage the largest Irish-only Outsider art group exhibition ever held in this country Brent Pope takes us across Ireland as he meets the artists and hears their incredible stories.
Chester Beatty Library:
View Chester Beatty's unique treasures at one of Dublin's most popular museums and take a free guided tour of the Library's permanent exhibitions at 6.30pm, 7.30pm or 8.30pm. Family Activity Packs will be available from 6-9pm, and there are drop-in activities for families (see below). The Silk Road Café and the Library's Gift & Bookshop will also be open.
Drop-In Activities for Families
Colourful Foam Designs, 5.15-5.45pm & 6-6.30pm
Using fun foam shapes, create pufferfish designs inspired by art in the Chester Beatty Library collections. This activity is appropriate for all ages. Free, no booking required but limited to the first 20 participants. Children must be accompanied by a parent or guardian.
Origami Zoo for Families, 5.30-6pm & 6.15-6.45pm
Try your hand at origami, a traditional Japanese paper craft, and create your very own paper zoo! This is a short introduction to origami, appropriate for all ages. Free, no booking required but limited to the first 20 participants. Children must be accompanied by a parent or guardian.
RTÉ Lyric FM Presents:
National Concert Hall:
8:00pm The Friday Night Concert with RTÉ Lyric FM
Composing the Island: A century of music in Ireland 1916 – 2016 presents
Visions of Irish Modernism: Exploring New Horizons with the RTÉ Symphony Orchestra
Sponsored by Bord na Móna and presented by RTÉ and the National Concert Hall as part of RTÉ 1916 and Ireland 2016.
RTÉ Studios:
10.00pm The Purple Vespertine with Ellen Cranitch
Celebrating Music Network's 30th anniversary, join presenters Ellen Cranitch and Carl Corcoran and a stunning line-up of artists from the worlds of jazz, trad, classical and contemporary music on The Purple Vespertine live from RTÉ Studio 1. Featuring an eclectic range of music including jazz from the Julien Colarossi Quartet, harpist Laoise Kelly, cellists William Butt and Christopher Ellis performing Haydn and Barrière, the traditional group Ulaid with vocalist Gráinne Holland and the Norwegian trad/folk ensemble, the Gjermund Larsen Trio. Join us live in studio or tune in from 10pm.
The programme is presented by RTÉ in partnership with Department of Arts, Heritage, Regional, Rural and Gaeltacht Affairs, Dublin City Council, Ireland 2016 and The Office of Public Works.