Analysis: forget intercounty GAA rivalry, the history of boundaries has a lot do with attempts to control people's freedom of movement
County boundaries are recognised as complex structures that relate to how society is organised in political and geographical terms. The way Irish county boundaries have been interpreted has evolved and they are viewed differently by different groups. How did county boundaries come into existence in the first place - and how do they shape our everyday activities, identities and reference points?
Like many geopolitical borders, the history of county boundaries has a lot do with rulers' and governments' attempts to control people's freedom of movement. Irish counties did not come into existence all at once, but over a period beginning with King John's establishment of Dublin in the 12th century and ending with the creation of Wicklow in 1606.
We need your consent to load this comcast-player contentWe use comcast-player to manage extra content that can set cookies on your device and collect data about your activity. Please review their details and accept them to load the content.Manage Preferences
From RTÉ History, RTÉ's David McCullagh on how the border was drawn up
A century in existence, the Northern Ireland border has become the defining feature of Ireland's political geography. Its precise location was the outcome of a complex struggle over home rule and the boundary line became an international border when the Anglo-Irish Treaty was ratified in 1922. There are many spatial, social, political and cultural consequences for those living near county boundaries that are not perceptible by observers from outside nor through the analyses of maps and this is particularly so for those living in Northern counties.
One way of marking county boundaries is the use of welcome signs, which act as an invitation to visit and invest in the particular county. Usually consisting of a metal plaque with a coat of arms in both English and Irish, welcome signs are symbols of territorial representation. In the 1980s, Limerick was criticised for its shortage of road signs. Some even speculated that the lack of road signs was intentional in "a plot to keep visitors from leaving" and a subtle way of ensuring that people stay in Limerick for longer (RTÉ Archives: https://www.rte.ie/archives/2020/0121/1109812-limerick-lacks-signposts/).
We need your consent to load this rte-player contentWe use rte-player to manage extra content that can set cookies on your device and collect data about your activity. Please review their details and accept them to load the content.Manage Preferences
From RTÉ Archives, Kevin O'Connor asks if Limerick is worst signposted city in Europe for RTÉ News in 1980
The pandemic exacerbated county boundaries with a ban on intercountry travel and regular checkpoints at county borders. County-wide lockdowns further intensified the distinction of borders with existing county boundaries used to impose public health restrictions for epidemiological and administrative reasons. Moreover, with conflicting restrictions around Covid-19 in the north and south, proximity to the border was a factor that was difficult to tackle for those who regularly move between both for business and family reasons.
Proposals of changes to county boundaries inevitably leads to disagreement and raised tensions. This has been a longstanding issue in Ferrybank, which is divided between Waterford and Kilkenny. In 2017, the Waterford Boundary Committee proposed that 5,500 people and 20,000 acres of south Kilkenny be transferred to Waterford. The proposal was dismissed by then Minister for Housing, Planning, Community and Local Government, Simon Coveney, but continues to be rehashed and fears over the motion gaining traction remain.
Best part of living in Waterford during the build-up to their 2008 All-Ireland final vs KK was the silent war over this rockface that overlooks Waterford city but is part of South Kilkenny.

Mount Misery would be painted a different colour everyday.

It'll stay blue & white now. pic.twitter.com/R8UfJIsA3n

— Siobhán Doyle (@thekickart) November 28, 2020
The tension between both counties has a more light-hearted turn with people from both counties seeking to claim a large rock known locally as Mount Misery. The rock overlooks Plunkett Station in Waterford City but technically, is situated in Co. Kilkenny. Locals from each county have sought ownership by painting the rock in their respective county colours. With the dispute carrying on for years and some colours only lasting 24 hours before being replaced, it seems the only winner of the battle for Mount Misery are local paint providers.
In 2016, a controversial boundary review investigated whether 30 square kilometres of the South Roscommon should be subsumed into Co Westmeath to accommodate a growing Athlone. It was eventually recommended that no change be made to the border, but that local authorities in both counties co-operate in joint initiatives where an expanding Athlone is concerned. Thinking about county boundaries should be open so that political responsibility for pursuit of a 'decent life' and prosperous economic activity is extended beyond the borders of any particular county.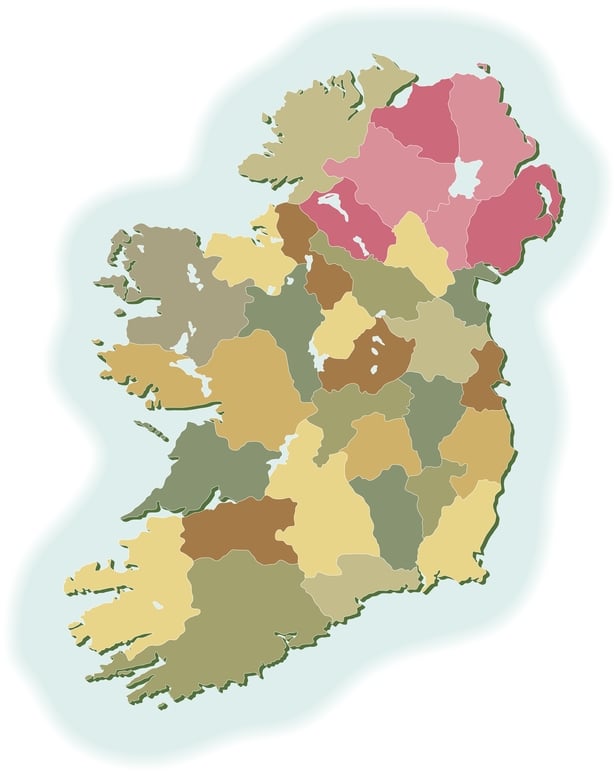 County boundaries are complex human creations that concern much more than territory and should be open to question, debate and reconsideration. On one hand, existing boundaries are the result of processes in the past that may no longer be as effective as when they were first established and may restrict thinking about alternative political, social, and economic possibilities.
But on the other hand, county boundaries have practical merits that accommodate distinct identities, histories and resources. Openly acknowledging the equivocal character of Irish county boundaries is crucial because the context in which they were created has changed and so have their inhabitants.
---
The views expressed here are those of the author and do not represent or reflect the views of RTÉ
---