Restrictions on group activities will be with us for some time, according to the chair of NPHET's Epidemiological Modeling Advisory Group.
Professor Philip Nolan said such restrictions are necessary to protect the priorities of schools, work, healthcare and sport.
Speaking on RTÉ's Morning Ireland, he said limiting discretionary contacts over the winter is also necessary if we want to keep schools and workplaces open.
He was speaking after local restrictions put in place for Co Kildare in early August to combat a spike of coronavirus were lifted yesterday evening.
Prof Nolan said a national approach to limiting discretionary contacts "and not going wild and allowing the virus to transmit while we are socialising" is a better approach in the first instance than regional restrictions on movements.
He said that there has been a stable daily count in case numbers since 19 August, but it needs to be lower as "the lower number of cases the better we can cope with another outbreak".
People need to consider their behaviour in limiting group meetings to six people indoors and 15 outdoors, he said.
Prof Nolan said authorities have learned that county-wide lockdowns work and need to happen quickly as five to ten cases can become 100 to 150 in a matter of days.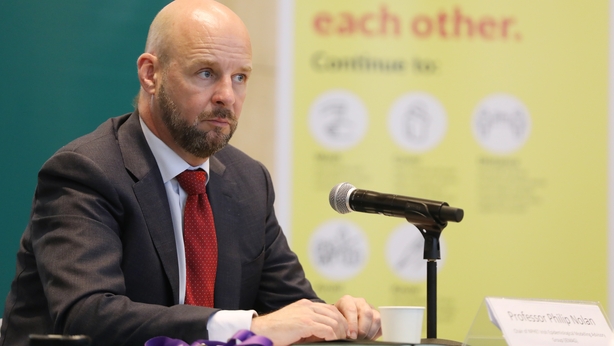 He said that in Kildare you could map some cases along the road network in the county and into neighbouring counties. This showed how interconnected the spread of cases around Kildare was, he added.
He said while local lockdowns are not the first line of defence, they may happen again as a third or fourth response to growing case numbers.
We need your consent to load this rte-player contentWe use rte-player to manage extra content that can set cookies on your device and collect data about your activity. Please review their details and accept them to load the content.Manage Preferences
---
---
Prof Nolan said that Kildare was different to Laois and Offaly as it had a large outbreak with a second wave, where the disease was spreading within houses and families and was beginning to spread into communities.
He said that there were multiple clusters with secondary spread between clusters and the beginning of community transmission.
Prof Nolan said this differs to Tipperary at the moment, where a large number of cases are well explained, in defined clusters and the spread is under control.
He said Dublin has a high population density and a mobile population with a slow rise of cases.
He said it does make sense to use existing county boundaries to impose public health restrictions for epidemiological and adminstrative reasons.
By imposing a county-wide lockdown, it prevented the set of connected outbreaks that mapped back to one county.
He defended the testing and said one weekend, when testing took longer than 72 hours, was caused by the strain of the very large outbreaks.
Prof Nolan said that by international standards our testing system is very good, though everyone is anxious to bring down the turnaround time and keep it to 48 hours to allow contact tracing within 72 hours.
Kildare businesses 'need cash and need it fast'
Meanwhile, the owner of a Co Kildare hotel has said business owners "need cash and need it fast" after going through "an unprecedented three weeks of economic disaster".
Speaking on the same programme, Mary Fennin of the Clanard Court Hotel in Athy, said cash flow has been wiped out in the sector locally and she has managed to trade successfully for just one month this year so far.
Ms Fennin said that after a very quiet January and February, business would be just starting to get going when the first lockdown came.
She said once things reopened the business was thriving and rooms filled up quickly, but this was all lost with the second lockdown.
Ms Fennin said her business has lost three weeks, including four weekends of the tourist season in August and the last of the summer staycations, which have finished now.
She called for people to come to Kildare and support businesses, saying "we need every bit of support we can get".
Ms Fennin said Government supports are badly needed in terms of cashflow and liquidity, adding that that the cancellation of the Ploughing Championships and the Electric Picnic festival are a further blow to the region.
Focus needs to be on reopening schools safety
A public health expert has warned that unless the uncontrolled community transmission of the virus is brought under control we could have outbreaks of Covid-19 in 40 or 50 schools in the coming weeks.
Professor Anthony Staines said the biggest challenge at the moment is opening schools and that needs to be the central policy plank ahead of opening up sport events to spectators.
Speaking on RTÉ's Today with Claire Byrne, he said the focus has to be on schools right now.
Prof Staines also said most pubs are abiding well by new regulations but a proportion of pubs are not and are "seriously misbehaving" and this needs to be addressed.
The World Health Organization says data to date suggests 80% of Covid-19 infections are mild or asymptomatic, 15% are severe infection, requiring oxygen and 5% are critical, requiring ventilation.
Generally, you need to be 15 minutes or more in the vicinity of an infected person and within two metres of them, to be considered at-risk, or a close contact.