The Government has announced the lifting of specific Covid-19 restrictions in Co Kildare "with immediate effect".
It comes after the National Public Health Emergency Team met earlier today to review the spread of the virus in the county. 
The Minister For Health, Stephen Donnelly, has said there is now a third county where early and targeted intervention has worked.
Speaking on RTÉ's Six One 6.1 he said it is early days yet but there are indications at this point that two weeks into additional measure being introduced for the whole country, that these restrictions also appear to be working.
He said the early lifting of restrictions in Kildare is a great testament to work of people of the county.
The Minister said what we first saw before the restrictions were introduced were outbreaks of Covid-19 in workplaces which then moved to households.
In a statement the Government said that the epidemiological situation in Kildare was now broadly similar to that in the rest of the country. 
In a statement the Government said: "The rolling 5-day average in Kildare is 10.8 cases as of 29 August. This compares to a 5-day average of 22.2 cases in Kildare on 6 August. 
"75 cases were notified in Kildare in the week to 29 August. This compares to 238 cases notified in the week to 8 August, 170 cases in the week to 15 August, and 159 cases in the week to 22 August." 
The number of cases due to community transmission in Kildare is now at 36% over the past 14 days (16-29 August) which is the same as the national transmission rate. 
Residents in Co Kildare had been asked to stay within the county with limited exceptions such as travelling for work.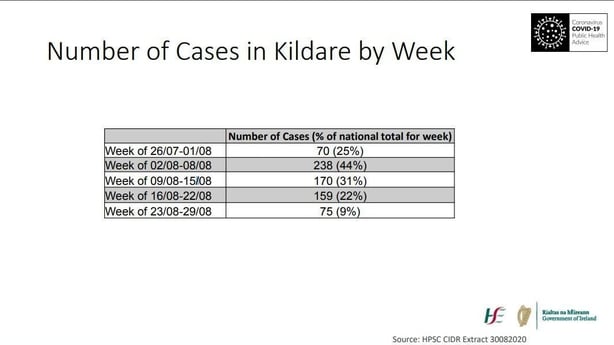 Many cafes and restaurants had closed as they were only allowed to do takeaway and deliveries as well as outside dining. 
The extra restrictions were first imposed on 8 August on three counties - Kildare, Laois and Offaly. 
Two weeks later, they were lifted for Laois and Offaly but were extended for a further two weeks in Kildare due to continued high levels of Covid-19 in the county. 
At that time, Minister for Health Stephen Donnelly said the additional measures had been working, but more time was needed.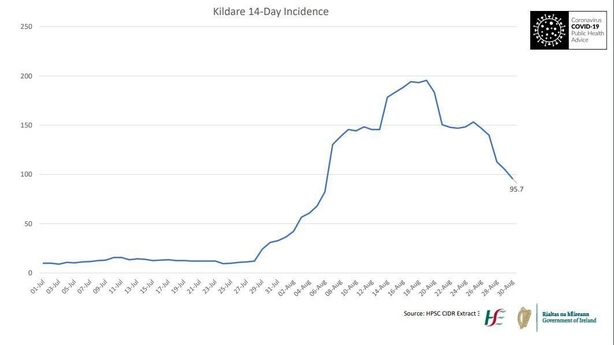 Today's decision to lift the additional Covid restrictions on County Kildare was only possible because of the people of Kildare - their extra effort, their sacrifices and their patience. And it worked. Numbers in Kildare now similar to rest of country. We must all stay vigilant.

— Micheál Martin (@MichealMartinTD) August 31, 2020
Dr Cathal Berry, Independent TD for Kildare South has said the lifting of restrictions in the counties Kildare, Laois and Offaly have now provided "three labs" to demonstrate how the virus can be suppressed.
"The Contain, Suppress, Support template can now be applied to other parts of the country between now and Christmas," he told RTÉ's Drivetime.
The business community in Kildare has welcomed the lifting of the restrictions but said that cash flow "remains the number one concern for business".
In a statement, Kildare Chamber of Commerce chief executive Allan Shine said members "have faced an unprecedented three weeks of economic disaster".
He said a "conversation must start now as to how we live and work with Covid in the country until a vaccine is found".
"Isolated lockdowns of immediate affected areas need to be the way forward as the blunt instrument of county-wide lockdowns makes no sense at all and does not work," Mr Shine added.
Kildare chamber represents 390 companies employing 38,000 people in the county.
---
Read: Latest coronavirus stories
---
The Government has acknowledged that it needs to closely monitor Covid-19 in meat plants at a meeting with opposition parties this afternoon.

The meeting was attended by the leaders of the main Oppositon parties and Taoiseach Micheál Martin, HSE CEO Paul Reid and the Acting Chief Medical Officer Ronan Glynn. 

The capacity of Intensive Care Units to handle a surge in Covid-19 was also discussed. It is understood that parties were told there had been an increase of 30 in the number of ICU beds. 

The authorities acknowledged that this may not be enough to handle the scale of surge as had been experienced in Italy.
However, the authorities believe such an increase in cases is seen as unlikely in Ireland.
The Department of Health has said it has been notified of 53 new cases of Covid-19. No further deaths were reported.
In Northern Ireland, another 58 people tested positive for Covid-19 in Northern Ireland, the Department of Health said.
A total of 7,245 cases have now been confirmed.
No new deaths were reported today. The death toll in Northern Ireland remains at 560.
There are 17 confirmed Covid-19 patients in hospital, with two in intensive care.