A chat some time ago with a friend from Derry who had been trying to explain Brexit to his son has stuck with me since.
The little lad asked if Brexit meant they could no longer go to Buncrana for a spin on a Sunday and get ice-cream. He was afraid his weekend treat would come to an end because of the possibility of a hard border – a border he was unaware of because, in his lifetime, it didn't exist.
While many of the people who cross over and back between Donegal and towns like Derry and Strabane call themselves "border people", in reality, for years now, there has been no border and they get on with normal life seamlessly.
Just like people living in Enniscrone in Sligo popping over to their nearest big town, Ballina in Mayo, to do their shopping, parts of the North form their natural hinterland where they have family and friends, go to work or school and do their shopping.
It's a two-way flow. Many Derry people, for instance, have holiday homes in Donegal, while others travel there to work.
In Lifford, Donegal, people just cross the bridge and they are immediately in Strabane, where many work in companies like O'Neills and where ASDA is their local supermarket.
Some take their daily walk over the bridge as far as 'The Tinnies', as they are known locally but are actually called 'Let the Dance Begin', five tall stainless steel and bronze figures created by sculptor Maurice Harron.
They were a cross-border initiative to celebrate the Millennium and were placed symbolically on the site of the old border checkpoint to represent "a new and shared beginning for the community".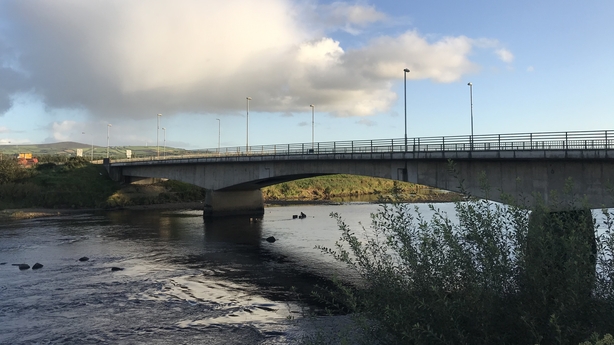 Covid-19 has thrown a spanner in the works of that shared life. Differing approaches to tackling the virus North and South have meant people are now trying to go about their daily lives under conflicting restrictions.
For months now people we have chatted to on the street, health care professionals, politicians and others in Donegal, have been calling for an all-island approach which would streamline everything and, hopefully, see a lid being put on the virus in the region.
However, the number of cases in Donegal remains stubbornly high however, even though it was moved to more severe restrictions ahead of any other county.
On Saturday 26 September Donegal moved to Level 3 restrictions. Along with Cavan and Monaghan it moved to Level 4 on 16 October and then, within a week, to Level 5 with the rest of the Republic.
The move to Level 4, when many thought in Donegal that Level 3 was having an impact, was tough, particularly for business people.
The highest restrictions, Level 5, then drew Donegal level with other counties, except with its neighbours in the North – and that was a bitter pill to swallow.
Businesses felt they were being exposed to an unfair situation whereby some competing retail outlets, just a short distance away, were allowed to stay open under the restrictions imposed in the North.
Bodies like Letterkenny Chamber of Commerce and Donegal County Council responded with strong campaigns encouraging people to support businesses within their own county.
One initiative, Shop Donegal Weekend, was hailed as a great success, but time will tell to what degree people have resisted the temptation of cross-border shopping, particularly Christmas shopping.
The worry in the county is, that unless things change significantly over the next couple of weeks, Donegal could be left behind again.
Donegal has the longest border with Northern Ireland, about 140 km, but despite top level restrictions, it hasn't seen the same level of decline of virus cases as another border county, Monaghan.
The difference is believed to be the fact that Donegal is right beside the part of the North where cases remain high and is suffering from what the Taoiseach Micheál Martin referred to yesterday as "the spill-over effect". It is felt most in east Donegal; the further west you go from the border, the fewer cases of Covid-19 there are.
Just over half way through Level 5 the whole country is wondering what comes next, what will Christmas be like? In Donegal the question is asked with particular trepidation because, as Micheál Martin said yesterday, the situation there is "still concerning".
Donegal has come up regularly at recent Covid-19 briefings as being problematic. On Thursday, the county was asked to double down on its efforts to suppress the virus for its own sake, the sake of vulnerable groups and for the sake of Letterkenny University Hospital, which is currently managing an outbreak and had to cut elective surgery by 50% to keep on top of the situation.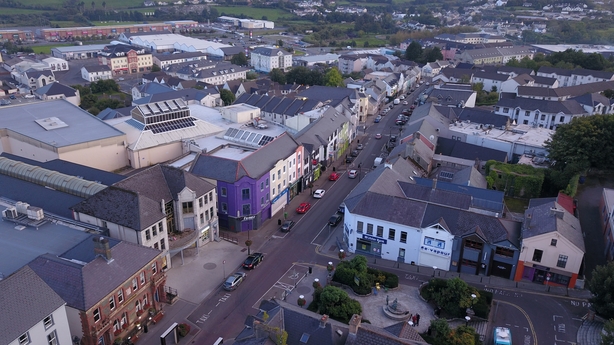 The Taoiseach has suggested an extra effort in relation to communication around the virus may be needed in Donegal. As in other counties, personal responsibility and behaviour is key to coping with Covid-19.
When Level 3 and 4 restrictions were imposed in Donegal there was talk of communion and other parties or gatherings contributing to rising cases. GPs in the county still say that wakes are an on-going concern.
Proximity to the border, however, is a factor which is more difficult to tackle. The deal done in the North on Thursday leaves just one week until the gap between restrictions North and South widen further.
Next Friday will see hair and beauty salons, as well as cafes without an alcohol licence, reopen in the North, followed a week later by restaurants, pubs and hotels. Donegal people will find themselves, because of their work or family circumstances for example, or because they choose to, living part of their lives in that scenario.
The following week in the South, Level 5 is due to end, to be replaced by a level we don't yet know. The Taoiseach has said he wants the whole country to come out of Level 5 at the same time, but couldn't rule out the possibility of some counties moving out at different times.
As things stand, Donegal could well be a candidate to remain on Level 5 while most other counties exit it. The worry in the county is that unless things change significantly over the next couple of weeks, Donegal could be left behind again, alone, on its own level of restrictions.
It's a possibility people are pretty despondent about and there's a sense of frustration that the long-standing call for an all-island approach, which might have kept them away from the brink, hasn't been acted upon.
The prospect of Donegal, alone on Level 5, as the year comes to a close, is something no one wants because the consequences for everyone – businesses and families – would be miserable.