Opinion: The Personal History of David Copperfield shows how theatre helped Dickens to establish and hone his identity as a professional author
Armando Iannucci's new film, The Personal History of David Copperfield, was always going to get a lot of attention. It's equally unsurprising that most reviewers and interviewers make reference to the wonderful and diverse cast. As Iannucci pointed out in an interview on RTÉ Radio One's Ryan Tubridy Show last week, such diversity casting has been the norm in theatre for the past 10 to 15 years though film has been slower to adopt the same practice.
From RTÉ Radio 1's Ryan Tubridy Show, Armando Iannucci talks about his new film, The Personal History of David Copperfield
Excellent performances of memorable characters aside, the fact that the film takes inspiration from theatre as well as from literature is one of its most authentically Dickensian elements. We have grown so accustomed to received images of Dickens as a canonical author who we might have studied at school that we don't always think too much about his connections with the stage. He was a keen amateur actor and director, wrote plays, and dreamed about managing a large theatre. In recent years, attention to his relationship with the actress Ellen Ternan has highlighted its significance to his private life. However, theatre was also important to his professional identity as an author.
At the beginning of his career, Dickens wrote three plays in 1836–7 which were staged at the St James's Theatre, a fashionable playhouse in the West End of London. At this point, Dickens had garnered a certain reputation as the author of Sketches by Boz, though letters prove that he secured work as a dramatist through the intervention of his well-connected future father-in-law, George Hogarth, rather than being recommended by his own merit. Dickens' use of his network to manoeuvre an opening for himself as a dramatist shows that he could not rely on his fame to open doors for him just yet, and what reputation he did have as an author was not perceived to be important in his dealings with cultural institutions.
Then came the Pickwick Papers and, by the end of 1836, Dickens (or, rather, Boz), was a widely recognisable name. This changed his relationship with the St James's Theatre: he no longer had to approach the company through a third-party and attended rehearsals regularly to give advice about how his plays should be staged. The theatre also advertised their connection with Dickens in bold typeface on playbills, as though Dickens himself was a part of the night's entertainment. The author was happy to go along with efforts to cash in on his newfound fame, and even emerged on stage to bow to the audience after the first night of his operetta The Village Coquettes.
Trailer for The Personal History of David Copperfield
While working with actors and stage managers, Dickens began to command a sense of himself as an influential and popular literary figure. Moreover, theatre enabled Dickens to play the part of a celebrity author by appearing on stage, and to establish his professional identity as a writer who sought to address a large and diverse audience.
Dickens appeared on stage as himself again in 1853, when he gave his first public reading from his own works at a charity event. In doing so, he discovered a mass public eager to hear the celebrity author read specially adapted and shortened excerpts from his own fiction and, from 1858, he began to read for profit. Gruelling reading tours became one of many activities that Dickens juggled with writing novels for the rest of his life. Biographers have often linked the physically and imaginatively exhausting effects of these tours to his death in 1870.
Aside from financial benefits, one of the reasons both Dickens and his public enjoyed these readings was the author's considerable talent as an actor. He brought his characters to life by adopting different voices and gestures. Doing his novels in different voices was a technique that Dickens developed from contemporary theatre, specifically from learning Charles Matthews' monopolylogues by heart. Matthews was a comic actor, famous for one-man shows in which he played a range of eccentric characters.
From RTÉ Radio 1's Mooney Goes Wild. Like many writers and composers of his time, Charles Dickens wrote by quill. Dr. Leon Litvak from Queen's University Belfast and Larry Hanks from The Pen Museum in Birmingham discuss the history - and extinction - of the quill
As a young man, Dickens dreamed of being an actor and even secured an audition at Covent Garden Theatre in 1832. In the end, a severe head cold prevented him from attending the audition, but his admiration for – and intimate knowledge of – Matthews' style is evident in his later public readings. While theatre provided a forum for Dickens to construct and communicate his public, professional identity, it also influenced his writing. His regard for Matthews is recorded in the novels, alongside inspiration from other actors, playwrights and genres of theatre (including melodrama and Shakespeare).
But despite the impact that theatre had on his literary and performance style, and his love of the limelight, Dickens tried to play down the theatricality of his public readings, even while he performed specially adapted extracts for an audience. He was careful to cast himself as a respectable writer and not an actor when he read for money. For example, he always performed behind a distinctive writing desk, on which he laid pages of his stories, even though he probably had little need to refer to them.
Dickens' performance choices probably reflect a self-consciousness about hard-won respectability, which is echoed in David Copperfield's story. Indeed, the same desk that Dickens used for his public readings can be seen in the opening scene of Iannucci's film.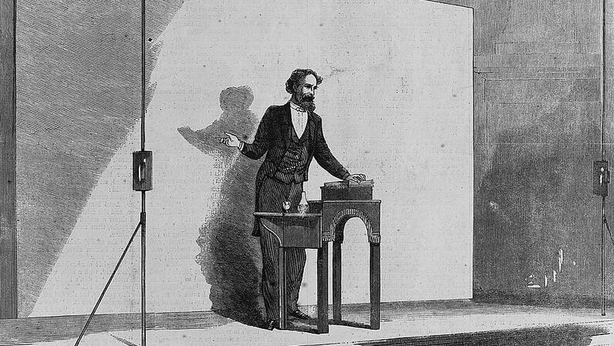 The Personal History of David Copperfield begins in a theatre. A mature, reflective David stands centre stage reading his account of his life to an enchanted audience. It is a nod to the author's own public readings, foregrounding the fact that David Copperfield is a thinly veiled autobiography.
David's often precarious situation, and sometimes awkward social climbing certainly draws on Dickens' own experiences. Yet while Iannucci's film is "about" David's growth into a professional writer, the inclusion of Dickens' distinctive desk, as much as David's gift for mimicry, signals an appreciation of the fact that the theatre helped Dickens to establish and hone his identity as professional author at both the start and the end of his career, albeit in rather different ways.
Theatre repeatedly gave Dickens the chance to refine his literary brand, as an writer who self-consciously appealed to and entertained a mass, popular market, but who used his celebrity to address audiences and readers directly and personally. Like Dickens, Iannucci productively draws inspiration from both the literary and the theatrical to create a greater sense of closeness and communication with a diverse audience.
---
The views expressed here are those of the author and do not represent or reflect the views of RTÉ
---