Analysis: The impact Charles Dickens has had on western culture is significant, and it's felt most strongly when we barely see him at all.
Exactly one year from today marks the 150th anniversary of Charles Dickens death. He died at his home in Kent, leaving his last novel, The Mystery of Edwin Drood, unfinished. Drood is one murder mystery that will never be solved.
Particularly in light of the recent discovery of letters that prove Dickens tried to imprison his wife Catherine in an asylum, the 2020 commemorations will renew questions about how Dickens's legacy should be managed in the modern day, in line with updated gender, racial, and global politics. 
These questions are not new. Dickens himself was aware that his life and works would be subject to an ongoing process of interpretation and curation, and tried to stage-manage his image through his public readings and by burning correspondence.
However, while these questions signal a distance between the author and our Dickensian cultural inheritance, they simultaneously announce the scale of Dickens' impact on western culture.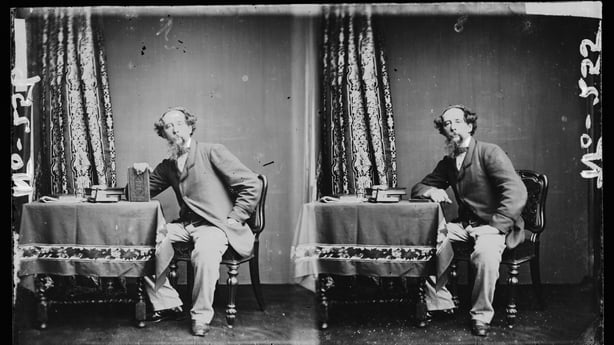 Today, as we look ahead to June 2020, we can reasonably expect that his death will be prominently commemorated, even if the number of events, documentaries, new adaptations, and exhibitions does not match the huge amount inspired by the bicentenary of his birth in 2012.
A cultural programme that marks the anniversary of a single author's death helps us to register the significant space he occupies in our culture. His novels have never been out of print; film adaptations of his works have been canonised in their own right (David Lean's versions of Oliver Twist and Great Expectations, for example); and yet appetite for Dickens-inspired productions still motivates contemporary actors and directors to create new works (Tom Hardy will star in a new adaptation of A Christmas Carol in December this year). 
Looking forwards to this seemingly inevitable spate of commemorative activities involves adopting a perspective that looks forwards and backwards at once. We anticipate June 2020 even as we measure Dickens' importance by tracing his popularity across time, from the nineteenth century to the present day.
But we also have to look sideways if we want to appreciate how far Dickens's legacy reaches. 
We need your consent to load this rte-player contentWe use rte-player to manage extra content that can set cookies on your device and collect data about your activity. Please review their details and accept them to load the content.Manage Preferences
On RTÉ Radio 1's Arena, Daragh Downes on the food depicted in the novels of Charles Dickens and how it helps establish a sense of place and character

First, we must look across different media. We are not only dealing with books, but also adaptations of his novels for film, TV, fanfiction, board games, and, increasingly, digital media such as apps or video games. Dickens makes a cameo appearance in Assassin's Creed. 
We must also look sideways across different spaces. Of course, London is the heartland for Dickens literary tourists, and this demand is met by museums, commemorative plaques, walking tours, and themed cafes. However, Dickens' transnational legacy is not simply one-way traffic of tourists into London. 
Dickens has been adapted for different geographical and cultural contexts. For example, Great Expectations became the Indian romantic drama Fitoor, directed by Abhishek Kapoor, in 2016.
The Dickens Fellowship – an association drawn together by their shared interest in Dickens – is a global phenomenon, with branches as far afield as Australia, Denmark, and Japan.
Then there is the appropriation of characters' names in a variety of international settings: Peggotty Beach in Scituate, Massachusetts; Micawber Street in Ambarvale, Australia; and so on.
But we also have to look sideways to see less straightforward forms of appropriation. In fact, I'd suggest that Dickens' impact in our culture is felt most strongly when we barely see him at all.
Dickens-isms like "red-tape" run through our everyday language to the extent that we forget where they came from in the first place. But, more strikingly still, his characters are often used as a form of short-hand to imply a raft of connotations, without any direct reference to either author or novel.
We need your consent to load this rte-player contentWe use rte-player to manage extra content that can set cookies on your device and collect data about your activity. Please review their details and accept them to load the content.Manage Preferences
On RTÉ Radio 1's The Ryan Tubridy Show, Derek chats to Dr. Leon Litvack, Principal Editor of the Charles Dickens Letters Project.

For example, The Irish Times published articles in 2017 and 2018 which reported on calls to establish "Fagin's Law" in Ireland, to punish adults who groom children for crime. Readers are expected to understand what this character from Oliver Twist signifies, even if they have never read the book or watched an adaptation. 
Certainly this appropriation draws on Fagin's criminal practices in the novel, but it is nonetheless selective. Fagin is stripped of the anti-Semitic prejudice which informs Dickens's characterisation when he is relocated to this new, modern context.
Moreover, The Irish Times does not preserve Dickens's pointed insinuations that Fagin is the law's bedfellow. He frequently hands old associates to the police when it suits his purpose, and – as D. A. Miller long-since observed – there is even a close phonetic link between his name and that of the magistrate, Mr Fang.
Such selective appropriations are nothing new. During Dickens's lifetime, characters, amusing turns of phrase, and even lengthy descriptions were already being purloined from his novels and relocated to entirely different contexts.
Nineteenth-century politicians enlivened dry speeches about such vastly different issues as housing reform and church attendance by transforming Mr Bumble into a rhetorical yardstick, for instance, even though his characterisation in Oliver Twist is not directly relevant to these topics.
What each of these examples prove is that Dickens's works are porous and mobile public property. So although we rightly read such rhetorical appropriations of his fiction as another facet of Dickens's significant cultural legacy, in fact we should be wary of how such reuses obscure the author to make insinuating political statements.
This is something we must be particularly conscious of next year, when Dickens commemorations are likely to fragment the author and his works again, and move these pieces in multiple directions.
---
The views expressed here are those of the author and do not represent or reflect the views of RTÉ. 
---