Opinion: the trend to award Oscars for portrayals of "real" people shows the extent to which we value naturalism, but this was not always the case
Over the last decade, seven out of 10 Academy Awards for Best Actor have been presented to actors tasked with playing a real person. It's eight if you count Jeff Bridges' prize for his part in Crazy Heart in 2010, which was inspired by the country music singer-songwriter Hank Thompson.
Over the same period, the Oscar for Best Actress was won by three actresses in biographical or historical roles. This year, the award went to Olivia Colman for her exceptional performance as Queen Anne in The Favourite. There are fewer biopics with female protagonists. If the evidence of our senses was not enough, a quick internet search reveals just how disproportionately male-dominated this genre is. The Favourite is the exception, not the rule.
Acting a well-known individual involves much more than simply imitating recognisable mannerisms. Particularly at a historical distance – as in The Favourite – the task requires a significant imaginative investment if the actor is to play the part authentically. While there is a certain pleasure in spotting the translation of individual eccentricities from one body to another, thesps will not be able to engage audiences' sympathy if they rely on acting by numbers alone.
Trailer for The Favourite
Nevertheless, the trend to award Oscars for portrayals of "real" people indicates the extent to which naturalism is valued by film boards today. However, this was not always the case. Naturalism was not popularised on the theatrical stage until the end of the 19th century. Indeed, the staginess of silent films tells us that psychologically complex representations are both a relatively recent development and that naturalism did not replace older, pictorial acting styles all at once.
19th century actors did not typically aim to give a "realistic" performance. In fact, their training advised them to do quite the opposite. Actors commonly used a highly stylised gestural vocabulary to express emotion. These gestures had their origins in classical oratory, and were further refined by Charles Le Brun's influential Conférence sur l'expression générale et particulière (1668), which provided a systematic representation of how passions manifested visibly on the human body.
But the story does not stop there. These contrived postures and apparently extreme facial expressions were appropriated in all areas of visual culture, so that we see the same gestural models repeated across sculpture, high and popular art. They were also in the instructional handbooks produced for aspiring actors, such as Henry Siddons's Practical Illustrations of Rhetorical Gesture and Action (1822), Leman Thomas Rede's The Road to the Stage (1827) and Gustave Garcia's The Actors' Art (1882).
19th century actors did not typically aim to give a "realistic" performance
On stage, these well-known gestures allowed actors to communicate without words. For example, she or he could emphasise their character's reaction to a piece of action by striking an appropriate attitude. If this happened to be a particularly important moment in the play, a star performer might choose to pause momentarily in a pose – a technique called making a "point."
Alternatively, actors could use these bodily signs to signal their reaction to ongoing action without interrupting the plot. In so doing, the actor provided the audience with contextual information, for example, by making the relationships between characters externally visible. The audience might be informed that character A is secretly in love with character B because the actor physically demonstrated their longing or despair.
And this is really the main point. These well-known physical cues were a means of making the internal external. They were symbols by which the audience could recognise the inner subjectivity of a character. So, although this acting style certainly looks stagey and overblown to modern eyes, in fact it requires a similar kind of imaginative investment to more naturalistic performance.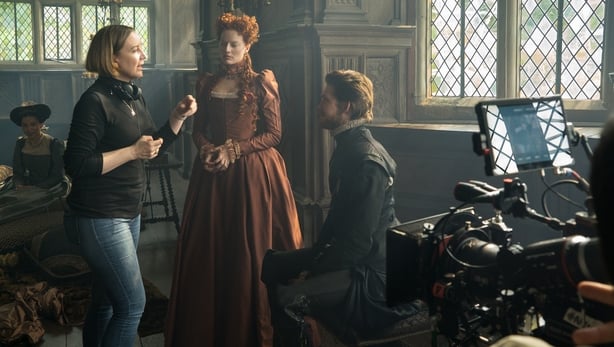 Using recognisable gestures did not mean that actors simply repeated patterns of speech and movement by rote any more than playing a "real" person is simply copying well-known mannerisms. As Joseph Roach puts it, performers then as now were conscious of paradoxical demands for "technique and inspiration."
In the 19th century, this was fought out in debates about "natural acting." This was not the same as naturalism. Rather, it was a theory about how an actor could perform a character authentically and elicit the audience's sympathy.
Under the terms of natural acting, Olivia Colman should not present Queen Anne as an ordinary human being, who has feelings with which we can directly empathise. Instead, she should aspire to represent an ideal, rather than an idiosyncratic individual.
From RTÉ TEN, Olivia Colman discusses playing Queen Anne in The Favourite
First, this is a question of character. George Henry Lewes takes Shakespeare's Hamlet as an example in On Actors and the Art of Acting (1875). He argues that it would not be artistically truthful to represent the Prince of Denmark as an average Joe, because he is not.
Second, the representation of an ideal is supposed to engage the audience's sympathy. Far from elevating art above the level of the spectators, the ideal speaks to each seat in the auditorium at once, because it explores essential truths about universal human experiences, rather than just one person's reaction.
An accomplished natural actor makes her or his performance more "real" when she or he represents an ideal
Though it sounds like a contradiction in terms, an accomplished natural actor makes her or his performance more "real" when she or he represents an ideal. The value ascribed to naturalistic, specifically individualised performances today seems worlds apart from the techniques and theories studied by 19th-century actors. However, the heady mix of imagination and technique we find both then and now proves that some demands remain the same.
But the most important similarity is the actor's relationship with the audience. Whatever the technique, the aim is to perform in a manner that spectators perceive as authentic. Actors are servants to changing concepts of truth.
---
The views expressed here are those of the author and do not represent or reflect the views of RTÉ
---